The Seasonal Worker route is one of those visas in the Temporary Worker family, allowing people to come to the UK for short stints without the right to stay long term. Seasonal Worker visas made up around half of all temporary worker grants in the year ending March 2023. 35,122 seasonal worker visas were granted this year, which is an increase of 10% (3,148 additional grants) compared with the previous year. So it's popular, and pretty useful — but only covers workers in specific sectors, for whom there is a quota and (of course) strict visa requirements.
The route has been used to quell negative headlines throughout the years about labour shortages. It is primarily for agricultural workers but has often been subject to emergency changes to accommodate the latest sectoral labour crisis. You might recall the great HGV driver and pork butcher shortages of 2021, which were dealt with by briefly opening the Seasonal Worker route to those occupations.  
More recently, Home Office minister Kevin Foster declared in a now-deleted tweet that the Seasonal Worker route was an option for Ukrainians seeking refuge from Russia's invasion (more on this later). And in general the quota for the number of visas that can be granted under the route has increased again in the last six months. In 2022, 38,000 visa's were available (around 35,000 of which were used) and in May a quota of 45,000 was announced for the year.
Who is the Seasonal Worker route for?
Here's what the Immigration Rules say:
The Seasonal Worker route is for a person who wants to come to the UK to do seasonal horticulture work or poultry production work. A person on the Seasonal Worker route can stay for a maximum period of six months in any 12-month period.
At various points since the route opened, this introduction also mentioned haulage driving and pork butchery. At other points, poultry production was removed from the list. Currently only horticulture and poultry production workers are eligible to apply for a seasonal worker visa.
The range of horticultural work that people can come in to do has been expanded. It now covers both ornamental and edible horticulture — flowers and food, basically. Previously the ornamental horticulture side was covered in a concession. The full list of eligible work for both the horticulture and poultry production sectors is in paragraph SAW 4.1(f). Over the years, this has been subject to regular change so it is advisable to review the list of specific roles eligible for the visa regularly.
What the rules don't say is that there is an overall quota: 45,000 certificates of sponsorship can be issued with a start date in 2023. When this quota was announced in December 2022, the statement confirmed that there was the potential for this to increase by a further 10,000 if necessary, contingent on farmers "improving and abiding by the worker welfare standards, including ensuring workers are guaranteed a minimum number of paid hours each week".
Out of the overall quota, only a small number of visas can be granted for to those entering the UK to work in the poultry sector.
You might also come across visa holders in a legacy sector such as HGV drivers. The guidance includes a paragraph to confirm that these categories are no longer eligible for a Seasonal Worker visa. It was updated to this effect more quickly than the Immigration Rules back in 2022, so it's important to check both Rules and guidance for updates. I'd also recommend checking the news headlines before advising on this route to check for a potential crisis (said with a sarcasm-to-seriousness ratio of 50:50).
Partners and children are not permitted to apply as dependants on this route (confirmed explicitly in paragraph SE 1.5 of the guidance). Nor is Seasonal Worker is a route to settlement.
What are the formal requirements for sponsors?
Sponsor licence
Individual employers are not eligible for a Seasonal Worker sponsor licence, even if they are licensed as a sponsor for other visa routes. To be eligible, you must be a "scheme operator" which is: 
There are currently six scheme operators:
Only two of the above operators are able to allocate certificates of sponsorships in the poultry sector, Re Recruitment and Pro-force. Fruitful Jobs are also now a B-rated sponsor which means that they cannot issue new certificates of sponsorships, they can only continue to sponsor existing workers.
As you will see via the links, the scheme operators look a lot like recruitment companies. They are not the employer, but they find work for the Seasonal Worker, and are responsible for managing and having oversight of the process. These obligations bear little resemblance to the usual sponsor duties.   
Monitoring workers' welfare
This is an unusual requirement, but it's a good one, and in the interests of the Seasonal Worker. It is not directly mentioned in the Immigration Rules, but does appear in the guidance.
The gist is that the scheme operators are responsible for workers sponsored on this scheme. This means that they should work with employers where the workers are placed. This is taken seriously and if a "high standard of welfare and control" is not met, the company could lose their sponsor licence.
The guidance says:
You must undertake robust and comprehensive monitoring of all the workers you sponsor in their workplace, including ensuring that:

the workers' work environment is safe and complies with relevant Health and Safety requirements
workers are treated fairly by their employer, including not penalising workers for failing to work at the fair piece rate
workers are given an employment contract in their first language, as well as in English – these must not be zero-hours contracts
workers are paid properly – this includes satisfying National Minimum Wage regulations, including those on fair rates for piece work, and Holiday Pay
workers are allowed time off and proper breaks
The underlying concern here is that Seasonal Workers — who among other things are not required to speak English — "may be more vulnerable and open to exploitation than other workers".
Seasonal Workers can choose to change employer and the scheme operator should make it clear what the process is to do so before they start employment. If someone makes a request to change employer, this shouldn't be refused unless there are "significant reasons", such as an imminently expiring visa.
The Migration Advisory Committee has also launched an inquiry into the route, including the potential for exploitation and poor labour market practices. 
Other requirements
Scheme operators must only place workers with growers who have demonstrated that they are "actively engaging with Jobcentre Plus to recruit UK based workers".
Scheme operators must not:
place any additional charges on participating workers, beyond the costs of administrating the scheme
use the Seasonal Worker route to source their own labour needs
place workers at an employment business or agency
The Home Office will revoke a sponsor licence if, within any 12-month period, any of the following occur: 
fewer than 95 percent of sponsored workers are granted entry clearance (a visa)
3 percent or more of sponsored workers who obtain entry clearance (a visa) fail to arrive at their place of employment
fewer than 97 percent of your sponsored workers who obtain entry clearance (a visa) leave the UK at the end of their permitted stay
Finally, scheme operators must maintain full licensing with the Gangmasters and Labour Abuse Authority at all times.
What are the formal requirements for workers?
The worker must meet the validity, suitability and eligibility requirements of Appendix Temporary Work – Seasonal Worker. We'll do a quick tour through the validity and suitability requirements first, then focus on the detail under the eligibility requirements.
Validity
The validity requirements are similar (but not identical) to the requirements for most work routes. The applicant must submit a valid visa application online, pay the application fee, enrol their biometrics (fingerprints and a photograph) at a visa application centre, submit their documents and have a certificate of sponsorship issued no more than three months before the date of application.
European Economic Area nationals can skip the biometrics if they have a chipped passport. They can apply using the UK Immigration: ID Check app instead.
Immigration Form Checking
Look over your application before you send.
Experienced lawyers check for mistakes & issues.
Save time & money on spotting issues early.
DIY guides to make filling out easy.
The applicant must be aged 18 or over on the date of the application.
Due to the short duration of this route — up to six months — there is typically no Immigration Health Surcharge. Note that those working in the poultry sector will not be able to get a six month visa, currently, and will have a visa valid between 18 October and 31 December only. 
You can't switch into this route from another route. Normally you can't extend your stay either, although there were special arrangements for Ukrainians last year, who could extend their Seasonal Worker permission to 31 December 2022.
Suitability
The applicant must not fall foul of under the grounds for refusal in Part 9 of the Immigration Rules. These include, but are not limited to, having a criminal record.
Eligibility
The only real eligibility requirements for the applicant are to apply for entry clearance (i.e. get a visa in advance) and have a valid certificate of sponsorship (CoS).
The CoS must confirm that they are being sponsored as a Seasonal Worker and contain details of the job and salary. This must be at least £10.42 an hour (see paragraph SAW 4.1). There are some caveats to this requirement for those in the poultry sector. 
If the applicant is being sponsored under the occupation codes 5431 or 5433 (for example as a Butcher, Bird/game dresser, Killer and plucker, Poulterer, Pountry sticker, or Trusser) then they must be paid a minimum of £26,200 per annum.
If the applicant is being sponsored in the horticulture sector, or under occupation code 8111 (food operative), 9111 (Poultry catcher.handler, 9119 (Poultry vaccinator) or 9134 (poultry meat packer), they must have a minimum of at least 32 hours paid employment each week.
These minimum wage and working hours requirements have not always been included in the immigration rules, but they help to provide safety and security to workers, as the sector continues to try to battle exploitation. In February 2023, the National Farming Union Deputy President said that "[l]ooking after the people that come to work… is absolutely crucial and the additional guarantee of a minimum 32 hours per week will help give them confidence to travel to the UK". 
The guidance adds that by assigning a CoS, the sponsor is confirming that the worker:
is at least 18 years old;
will not establish a business in the UK;
will only take up work permitted under the Seasonal Worker scheme and with an employer approved by the sponsor;
will comply with the conditions of their immigration status and leave the UK when it expires.
There is no English language requirement but there is a financial requirement. Scheme operators will generally tick the box on the Certificate of Sponsorship confirming that they will "maintain and accommodate" the worker for the first month of their employment. If they don't do this, the worker must show they have £1,270 in the bank (for a 28-day period prior to the date of the application).
What will I get if my visa is approved?
Someone granted a Seasonal Worker visa that lasts less than six months doesn't usually get an approval letter. Most successful applicants just receive a visa vignette (sticker) in their passport, valid for a given period that aligns with the employment dates stated on the Certificate of Sponsorship. The worker must arrive in line with the start date stated on their certificate of sponsorship and as per the UK sponsor's approved timeline for completion of the work.
The employer should complete a right to work check before the worker's start date. Don't forget that the rules and requirements for completing right to work checks changed in September 2022.
Ukrainian Seasonal Workers and the Ukraine visa scheme
Seasonal Workers are overwhelmingly Ukrainian.
The Home Office confirmed last year that Ukrainian nationals currently in the UK on Seasonal Worker visas could have their length of stay automatically extended to 31 December 2022, and they must continue working in a job permitted under the route, with the same sponsor. Individual workers were contacted if this concession applied.
Seasonal Workers were not eligible for the Homes for Ukraine Scheme, as applications are only possible from outside the UK. Nor can they sponsor family members to join them under the Ukraine Family Scheme, which is limited to British citizens and settled migrants.
The Ukraine Extension Scheme allows Ukrainian citizens already in the UK to apply for permission to stay for three years, with the right to work and claim public funds. Despite the name, it does not involve extending permission in the person's current visa route, but switching to a new one. For Seasonal Workers, this means no longer being tied to an employer or scheme operator — they could get a new job with whoever they like, without having to be sponsored.
The Extension Scheme does not come with the right to bring family members over. Once someone has effectively switched from Seasonal Worker to the Extension Scheme, they would be eligible to become a sponsor under Homes for Ukraine in terms of their immigration status (sponsors must have "at least 6 months permission to be in the UK". But they may not be able to provide suitable accommodation for relatives ("a bed in a shared space would not be an appropriate offer of accommodation").
The Extension Scheme currently only applies to those that have held permission to be in the UK on or between 18 March 2022 and 16 May 2023 (the permission does not need to cover the whole period) or if permission was previously held which expired on or after 1 January 2022. The immigration rules are expected to change in July 2023 to extend eligibility to individuals granted permission after May 2023 but before 16 November 2023, which will be useful for those arriving under the Seasonal Worker route this year.
The Seasonal Worker scheme moving forward
The Seasonal Worker scheme launched in 2019 with an initial quota of 2,500 visas each year. This figure has increased each year and is now at 45,000 visas. With Boris Johnson as Prime Minister, the government said that the scheme would be extended until at least the end of 2024, but that the quota would be reduced to 30,000 in 2023 and 28,000 in 2024.
In a speech at the National Conservatism conference earlier this year, Suella Braverman said she wanted to reduce net migration and suggested that there is "no good reason" the UK cannot train its lorry drivers and fruit pickers in order to bring immigration down. But there is very little public demand to reduce the number of migrant seasonal workers. As the demand for skilled workers in the industry remains high, the number of workers under the scheme is likely to remain high. more monitoring and action to prevent poor pay, working conditions and potential exploitation of workers should continue to be encouraged.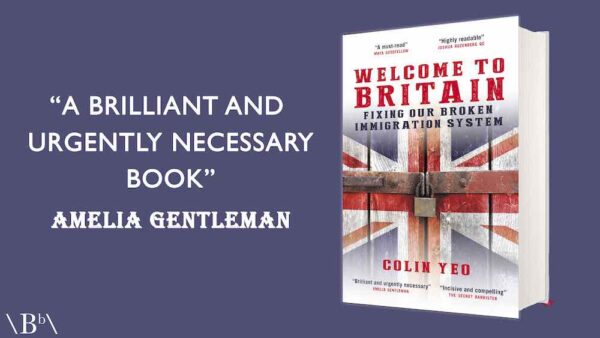 There's lots wrong with our asylum, immigration and citizenship laws. If you want to be properly informed, check out my book Welcome to Britain, now available in paperback.