There is a high risk of a coronavirus outbreak at a military camp being used to house asylum seekers, local health authorities say.
Hywel Dda University Health Board blames "inadequate facilities provided by the Home Office" at the Penally military training camp in south-west Wales, which was hastily converted for use as asylum accommodation in September.
The health board's chief executive wrote to the Home Office on 4 November warning about conditions at Penally and seeking a formal assurance that officials have implemented urgent pandemic precautions. The Home Office says it will respond in due course and insists that there are robust measures in place to deal with any coronavirus cases.
But charities say that over 200 often vulnerable people have been effectively dumped into the camp without proper healthcare arrangements or pandemic-proofing.
eBook
Refugee law in the UK: a practical guide
Accessible guide to the law and practice of refugee status determination in the UK including examples, arguments and common scenarios.
View Now
Documents prepared ahead of an emergency meeting of the health board's safety committee on 13 November show local experts at their wits' end at what they see as Home Office failure to think through the consequences of the camp's change of use.
The documents say that the health board was given two days' notice of the arrival of around 200 people at Penally camp. The Welsh government says that it had sought a delay to give them more time to prepare, but "the Home Office denied this request and, as a result, proper [public health] measures have not been put in place".
In their letter to the Home Office, local healthcare chiefs Maria Battle and Steve Moore warn:
We have clearly documented the significant amount of guidance, advice and support offered to aid COVID-19 security for both residents and the staff based on this site and to help the Home Office and its management agents fulfil their requirements of an initial accommodation site of this nature. Despite this, health partner agencies delivering the TTP [Test Trace Protect] service are yet to receive appropriate assurance that all steps have been implemented to prevent and/or manage a communicable disease incident such as COVID-19 in line with our guidance. Health partners still await receipt of formal and detailed assurance from the Home Office on this critical matter. In its absence we remain concerned of the high risk of COVID-19 infection on the site.
A risk register prepared by the health board says that the chances of an outbreak are "caused by inadequate facilities provided by the Home Office to be able to isolate and manage symptomatic cases". It also highlights the "lack of a 14 day isolation period prior to arrival at the camp". NGOs say that asylum seekers have been arriving at Penally from all over the country, comparing the situation to the university halls of residence that have seen multiple virus outbreaks. The health board documents say that its recommendation for a 14-day quarantine period was "rejected by HO" on 29 September.
While a coronavirus outbreak has the highest risk score, it is only one manifestation of wider concerns about conditions at the camp. The risk register also records "a risk of harm… from inadequate arrangements on site to manage emergency incidents", such as evacuation plans in case of a fire. The health board has scrambled to put a skeleton healthcare service together but continues to warn that this "is unlikely to be sufficient for those with complex medical needs, including complex mental health needs".
Dr Jill O'Leary of the Helen Bamber Foundation, which works with torture and trafficking victims, said that many asylum seekers have "physical and mental health needs including complex PTSD that simply cannot be met in these facilities".
She added:
The use of a military site is wholly inappropriate for survivors of torture by state militias and is potentially retraumatising. Furthermore, there is a lack of privacy in the dormitory accommodation as well as shared bathroom facilities which is unsuitable for survivors of sexual violence. These shared facilities pose a public health risk due to increased likelihood of Covid-19 transmission should cases occur in the barracks.
The Home Office has confirmed that everyone in the Penally camp is awaiting a decision on an asylum claim. The rising backlog of asylum cases — despite a recent fall in the number of applications — means that they are likely to be stuck there for months on end.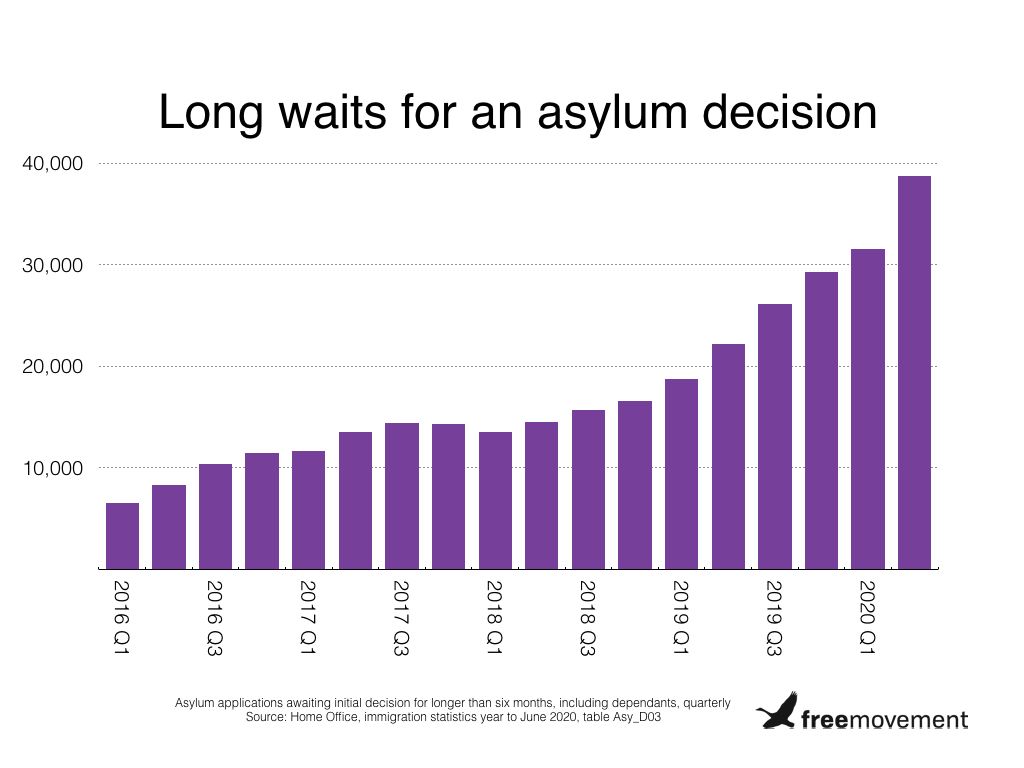 Penally is expected to cater for up to 230 people at a time for the next year.
The Home Office says that all occupants of the camp have been given guidance in their own language on hygiene, social distancing etc. A spokesperson told Free Movement:
Asylum seekers at Penally Training Camp in Pembrokeshire are staying in safe, Covid-compliant conditions, in line with the law and social distancing requirements.

We are fixing our broken asylum system to make it firm and fair. We will seek to stop abuse of the system while ensuring it is compassionate towards those who need our help, welcoming people through safe and legal routes.
Last month, a watchdog reported that staff escorting migrants on a recent removal flight had not followed coronavirus precautions.
This article was updated on the day of publication to include the Home Office's response.