"Theresa May exercised her free movement rights with a trip to Florence on Friday…" So began CJ's first blog post for Free Movement, published on 26 September 2017. Nearly five full years later — a period sufficient to see off three Home Secretaries — CJ is moving on to a new role at the House of Commons library.
CJ will be sorely missed here at Free Movement. Like another CJ — one our own CJ is apparently far too young to remember — he has brought poise, commitment, intelligence, a quick wit and a natural fluency to Free Movement communications. His contribution to this website over this demi-decade just gone has been invaluable.
It is not entirely incalculable, though…
As deputy editor then editor, CJ has published 2,355,779 words since 2017. He pushed out over half a million words in 2018 alone. Just yesterday, his penultimate one with Free Movement, the poor soul was responsible for publishing over 3,000 words.
This wouldn't be Free Movement without a visual illustration: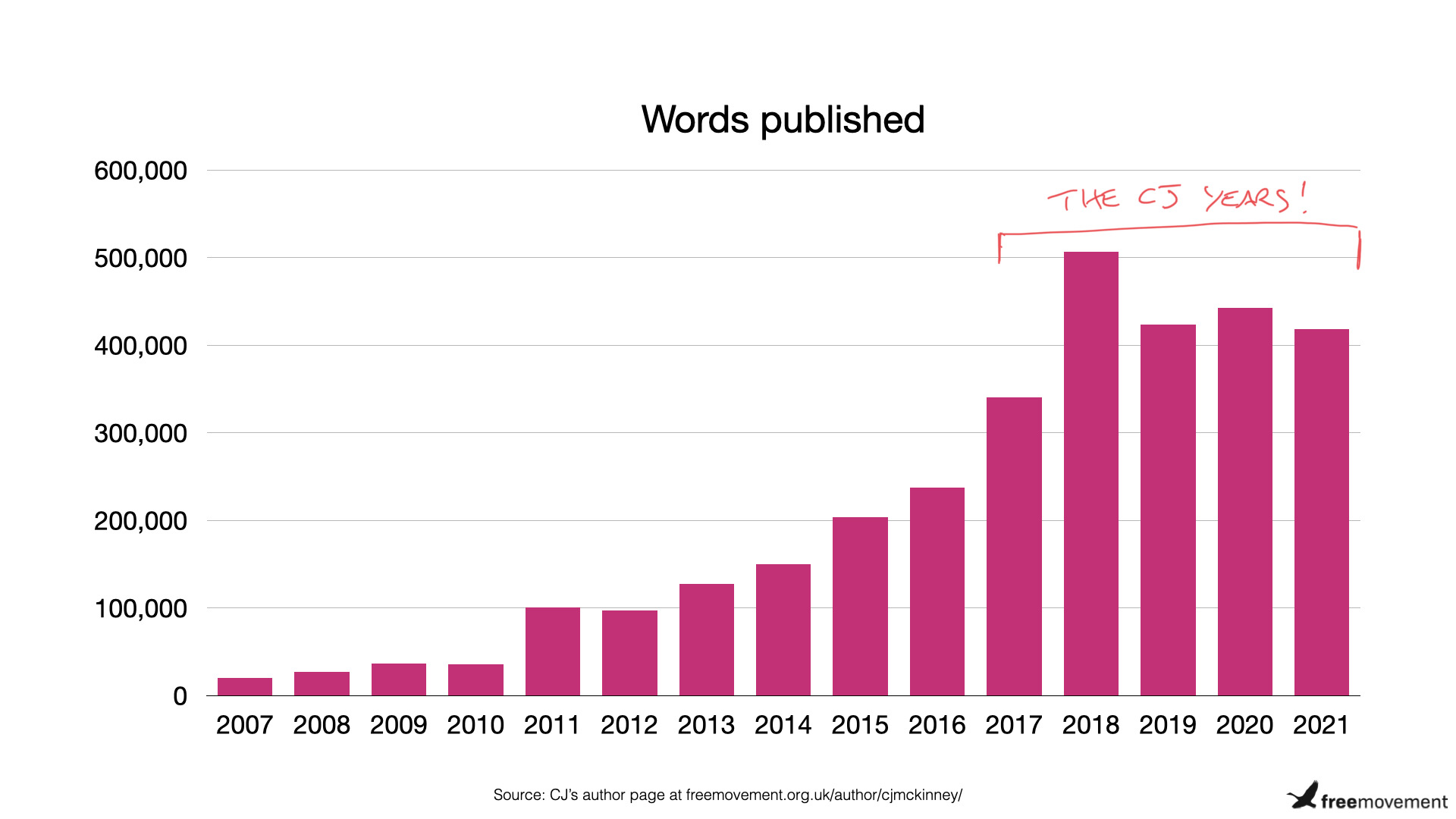 And that does not include the training courses and ebooks that CJ wrote or edited, some of which are pretty substantial.
These weren't just any old words, either. They were really good ones. As readers, you clearly appreciated them. As you can see from these Bonus Charts on website page views and the number of followers CJ attracted to the @freemovementlaw Twitter account: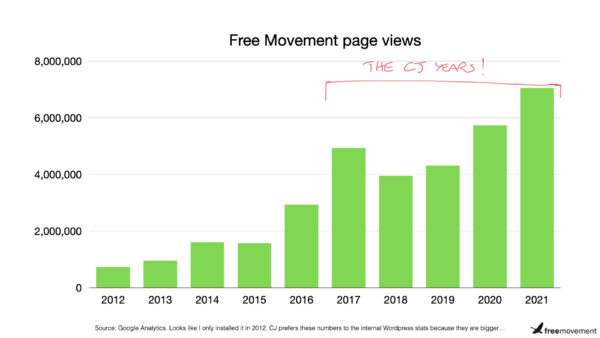 Of course, a bunch of charts, even nice colourful ones, cannot really capture CJ's immense contribution. Less flippantly, I would pick out three particular things CJ wrote and produced. I am proud to have hosted these on Free Movement and I hope he is proud to have crafted them. They weren't necessarily his best creative writing as we would normally understand that concept. But they were difficult, long and technical. Because of those challenges, to my mind, they best display CJ's rare talent for writing clearly and well. 
The first is the settled status handbook which CJ put together with help from others, including Nath Gbikpi, and the related video on the application process. The video has been viewed nearly 150,000 times. Both these pieces of content were away from the main blog but they helped a really substantial number of people when they needed it.
The second was the coronavirus policies and concessions page. This was a nightmare to write, update and maintain. It presented technical writing challenges in how best to communicate and structure the information. Again, the content was genuinely invaluable to a very considerable number of people, lawyers and members of the public alike. It has received a total of 448,495 page views since publication and is still seeing over 100 page views per week even now.

Finally, I would pick out the work CJ did on the Ukraine refugee schemes, including the page on the various routes for Ukrainians (73,243 page views since publication). With others in the sector, CJ sprang into action when it became clear that Priti Patel's response to the crisis was utterly inadequate and far too complex. Together they set up and ran the Ukraine Advice Project, a massive pro bono effort to advise and assist Ukrainians who were understandably confused by the messy, multiple UK visa schemes. Solicitor's firm DLA Piper stepped in and took over the project in May 2022. 
It has been a pleasure working with CJ, who has remained calm and good humoured in all circumstances. Even when yet another a new Statement of Changes dropped. Even when I asked him to proofread another training course. And even when my x axis value labels were clearly inappropriate.
I myself wish CJ the very best for the future, and I'm sure all Free Movement readers do too.