The government has invested huge political capital into its refugee deal with Rwanda. Equally immense resources of time and energy will also no doubt be ploughed into getting a few unfortunate refugees on a plane there at some point. This is a monumental opportunity cost: there are really serious but fixable issues with the United Kingdom's asylum system and all the Rwanda deal is likely to do is make them worse.
What is the Rwanda deal?
As background, the Rwanda deal involves the United Kingdom sending an unspecified number of newly-arrived asylum seekers to Rwanda. The theory is that once in Rwanda, their asylum claims will be assessed there and Rwanda will either (a) grant them status as refugees or (b) remove them back to their country of origin. They will never get a right to return to the UK: their removal from our country is intended to be permanent.
Theory is unlikely to be matched by reality. The asylum system in Rwanda is thought to be very under-resourced, meaning that individual decisions may not be reached for years. There is a refugee status decision-making body, at least on paper. I do not know what resources it commands, how many decisions it makes and how quickly. Others have suggested that capacity is limited.
Lack of resources will also affect those whose claims are ultimately refused: Rwanda is unlikely to start removing Afghans to Afghanistan, for example, and will more likely do what the UK does after refusing someone's asylum claim: nothing. Failed asylum seekers will probably not be removed to their home countries but rather denied status and allowed to remain without legal permission, lacking the right to work and so on.
That is not to criticise Rwanda's record on hosting refugees. The UN Refugee Agency says that Rwanda hosts around 127,000, mainly from Democratic Republic of Congo and Burundi. There may well be many more unregistered refugees in the country. Rwanda has incorporated (see page 72 onwards) the extended refugee definition from the Organization of African Unity Convention Governing the Specific Aspects of Refugee Problems in Africa 1969, which lends itself to light-touch prima facie refugee status determinations.
Removing genuine refugees
Asylum seekers who are removed to Rwanda are likely to be genuine refugees who would have been recognised as such had they remained in the UK. In 2021, 72% of initial asylum decisions by Home Office officials were to grant asylum. The figures are higher for some nationalities: 99% of Syrians get asylum, 97% of Eritreans and 96% of Sudanese. And those figures do not include those who are rejected at the initial application stage but go on to win their appeals. Around half of asylum appeals succeed.
So those facing removal to Rwanda might well include Afghan interpreters, Syrian torture survivors or Ukrainian war crimes witnesses.
Home Office record on asylum removals
So the government plans to remove an unspecified number of genuine refugees to Rwanda. Whether the removal of significant numbers is really feasible is highly questionable. Aside from the considerable moral objections and legal obstacles, the Home Office has a very poor record of removing any asylum seekers at all anywhere.
Home Office statistics show that a total of 203 failed asylum seekers had been removed to their countries of origin in the year ending September 2021. A further 737 made voluntary departures. The number of enforced removals and voluntary departures of failed asylum seekers are both at a record low, down from a peak of around 20,000 in 2005 to mere hundreds today.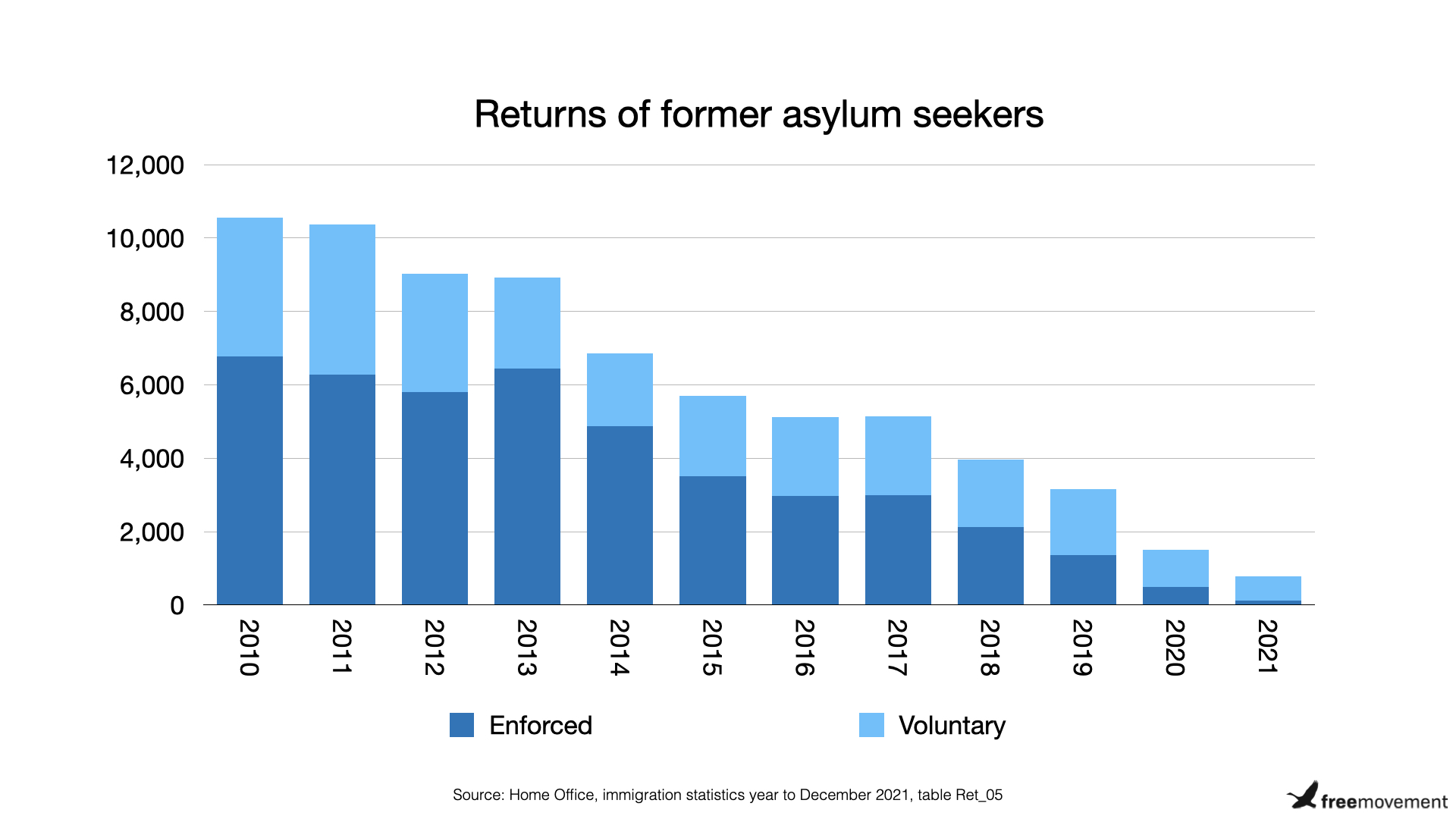 Rather than focussing energy and resources on removing the minority of failed asylum seekers back to their countries of origin, the government plans to remove an unspecified number of predominantly genuine refugees to Rwanda. This does not look like good-faith governance or a genuinely effective way of managing an asylum system.
It is worth pausing to think about the actual, real-life process of removing a genuine refugee to Rwanda. Enforced removals are always brutal and we have seen reports of violence, abuse and even deaths on removal flights. Failed asylum seekers facing removal are sometimes very reluctant to go, but they have been through the asylum process and found not to qualify for protection. Imagine how reluctant a genuine refugee from Afghanistan, Syria, Ukraine or from an African country far from Rwanda will be to go to a country with which they have no connection at all. Those removals will be vicious, high-stakes affairs.
Home Office record on third country removals
The United Kingdom used to have a returns deal with European Union countries. This was known as the Dublin system. It enables the removal of refugees back to their entry point into the EU for their cases to be assessed there. Several non-EU countries participate in Dublin, with some removing significant numbers of refugees that way. Dublin removals from Switzerland, for example, peaked at 4,600 in 2012. The Dublin system also offers a safe, legal route for children to be reunited with family members.
The number of Dublin removals from the United Kingdom peaked at over 1,200 per year in 2008 and has been falling since then, reaching around 200-300 in the final few years before Brexit. More refugees — mainly or even exclusively children, I understand — were actually being transferred into the UK by that time.
The Dublin system included a presumption of acceptance by the receiving country and powerful legal presumptions of safety in the receiving country. EU countries have pretty good human rights records, particularly compared to Rwanda. But since 2010, the UK became progressively less effective at conducting Dublin removals.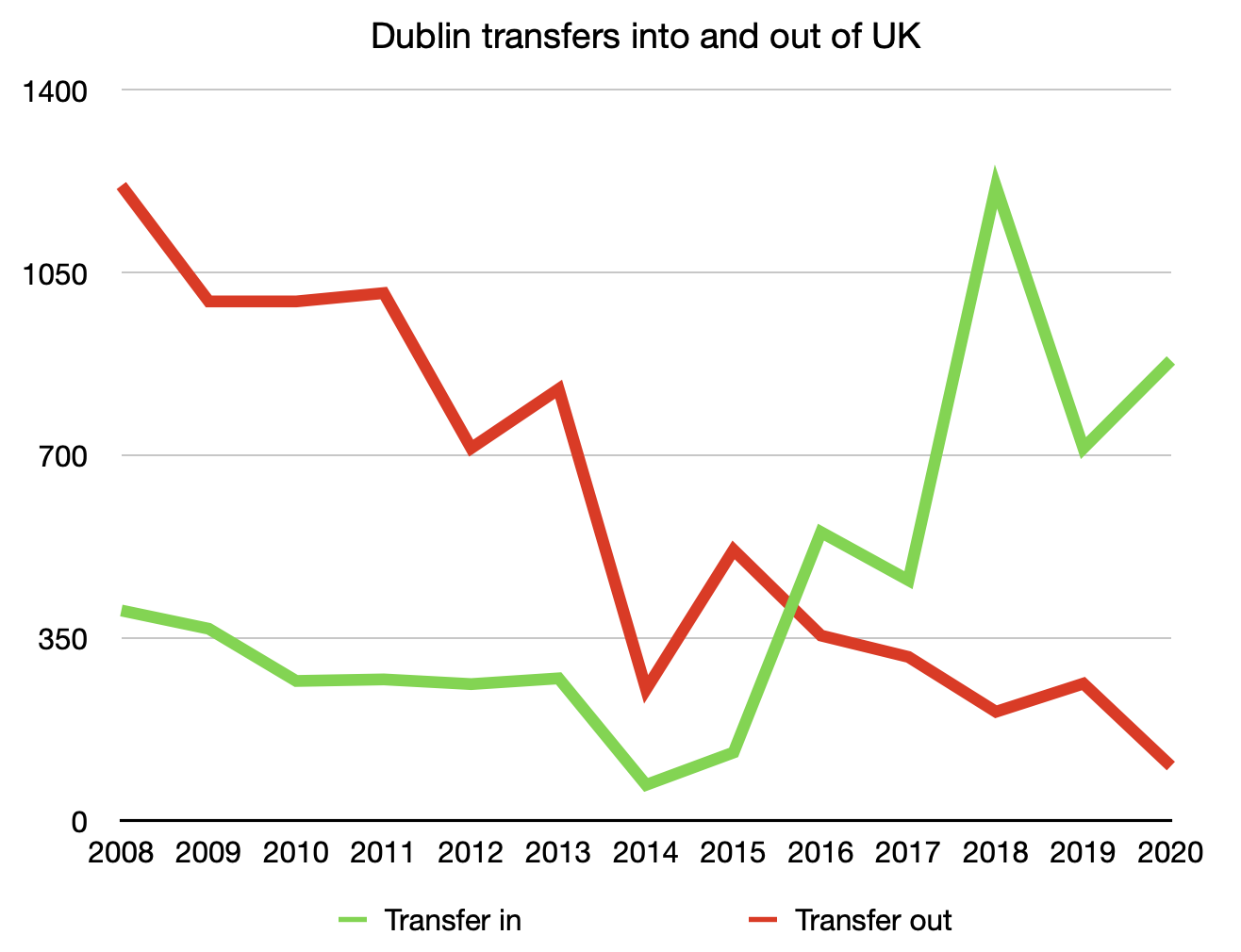 When the United Kingdom was negotiating Brexit, the government proposed a new returns deal with the EU. It was different to the Dublin system, though, and hugely favoured the United Kingdom. The EU rejected this proposal and the UK simply gave up, as far as I can see. Instead, attempts were made to negotiate deals with individual EU member states. The attempts were also rebuffed.
So, instead of seriously attempting to rejoin the Dublin system, which enables returns of refugees to European countries through which they have already passed on their route to the United Kingdom, the government has negotiated a deal with Rwanda to remove genuine refugees there. Why the government thinks it is more appropriate or easier to carry out removals to Rwanda is a mystery. I would suggest rejoining Dublin would be a better bet.
The real problems with the asylum system
The United Kingdom's asylum system is in some ways much improved on how it performed when I started out as a lawyer in 2000. The quality of decisions by both Home Office officials and immigration judges is much better and the refugee recognition rate reflects that.
But there are massive and growing problems. I recently put together a detailed briefing on the state of the asylum system. Asylum support is destitution-level at just £40.85 per week. Accommodation is too often squalid or is provided in communal dormitories in an asylum camp. Asylum seekers are prevented from working. That would all be bad enough if only for short periods, but delays for initial decisions are already really bad and getting worse. It is mainly due to slower decision-making rather than increasing numbers of applications.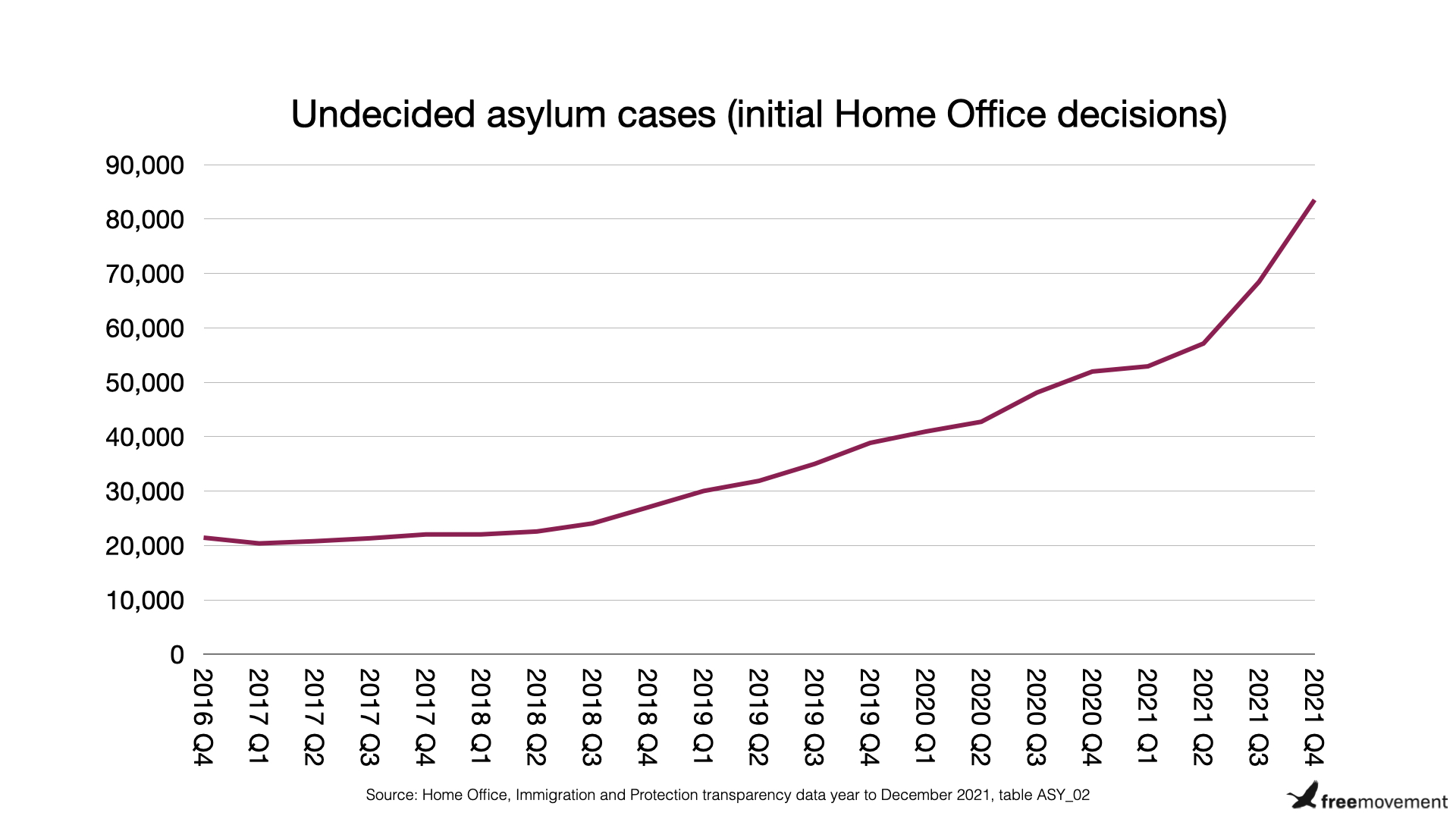 There was a sort of logic to these policies when most asylum seekers were not going to qualify for protection and would be removed from the country. The refugee recognition was as low as 4% in the 1990s and enforced asylum removals peaked at 20,000 in 2005. The policies of yesterday make no sense at all today when they punish genuine refugees who will be allowed to stay as part of our society. The system needs a fundamental redesign to reflect the changed reality that most asylum seekers are actually genuine refugees and should therefore be treated as such. All the Rwanda plan does is divert resources and distract attention from the real issues.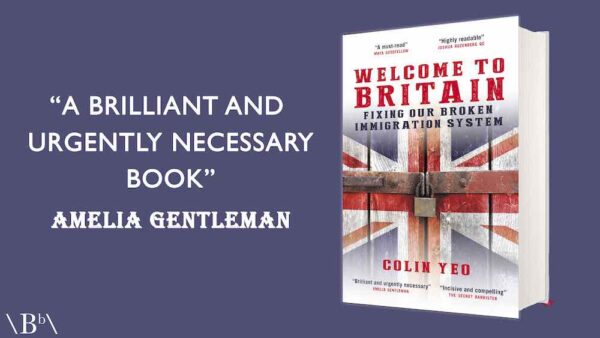 There's lots wrong with our asylum, immigration and citizenship laws. If you want to be properly informed, check out my book Welcome to Britain, now available in paperback.