One of the recommendations to the Home Office in a recent report by the immigration inspector was to "professionalise" Presenting Officers. Among the suggestions was that a code of conduct was necessary for Presenting Officers to establish a consistent standard of behaviour. This recommendation was acted upon relatively quickly, by Home Office standards, and a draft code was circulated internally this month. It is reproduced below with my comments, followed by an update on some other changes in the air around Presenting Officer training and standards.
For my previous articles on working as a Presenting Officer (PO), see here and here.
The draft code of conduct, with comments
1. You must act with honesty, integrity, objectivity and impartiality, as required by the Civil Service Code.  
Although often the line between advocate and civil servant is blurred, all POs are civil servants. I do wonder though how representatives of the Home Office in an adversarial system can really demonstrate impartiality. 
2. You must observe your duty to the court and seek to further the overriding objective, as defined in the relevant Procedure Rules. 
The duty to the court mentioned here is not clearly defined. The overriding objective in the Procedure Rules is to deal with cases "fairly and justly". The aim of a PO is not to necessarily assist the tribunal in this way, but to successfully represent the Home Office in each case. 
3. You must seek to co-operate with the Tribunal, including any arrangements made for children and vulnerable adults, mindful of the Joint Presidential Guidance Note No 2 of 2010: Child, vulnerable adult and sensitive appellant guidance. 

4. You must seek to follow all relevant Home Office policy.  
In practice, POs often disregard Home Office policy. An area where the policy is regularly contradicted in practice is on giving consent for appellants to raise new matters during an appeal. According to the policy, "in order to make best use of Tribunal resources, an adjournment should be sought for the SSHD to consider the new matter. Where possible, a single appeal should consider all matters that have been raised by the appellant". But in practice, POs are told by senior caseworkers to refuse consent for new matters in the majority of cases (where Article 8 matters are raised in protection appeals, for example), even where there would be no prejudice to the Home Office in the appeal.
Another common issue is that even where there are developments in case law, it can be a couple of weeks before new "lines to take" are prepared, so even where judgments are delivered, POs are grasping at what to submit in response. 
5. You must take reasonable steps to ensure that the court has before it all relevant and up to date legislation, case law, information, documents and policy.  
It would be impossible for any PO to ensure this is adhered to in all cases they present. The time pressures on POs are well documented (see my previous articles and the Chief Inspector's report). There is not enough time built into a PO's working week to stay abreast of all relevant changes. There is often no internal announcement of new Country Policy and Information Notes, legislative changes or policy tweaks, except for a monthly email containing all reported case law. In terms of relevant documents, the filing system currently means that only the documents in the present appeal will be available to the PO – previous determinations or applications are usually kept in storage and are only accessible when ordered. 
6. You must have regard to the impact of Home Office decisions and actions upon people and communities.  
To a large degree, a PO is not in the position to consider the impact of decisions. A PO does not interview anyone, does not decide the application or claim, and cannot change or concede an inappropriate or incorrect decision without permission.
This part of the code is clearly a response to the Windrush scandal, and a number of actions have been taken to reduce the likelihood of similar issues in future. A mandatory "Face Behind the Case" training module has been developed for all staff to drive home the point that we are dealing with people and not simply files. 
7. You must not unlawfully discriminate against any person or group, remaining respectful and considerate to all witnesses. 

8. You must not behave in a way which is likely to diminish public confidence in the administration of justice. 

9. You must not knowingly or recklessly mislead or attempt to mislead the court.

10. In cross examination and submissions, you should usually only focus on matters relevant to the issues raised in the refusal letter, or subsequent evidence that comes to light before or during the appeal hearing. You must not make statements or ask questions merely to insult, humiliate or annoy a witness or any other person.  
The old case of Kwok On Tong is covered in the PO foundation training (more on which below), and POs are encouraged to look for additional issues which could affect the hearing but aren't covered in the refusal letter. The documents in a bundle could cause a PO to question the genuineness of a relationship or employment, for example. POs are able to raise new issues at the hearing and will potentially attempt to cross-examine on these new issues without warning.
11. Should any matter arise prior to the hearing that materially affects the Secretary of State's position in a case, this should be brought to the attention of the Tribunal and the appellant (or their representative) as soon as is practicable.  
The new review process and heightened engagement between Presenting Officer Units and representatives prior to the hearing does help with this. 
12. If directions are issued in court you should make a full note of the details and timescales, taking reasonable steps to ensure that the relevant persons/teams are informed to allow timely compliance if you are unable to undertake the work yourself. 

13. If you intend to make a serious allegation against a witness (e.g. their evidence is designed to mislead the court) whom you have an opportunity to cross-examine, you should give that witness a chance to answer the allegation in cross-examination.  
This seems to be a well-documented problem and is really a result of deficiency in training. Training on cross-examination is only a small part of the initial foundation training. Although there have been training sessions delivered by practising barristers, there really isn't enough to teach POs the rules of advocacy.
What else is going on with Presenting Officer training?
As the inspector's report outlines, initial PO training is essentially a three-week classroom course in the basics of immigration law, Home Office policy and the basics of advocacy. POs aren't always legally trained, and so this course theoretically has to cater for someone with no legal background at all.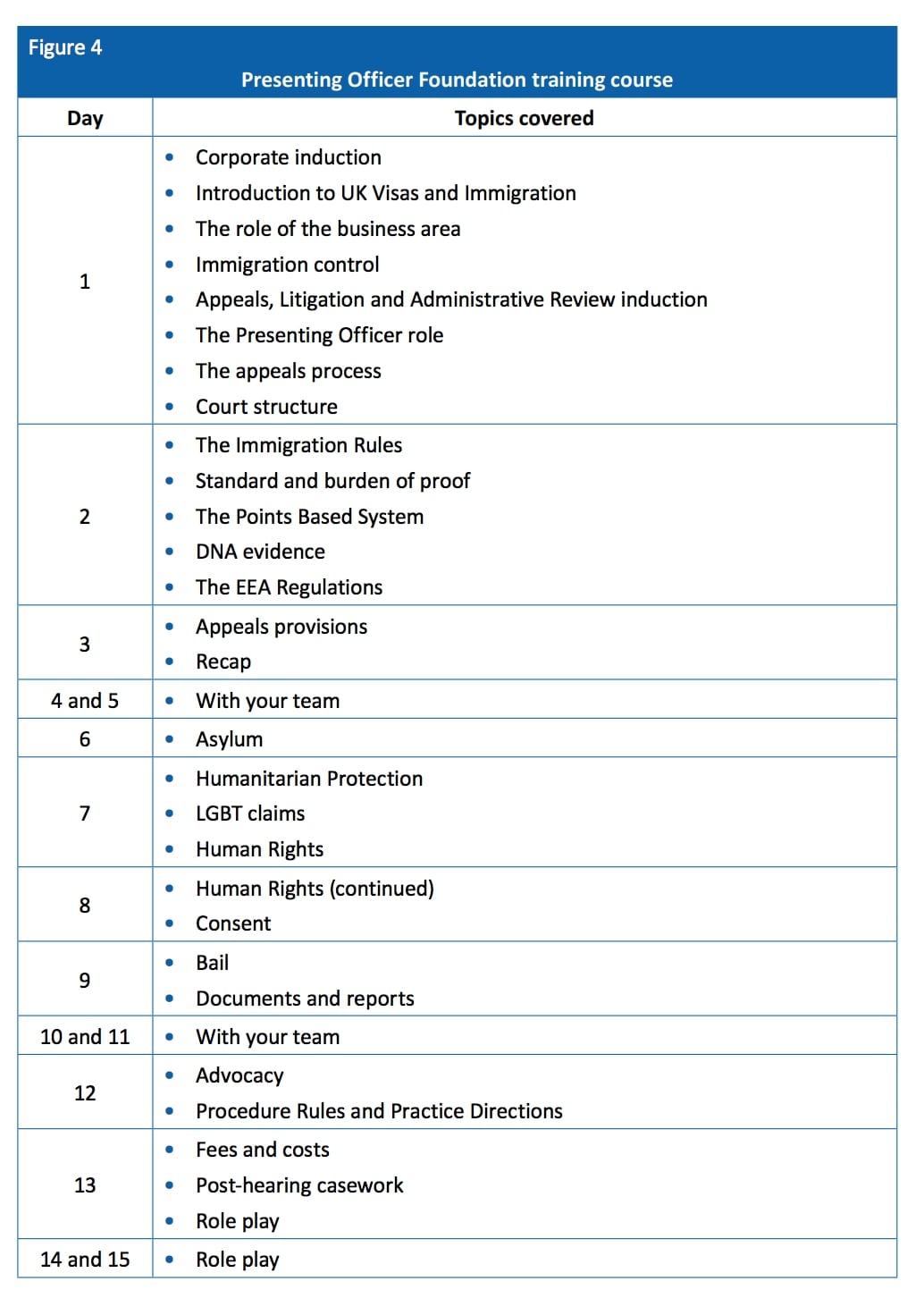 The course is followed by mentoring with an experienced PO. This will usually be a period of two to three weeks spent preparing cases together, observing and being observed in court. There is no standard mentoring period, and so the experience here will depend on the mentor: e.g. whether they provide standardised templates to their mentee, and the range of cases dealt with during the mentoring period. 
After six months or so, POs are required to undergo consolidation training. This will usually be a recap of the initial training, and some more practical issues such as how to deal with expert (medical/country) reports. It's also around the six-month mark that a PO will undergo training on how to present deportation appeals. The current deportation win rate is of concern to the Home Office — so much so that mandatory refresher training on deportation appeals is currently being delivered nationally to all POs. 
There are a number of initiatives going on at the moment to enhance performance nationwide, some of them accelerated by the findings of the inspection. Since late last year, an intensive mentoring scheme has been in place whereby any PO can request further training, regardless of how long they have been in the role. A number of "how to" guides have also been developed giving cross-examination tips for the most common types of cases encountered. 
The Appeals Directorate has also recently recruited an additional full-time member of the training team, the advert expressly mentioning the need for more training in light of the findings of the Chief Inspector's report. A number of part-time additions to the training team were made at the start of 2021, which allows POs to deliver training alongside their usual jobs. 
The official response to the report also agreed that a pilot should be conducted to determine whether changing the utilisation rate (the ratio of time in court to time spent preparing for court) makes any difference to PO performance and wellbeing. The current pattern means a full-time PO will spend 12 days in every 20 in court. Although not in place yet, a pilot is planned for one of the regional units, with the number of days a PO spends in court being reduced from 12 to ten. 
All in all, the improvements proposed by the inspector should, in theory, improve the quality of cases being taken to appeal and the standard of Home Office arguments being deployed. No doubt you'll be the judge of that.
Now read: Your questions answered by a Home Office Presenting Officer.