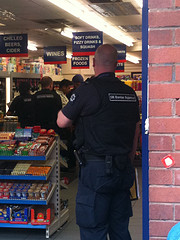 The UK Border Agency has taken to using social media to proclaim its propaganda on the ongoing purge of illegal immigrants from the United Kingdom. Conventional press releases are no longer sufficient. Free Movement has already covered the use of YouTube (see latest bizarre video here). Now Twitter, Storify and Flickr are being deployed to celebrate what has been called Operation Mayapple, the latest chistka.
Is this language unreasonable? To talk of 'purges' and 'propaganda' evokes the totalitarian regimes of the 20th century and Orwell's brilliant exposition of the thinking behind their methods in 1984. We are a long way from that, surely?
The latest social media campaign shows that politicians and civil servants are going considerably beyond the dirty business of quiet and competent enforcement of immigration laws. Some would say exactly the reverse is true: it is loud and incompetent. There is perhaps a link between volume and efficiency.
All those targeted in Operation Mayapple seem to have been in ethnic minority areas (Walworth Road and Atlantic Road in South London are specifically mentioned as having been targeted) and indeed the press release states the nationalities were all from ethnic minority nationalities:
Of the 2,000 London cases, roughly a third were from India. Significant numbers of illegal migrants from Pakistan, Nigeria, China, Bangladesh and Brazil have also returned home as a result of the campaign.
The United States, Australia and Canada do not appear on the list. Is this because nationals of these countries do not overstay at all, because they are not a priority or because they are less easy to pick off in raids? The excellent Nando Sigona considers the potential rationale for the choice of 'targets' for Mayapple:
A devil's advocate may argue that there is not one rationale but three. To maximise impact and minimise troubles, the 'illegal migrants' were carefully cherry picked according to the following criteria: a) no women and no childrenbecause human rights activists could make a fuss; b) no citizens of rich and wealthy allies (i.e. US, Canada and Australia) because their embassies could raise a few eyebrows; c) no white people because they don't fit the stereotype of the 'illegal' migrants, and, added benefit, the choice would please a section of the right-wing electoral body.
We also know that a comprehensive database is now being created to assist the citizenry in identifying and reporting suspected illegal immigrants. The Prime Minister himself encourages such reporting of co-workers or neighbours. Even inadvertent employers of undocumented migrants are named and shamed, giving any employer pause for thought before giving a job to anyone who might be foreign. Colleges and universities are treated similarly where a foreign student fails to complete a course. Newspapers doorstep supposedly liberal immigration judges. Matters are now so extreme that children are now to be deprived of one of their parents if he or she is foreign and the British based parent earns less than £18,600.
Migrants are increasingly being portrayed as some sort of potentially dangerous Other in our midst, a Third Column that poses unspecified dangers to us all and must be rooted out. This is a dangerous and divisive trend. The direction of travel is downward. What will our polity, society and economy look like a few years hence?