There is no hard border between Northern Ireland and the Republic of Ireland, and British and Irish citizens are able to cross the land border freely. Section 11(4) of the Immigration Act 1971 means that journeys within the Common Travel Area — both over the land border, and across the Irish Sea from Ireland to Great Britain — are "local" journeys only, and immigration issues seldom arise. 
However, Ukrainians without a valid visa cannot benefit from the legal protection of the Common Travel Area. Article 3(1)(b) of the Immigration (Control of Entry through Republic of Ireland) Order 1972 and paragraph 15 of the UK Immigration Rules confirm that certain people who enter the UK through the Republic of Ireland "do require leave [permission] to enter", including "persons requiring visas". Ukrainians are persons requiring visas, because Ukraine is on the visa national list.
Therefore, Ukrainian nationals are not able to rely on the Common Travel Area between the Republic of Ireland and the United Kingdom in order to enter the UK freely. If Ukrainians cross into the United Kingdom from the Republic of Ireland without a visa, it may be treated as illegal entry. This can have a negative impact on some future immigration and British citizenship applications, and be a criminal offence (although it can also be a defence to illegal entry offences to cross a border for the purpose of claiming asylum).  
In circumstances where Ukrainian citizens have come to the UK via Ireland without a visa, it is important that they seek to regularise their immigration status as a priority. Apart from anything else, they will be exposed to the "hostile environment" for people without immigration permission. Home Office guidance on "employment of Ukrainian nationals" says:
There may be situations in which you identify an individual who has an Irish entry stamp in their passport but does not have a Code 1/Code 1A stamp and does not hold any other form of permission to stay in the UK. In these situations, you must point the individual to the Home Office to make an application to stay in the UK.

Any prospective employee who is a Ukrainian national, who has not applied for permission to stay in the UK, will not have a right to work. This means you should not employ them until they have taken action to regularise their status in the UK.
People in this situation are likely to benefit from individualised legal advice. 
Can Ukrainians enter from Ireland legally?
Due to the exceptional situation where Ireland has opened its borders to Ukrainians but the UK still requires visas, the question has arisen of how Ukrainians seeking to enter the UK from Ireland can do so legally.
One way to do so would be to make a visa application first. There are special visa rules in place for Ukrainian nationals outside the UK: the Ukraine Family Scheme and Homes for Ukraine Scheme. Someone who has applied for one of the Ukraine Schemes and attended a visa application centre to be issued with a visa in their passport, as shown below, can then enter the UK from Ireland without issues.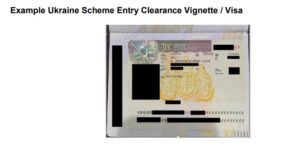 But many Ukrainians who apply to the Ukraine Schemes — those who have a biometric passport — are given a "permission to travel" letter instead of a visa. They need to arrive at a UK port of entry to have this turned into an entry clearance stamp by an immigration officer. There are no immigration officers at the land border.
The difference between getting permission to enter compared with just crossing the border is significant. Those who are assessed by an immigration officer and given leave to enter will enter the UK with permission, whereas those who do not are likely to be perceived as entering without permission/illegally. Permission to be in the UK is often required to switch between visa routes and is now required in general for in-country applications under the Ukraine Family Scheme.
The legal situation for Ukrainians who request entry at a port with a permission to travel letter, or without having applied in advance at all, is complicated. Immigration officers have the power to grant permission to enter at the border:
As a consequence of the Common Travel Area, there are no routine immigration controls at ferry ports and airports for passengers arriving from Ireland. But for Ukrainians, who cannot benefit from the Common Travel Area without a visa, travelling from Ireland by ferry or air is likely to be treated as an arrival at port and they should be able to seek permission to enter — assuming they can locate an immigration officer.
Applying for permission to enter at port
In this situation it is very important that Ukrainians without visas do not leave the port arrival area without first speaking to an immigration officer and requesting a grant of leave to enter. They might have a permission to enter letter and so need just an entry clearance stamp. If they have not made a visa application, they might instead request six months' discretionary leave to enter due to the situation in Ukraine, request protection under Part 11A of the Immigration Rules, or more generally ask for humanitarian protection or asylum. 
There have been reports that some arrivals at UK ports from Ireland have been told that there is not an immigration officer available to see them. Even in this difficult situation it is important that people wait to see an immigration officer or ask for a return appointment to do so. An immigration officer does not have to keep a person they are examining physically in the port (the person may be given a return date), but a Ukrainian arriving at the border still needs to formally request leave to enter. A list of some immigration officer contacts at UK ports is available at the bottom of this document.
Other Ukrainians arriving from Ireland have managed to be seen by an immigration officer and been granted permission to enter (usually discretionary leave for six months with no conditions imposed). This is likely to be "Code 1 or 1A", as shown below in an example from the guidance on employing Ukrainians:

The leave to enter passport stamp should have the date of arrival and the length of the grant of leave to enter. Any conditions such as restrictions on the right to work or on access to public funds should be stated, but these should not be imposed (the words "no access to public funds" on the stamp may even be crossed out). 
Arrivals should then seek further advice in the United Kingdom about varying this leave to a more stable form of permission to remain. This could, for example, be under the forthcoming Ukraine Extension Scheme (in some cases this may have to be an "outside the rules" application); under the Ukraine Family Scheme in-country; or under the Homes for Ukraine Scheme (either out-of-country by departing from the UK to make the application or in-country but applying outside the rules). These are only general suggestions and there may be other mainstream visa routes or an asylum claim which will be more appropriate in individual cases. Ukrainians and their family members can receive free initial advice from the Ukraine Advice Project.
Where an immigration officer is unavailable or fails to correctly stamp the person's passport on arrival, they should seek legal advice and will likely need to make an immigration application as soon as possible (although they could try to contact the port of entry to request that the error be sorted out or consider a legal challenge to the failure to lawfully grant them entry clearance).
–
There are separate criminal offences of encouraging or facilitating illegal entry that go beyond the scope of this brief note. As a general position, people should not encourage anyone to travel into the United Kingdom without a visa and well-meaning volunteers should not convey people across the border. People in a difficult situation should always seek individualised legal advice.