On 30 September 2020 the Home Office updated its good character policy for naturalisation to make it even harder for EU nationals to become British citizens. 
The new policy doubles the period of time, from five years to ten years, during which certain EU citizens in the UK must have held comprehensive sickness insurance (CSI) or a European health insurance card (EHIC) issued by an EU country, in order to qualify for citizenship.
The Home Office had recently updated a different nationality policy along similar lines. It has evidently decided to double down despite the controversy provoked by the previous change. 
Before we discuss the latest policy update in detail, some important points:
This only affects applicants for British citizenship. 
This generally only affects EEA and Swiss citizens (and dependants) who have been students or self-sufficient in the UK in the ten years preceding their application for British citizenship.
Employed and self-employed workers were not required to hold CSI or an EHIC and are not required to under this policy either.
Family members (within the meaning of the EEA Regulations) of workers were not required to hold CSI or an EHIC either.
The good character assessment does not introduce a ten-year residence requirement. If a person moved to the UK less than ten years ago that's fine; the caseworker will just examine UK residence back to the date they first arrived. 
The new guidance does not say that everyone without CSI will be refused citizenship. The problem is it doesn't say they will be granted either. 
If a person is affected by this issue, there is nothing stopping them from applying and asking for discretion, which a caseworker can consider applying. If the application is refused, though, the applicant stands to lose their application fee of £1,349.20 (of which only the £80 citizenship ceremony element will be refunded). Refusal is costly but doesn't prohibit future applications.
It need not have been this way. The Home Office has all the legal powers necessary to wave its magic wand and say "enough with the CSI, our customers are fed up trying to understand this and our caseworkers are fed up looking at it". But like Channel 5, the Home Office is determined to keep thrusting CSI upon us.
What is the good character policy?
Anybody over the age of ten who applies for naturalisation as a British citizen needs to be "of good character". This is a mandatory requirement set out in Schedule 1 to the British Nationality Act 1981. Where a person is deemed by the Home Office not to be "of good character" then his or her application for citizenship will be refused. You can read a more detailed overview here: Naturalising or registering as a British citizen: the good character requirement.
Government policy guidance fleshes out the good character requirement. In that policy, one of the reasons for refusing citizenship on character grounds is "non-compliance with immigration requirements". The Home Office has long considered that EU students or self-sufficient people who don't have CSI or an EHIC are not compliant with immigration requirements.
What has changed?
The updated good character policy says:
In assessing whether a person has complied with immigration requirements over the previous 10 years, you [ie the Home Office decision-maker] must take into account whether they were subject to the EEA Regulations 2016 or the Immigration Act 1971 and whether they complied with the relevant requirements.
Decision-makers must examine a European applicant's status over the decade leading up to their citizenship application to ensure that they were lawfully resident during that entire time. A person applying on 1 November 2020, for example, will have their residence scrutinised all the way back to 1 November 2010, or the date of their first arrival in the UK, whichever is most recent. 
Crucially, a grant of settled status under the EU Settlement Scheme does not absolve you of previous sins:
To qualify for indefinite leave to remain [aka settled status] under the EUSS, an EEA national or their family member must have been resident in the UK for a continuous period of 5 years. However, a grant of ILR under the EUSS does not confirm that the person has complied with immigration requirements during that time, as this is not a requirement of the EUSS.
And specifically on CSI:
Comprehensive Sickness Insurance (CSI) is a legal requirement for EEA and Swiss students, self-sufficient persons and their family members who are residing in the UK with them. If a person did not have CSI, you must consider why they did not have it. Where a person has been granted ILR under the EUSS but has been in breach of the EEA Regulations 2016 due to a lack of CSI you must consider whether it is appropriate to exercise discretion in their favour. Some applicants will have previously been refused permanent residence on the basis of not having CSI. When considering whether it is appropriate to exercise discretion, you must assess the reasons given for this, and why they did not then obtain CSI.
The previous version of the guidance had no mention of CSI.
The new good character policy is the natural progression of a broader naturalisation policy change. In May 2020, another guidance document was updated to refer to the need for CSI during the five-year lawful residence period (three years if married for a Brit) required to qualify for citizenship in the first place. This latest change effectively extends the examination of people's residence status to ten years.
What does this mean in practice?
EU nationals applying for British citizenship will be specifically asked about their residence in the UK in the ten years prior to their application. They will be required to provide information and evidence about this in their application form. This applies even if the applicant is married to a British citizen.
eBook
Naturalising as a British citizen: a guide
Full guide to the requirements and process for naturalising as a British citizen, including where the Home Office will show flexibility and where not. Case studies included throughout.
View Now
Caseworkers must then ascertain if the applicant ought to have held CSI or an EHIC, and if so, whether they did. If they did not, the caseworker must consider if it is nevertheless appropriate to use their discretion to grant the application anyway. 
EU nationals to whom this is relevant must now be very cautious when applying for British citizenship. If in the past ten years they have been students or self-sufficient in the UK without CSI or an EHIC, they could see their naturalisation application refused.
And when you say "use their discretion"…?
Normally, when caseworkers are reminded that they can exercise discretion, there is a policy setting out in what circumstances that discretion should or should not be exercised. Not so in this instance. We are in the dark as to how a caseworker is directed to deal with cases in which they have identified a problematic lack of CSI. Should they grant anyway? Should they refuse? What justifications will be deemed suitable for discretion? Is it going to be enough to just say "I didn't know about this requirement"? We don't know.
Applicants and their advisers ought to be able to read this policy, apply their facts to it, and determine whether discretion will or will not be exercised in their favour. In its present state, this is not possible. I am not able to advise an affected client what the likely outcome will be.
This position is unsatisfactory and could easily be resolved with the addition of a few sentences in the guidance.
Groan. Are we really talking about CSI again?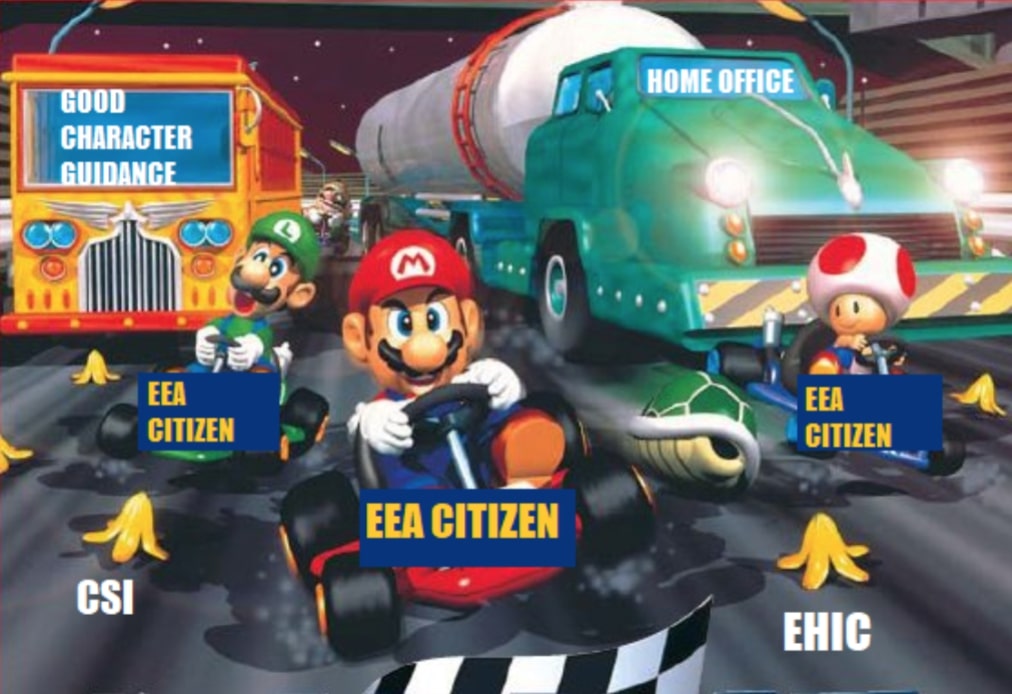 I'm certain I won't be the only one who rejoiced when CSI as a requirement for settled status was put to bed by Theresa May in an October 2017 open letter to European citizens. I thought we had seen the back of it, and so did many others.
The move away from CSI was a seismic departure. Previously, it had been a requirement for permanent residence status under EU law. The EU Settlement Scheme ushered in a simplified system where CSI was no longer relevant: people could get settled status, which effectively replaces permanent residence, without it. To get settled status, exact compliance with immigration requirements is not necessary. But examination of past legal status is now taking place during the citizenship process instead.
Need affordable legal advice?
Arrange a video chat at a time that suits you.
Use your own smartphone, pc/mac or tablet.
No commitment, no risk.
Notwithstanding a grant of settled status, the Home Office is now insisting its caseworkers scrutinise an EU applicant's past ten years to see if they can catch them out. This is particularly problematic when it comes to CSI, as the requirement to have held this was rarely communicated or advertised. 
The Home Office will defend this position by saying it is just doing the job mandated by the British Nationality Act 1981. And indeed it is. Given the very wide discretion afforded under that act to the assessment of good character and residence in the UK, however, it is disappointing that more explicit efforts aren't being made to support EU citizens. I discuss how simple this would be, from a legal point of view, in a separate article: The government can easily fix its policy on citizenship for EU nationals.
To apply or not to apply?
Until the policy is clarified to spell out exactly when a caseworker will or will not exercise discretion to overlook periods of residence without CSI, I think it is risky for EU nationals affected to apply for naturalisation. As I said at the start, the main risk really is simply losing the application fee, but until we start building up a body of statistics on grants and refusals arising from this policy, it is hard to say with any certainty what the outcome of an application will be. Anyone with a specific or urgent need for citizenship is within their rights to present a case for it, but only time will tell how such requests will be decided.
What if I've already applied – will this affect pending citizenship applications?
The good character policy is applied at the date of decision, so this can in principle be a reason to refuse applications that are already under consideration. On the other hand, I had two clients who were in a similar position after the previous policy change in May, both EU students with pending naturalisation applicants who could have been asked for CSI evidence. Neither of them was. This is anecdotal, of course, but it shows that you might not be refused even if you've already put in an application without CSI.
What if I've got old-school permanent residence – do I still need CSI?
Anyone who has a document certifying permanent residence under EU law will already have been assessed as meeting the EEA Regulations for the five years up to the date of getting permanent residence. They also don't need to satisfy the EEA Regulations from the date of permanent residence onwards (nor does anybody with pre-settled or settled status). This means that they would only need to worry about CSI for any period in the UK before getting permanent residence that forms part of the ten years leading up to the date they apply for citizenship.
This article has been amended to add the last two questions and answers above, in response to reader queries, and a link to John's follow-up article on this subject.