The immigration inspector has welcomed an increase in free appointments at visa centres in the UK following a report showing that they have been consistently unavailable. David Neal found that Home Office attempts to keep appointments free despite outsourcing them had "not yet been achieved". The result has been an extra "financial burden" on migrants forced to stump up merely to attend an immigration appointment, despite having already paid through the nose for the application itself. 
When in-country immigration appointments were taken off the Post Office in 2018 and given to outsourcing giant Sopra Steria, the Home Office promised "free appointments available to all". The reality was a switch from free Post Office appointments nationwide to free appointments only at six "core" visa centres. All the rest of Sopra Steria's locations — the "enhanced" and "premium" centres — have been charging for access.
Remarkably, so do the core centres much of the time. Since last year, Sopra Steria's contract has included a "key performance indicator" for free appointments at core locations: 56% should be free. Stakeholders, predictably, told inspectors that the net result of all this was "a nightmare", "very busy with no appointments available for anyone", with free appointments "few and far between".
We release new appointments daily, 28 days in advance. Free appointments are released at 9am and these get booked up very quickly so you may need to book a few weeks ahead. Earlier appointments are subject to availability.

More information here: https://t.co/nPeluc8Uen pic.twitter.com/13qR2EYo1O

— UKVCAS (@ukvcas) November 25, 2021
The inspector provides hard data to back this up. In Birmingham, people had to wait up to 35 days for a free appointment but just two days for a paid appointment. The target is seven days. It was missed at five out of six core application centres (Belfast the exception). The chart below shows average waiting times for paid vs free appointments: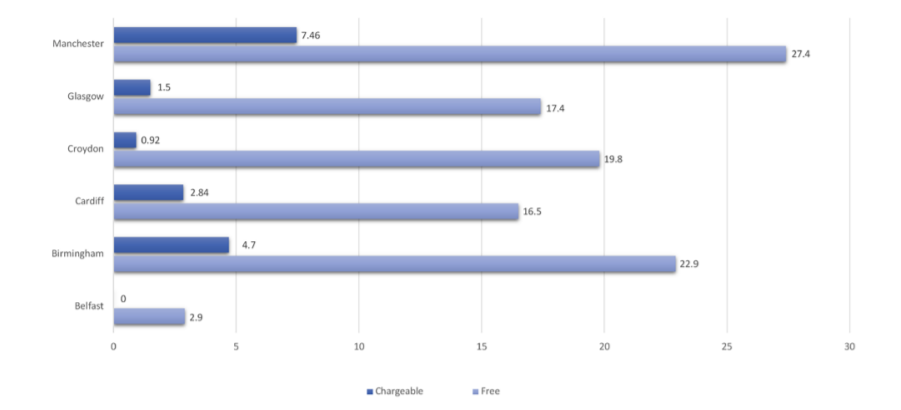 The Home Office refuses to disclose performance against the 56% target or the level of fines imposed for underperformance, citing "commercial sensitivity". Being crap probably is commercially damaging, but companies providing an outsourced public service should not be allowed to hide the fact from the statutory body charged with inspecting that public service.
Overall, the report concluded:
Despite Home Office attempts to ensure that free appointments are available to all, it was clear from the CfE [call for evidence] that this has not yet been achieved. This limited availability sometimes led to customers having to opt for appointments at a cost, removing the element of choice and imposing a financial burden on them.
That said, "senior managers at the Home Office acknowledged lack of free appointments was a key issue" and said they were working on it. The department's official response says that "we are pleased to report that from November 2021 there will be an uplift of both free appointments and increased availability of free appointments across the entire UKVCAS service point network". The Sopra Steria website echoes this, saying that free appointments have been available at all locations since 1 November.
The Chief Inspector himself says that these changes should result in 5,000 extra free appointments every month. Highly anecdotal feedback suggests that the impact on the ground so far may be, er, limited:
Appointment availability @ukvcas abysmal in the north and non existent in Scotland. No free ones anywhere. No appointments at all in Edinburgh or Glasgow. Only 22 Dec in Newcastle. Client travelling over 100 miles to Manchester and paying £125 for privilege. Very poor service.

— @BryonyRestDG (@BryonyRestDG) November 25, 2021
Another practitioner tells us "On 4th November there were precisely zero paid or unpaid appointments in Scotland until the beginning of December". This may reflect the fact that Sopra Steria admits that it has simultaneously "closed a few of our smaller Service Points". (It also hiked up the charge for a standard paid appointment.) Things may be better in other parts of the country and Mr Neal says that he will continue to monitor the situation.
The report, which ranges across the immigration system's "front end services", made eight recommendations in total. The Home Office has accepted seven.