The cost of making an immigration or nationality application has risen extremely steeply in recent years. Annual increases of 20% or 25% per year became standard, bringing the current cost of an application for indefinite leave to remain (aka settlement) to £2,389.
The actual cost of processing such an application is £243, so the Home Office is generating considerable income from each application. A Tier 2 work visa for someone working in a "shortage occupation", where the UK is desperate for workers, has an administrative cost of £127 but is charged at up to £928. As The Times reports, immigration fees delivered a £500 million surplus for the Home Office last year.
The cost of settlement is only one of the last steps in a long journey of applications, though. The total costs of applying to enter the UK as a spouse, for example, are far higher once all the different applications and fees are taken into account:
| | |
| --- | --- |
| Initial application | £1,523 |
| Extension application | £1,033 |
| NHS surcharge | £2,000 |
| Settlement | £2,389 |
| Naturalisation | £1,330 |
| TOTAL | £8,275 |
Fees were only introduced for in-country applications in 2003 and the increase only began in earnest in 2006/07 (in the very early days of this blog!), when for example a postal application for indefinite leave to remain was increased from £335 to £775 and an application for naturalisation as a British citizen from £200 to to £575.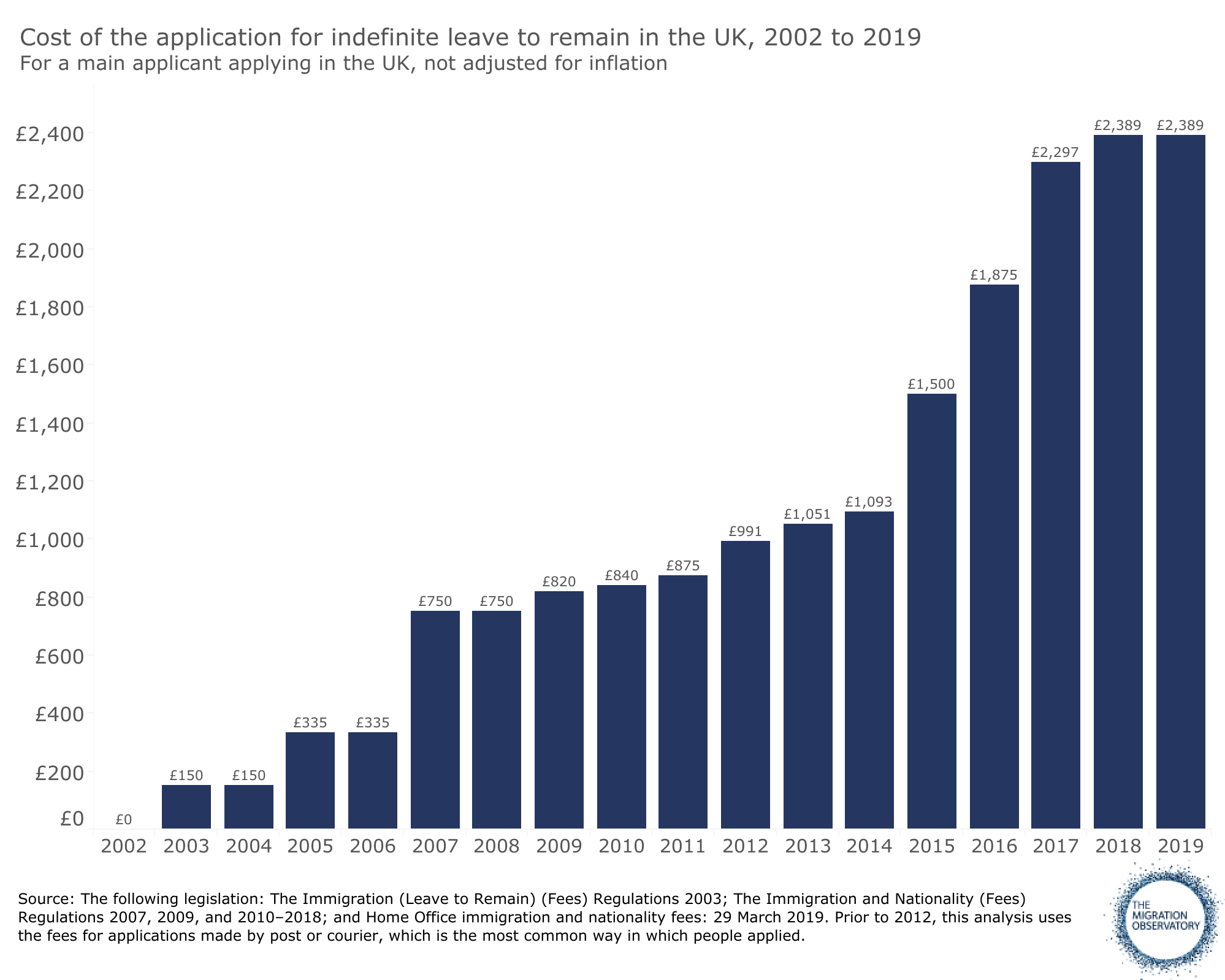 The updated list of fees for immigration and nationality applications that apply from 29 March 2019 surprisingly shows that most fees remain unchanged from last year. The problem is that the overall cost remains higher than 2018, particularly when paying the Immigration Health Surcharge. This fee doubled in 2019 from £200 to £400 per year.
The principal driver for the increases appears to be pressure on the Home Office budget. The Autumn 2015 Spending Review indicated that the Home Office was aiming to achieve "a fully self-funded borders and immigration system." Savings were needed but
the remainder will be funded through targeted visa fee increases, which will remove the burden on the UK taxpayer while ensuring the UK remains a competitive place for work, travel and study internationally.
There seems little doubt, however, that as far as Ministers are concerned a welcome side effect of the steep fee increases is that this "prices out" migrants of modest means. There is certainly anecdotal evidence that families struggle to afford the necessary fees and the earnings threshold for spouses and some are driven to explore alternative migration routes as a consequence. The Guardian reports that young people are forced
into destitution due to Home Office fees.
For children, the cost of registering as a British citizen is £1012 but the actual unit cost to the Home Office is £372. Over the past five years this particular fee alone has generated a £100 million surplus for the Home Office. A watchdog report confirms that this is literally prohibitive for unaccompanied children who otherwise qualify for citizenship. The high cost has reportedly deterred parents who are struggling financially from making applications that would be in the best interests of their children. David Bolt, Inspector of Borders and Immigration, said:
I am disappointed that the Home Office does not recognise that this is a question of basic fairness, which should not have to wait on discussions with the Treasury about the department's future funding.
But the government's next Spending Review is overdue. How long will we have to wait? Chief Secretary to the Treasury, Liz Truss, said that it is now unlikely the Spending Review will follow its original schedule and implied we'll have to wait until the revenue budgets are set in 2020.
The Immigration Skills Charge introduced on 1 April 2017 is more explicitly and overtly aimed at reducing immigration. It was introduced at a level of £1000 per year per worker and is due to be doubled (Conservative Manifesto 2017, p 20). Introducing the implementing regulations, the Minister, Lord Nash, said
Through the charge we want to incentivise employers to think differently about their recruitment and skills decisions and the balance between investing in UK skills and overseas recruitment … There are many examples of good practice, but it seems that some employers would prefer to recruit skilled workers from overseas rather than invest in training UK workers.
The Migration Advisory Committee, appointed by central Government to advise on immigration policy questions, recommended that £1,000 would be
large enough to have an impact on employer behaviour and that this would be the right level to incentivise employers to reduce their reliance on migrant workers.
The government has not yet introduced any legislation or announced when the charge will be increased.
But this is not the only cost. Employers also have to purchase and maintain a sponsorship licence and the cost of the immigration applications for the employee must also be borne, either by the employer or the employee. The direct costs soon mount up:
| | | | |
| --- | --- | --- | --- |
|   | Small employer | Large employer | Employee |
| Sponsor licence | £536 | £1,476 |   |
| Certificate of sponsorship | £199 | £199 |   |
| Immigration Skills Charge | £1,820 | £5,000 |   |
| Initial application |   |   | £1,220 |
| Extension |   |   | £1,408 |
| NHS surcharge |   |   | £2,000 |
| Settlement |   |   | £2,839 |
| Naturalisation |   |   | £1,330 |
|   | £2,555 | £6,675 | £8,797 |
The indirect costs are also considerable and are probably more of a deterrent. These fees omit several other elements of friction:
the fact that a skilled worker can only be recruited if the job has been advertised in a certain way and there were no suitable UK applicants
the reference to the hundreds of pages of so called "SOC codes", which impose a minimum salary for every conceivable job in the United Kingdom
the quota on skilled migrants
the fact the skilled worker will need to be sacked at the end of five years unless earning £35,800 (increasing to £36,200 by April 2020)
the cost of onerous sponsor administrative and compliance duties imposed by the Home Office, which can be extremely time consuming but neglect of which leads to loss of the sponsorship licence and therefore current and future foreign workers.
The Immigration Skills Charge is explicitly intended to make foreign workers uncompetitive in order to reduce immigration. It is a classic "tariff" in intention and effect. Like all tariffs, such misplaced protectionism is likely to have unintended consequences, including making us all poorer.
Imposing these tariffs on human beings in the form of onerous and — for some — unaffordable application fees as if they were widgets, whether for entry as family or as workers, is inhumane and is very poor policy indeed.
This post was originally published on 3 August 2017 by Colin Yeo and was updated on 3 September 2019 with help from Pip Hague.