At least 464 people have been stripped of their British citizenship since the law allowing it was relaxed 15 years ago, Free Movement analysis shows.
Home Office figures record 175 people being deprived of their citizenship on national security grounds, and 289 for fraud, since 2006. Before that, it had not happened since 1973.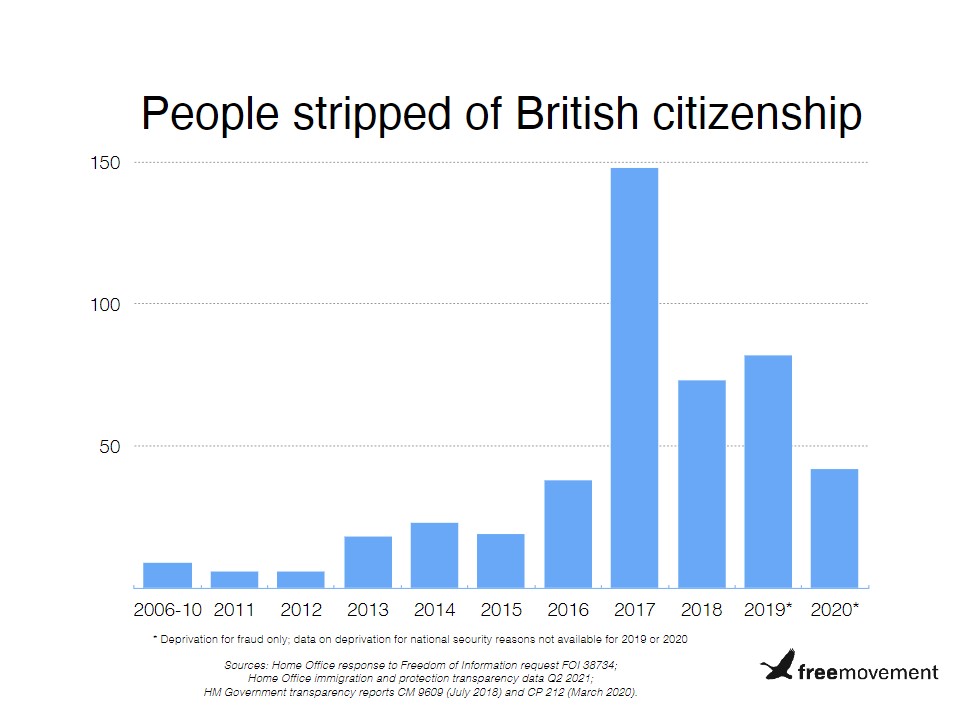 The data is not readily available but can be pieced together from a combination of historic freedom of information requests and obscure statistical publications.
The Nationality and Borders Bill 2021, currently going through Parliament, would allow citizenship deprivation to take place without the person being notified. But the power to take someone's citizenship away has been in place for many years, and is often used.
A deprivation power can be found in legislation as far back as 1914, but the modern version is in section 40 of the British Nationality Act 1981. Section 40(3) permits deprivation in cases of fraud or similar, and section 40(2) where it is "conducive to the public good". The latter used to be worded very differently, applied only to naturalised citizens and seems to have been thought of as a punishment of last resort for treason. Not a single person was deprived of their British citizenship between 1973 and 2006. But as Colin has explained, in recent years the legal test has been gradually watered down to the point where it can now be used against British-born dual nationals, and even to make naturalised citizens stateless in certain circumstances.
The Home Office does not routinely publish figures on how many people have been stripped of their citizenship under section 40. It is possible to put together a near-complete picture using historic responses to freedom of information requests (today these go unanswered), little-known "transparency data", and irregularly published national security reports.
The table below shows all recorded citizenship deprivation cases in the 21st century since they began in 2006, with links to sources.
It has a few gaps: there is no breakdown of the two deprivation types in the individual years from 2006 to 2011, and no data on "conducive to the public good" cases after 2018. The latter is because these figures are only sporadically released in a (supposedly annual) report on the use of certain national security powers, last published in March 2020. Lord Anderson of Ipswich QC recently put down a Parliamentary question asking when the government might see fit to release data covering 2019-2021.
As one might expect, given the increased use of citizenship stripping, appeals against deprivation orders have also risen sharply. The New Statesman reports that 88 appeals were lodged in 2018, compared with five in 2011.
The figures above only cover deprivation of citizenship under section 40 of the British Nationality Act 1981 and not the related but separate process of nullification at common law.