Many eastern European migrant workers don't know that the EU Settlement Scheme exists, new research suggests.
A survey of EU citizens in Cambridgeshire by the Social Market Foundation think tank found that barely half were aware of the Settlement Scheme. Even among those intending to stay in the UK long term — which, to be legal, will require a Settlement Scheme application — over 40% were unaware of it.
The report concludes that "the EU Settlement Scheme is still unknown to many migrants, and poorly understood by users".
The findings come from interviews in early 2020 with 90 migrant workers in the Cambridgeshire fens. Most were Lithuanian, Romanian or Bulgarian. Almost all worked in jobs considered "lower-skilled".
The resulting report, Best intentions: EU migrant workers in Fenland, looks at how these migrants have responded to recent political and immigration policy developments. It finds that there is "no evidence of a Brexodus of lower-skilled EU migrants", with interviewees continuing to view the UK as an attractive place to find a good job, earn decent money and generally "build a better life". Almost 40% planned to stay for longer than they originally planned and hardly any said that immigration status problems would affect that decision.
But immigration status problems they may have. On awareness of the need to apply for permission to stay in the UK post-Brexit, the report finds:
Worryingly, only a little over half of the interviewees to the Survey indicated that they were aware of the EU Settlement Scheme. And surprisingly, of those who had arrived in the past year awareness dropped, rather than rose, with only just over a third of those new arrivals saying they are aware of the Scheme.
Awareness was not much higher among those "intending to stay in the UK permanently or to lengthen their stay", at under 60%.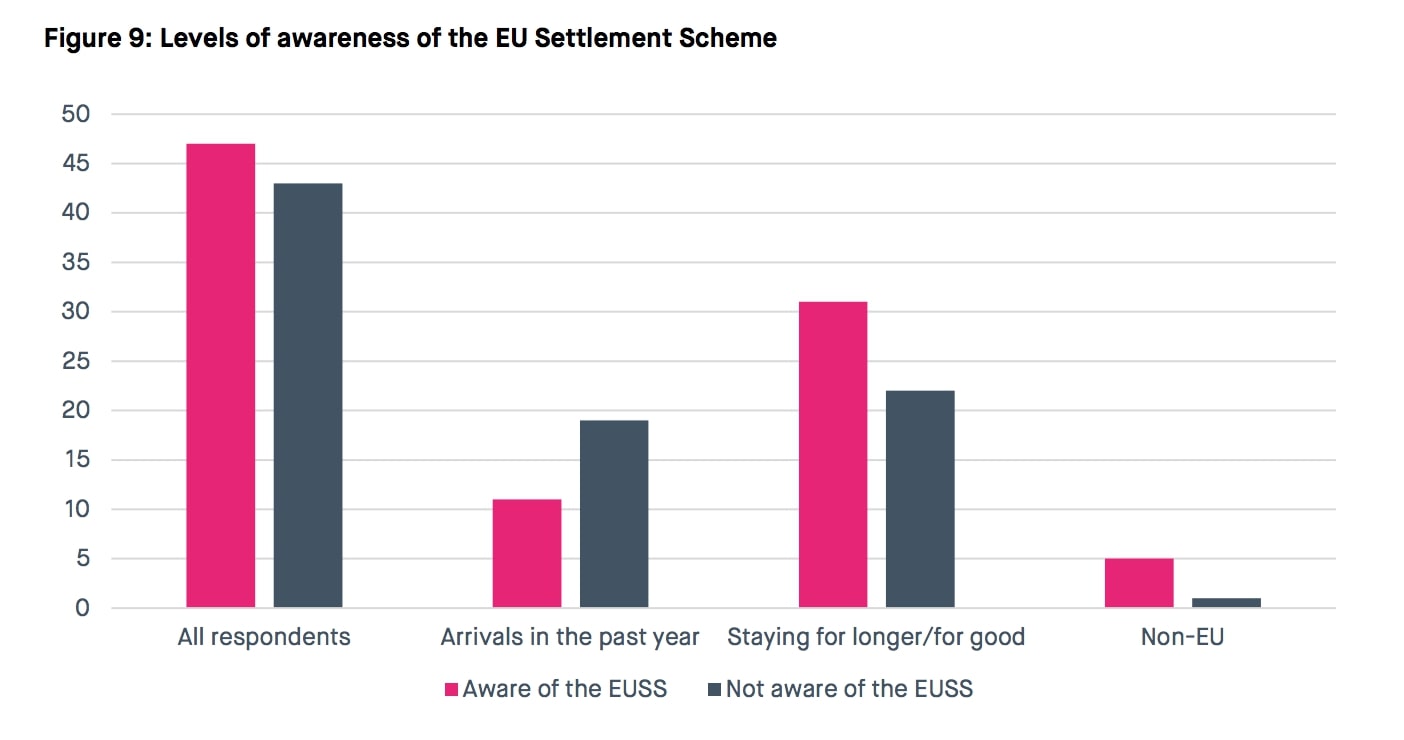 The Home Office is yet to give details about what exactly happens to people who miss the application deadline, but the default position is that they will be unlawfully resident and can be removed from the UK. 
How are these figures to be reconciled with the fact that 3.9 million people have applied to the Settlement Scheme? While overall application numbers are high, some groups are most likely to be left out than others. The migrant workers taking this survey struggled with English, with three quarters of long term residents (in the UK for ten years or more) still using an interpreter to complete it. As the Migration Observatory at Oxford University pointed out in a 2018 report "people with limited English proficiency may lack access to high-quality information about settled status" (although it doesn't take an Oxford institution or high powered think tank to work this out).
eBook
Settled Status Handbook (3rd edition)
Full guide to the settled status application process, including screenshots of the app and website and info on citizenship eligibility. Case studies included throughout.
View Now
Another reason is that, while the government can count the people who have applied, it has no idea how many have not. Official immigration statistics are a notoriously unreliable guide to the UK's migrant population.
The Social Market Foundation finds further corroboration of an undercounting problem. Pre-coronavirus, immigration numbers were assessed by asking people arriving at UK ports and airports how long they were planning to stay in the UK. Only those saying they planned to stay for more than a year are counted as long-term migrants. That means that anyone changing their mind isn't recorded:
Some 10% of the interviewees to the Survey said they initially intended to stay for less than a year. On that basis, they would have been counted as 'short-term international migrants' under the IPS methodology and in the official statistics. However, they ended up changing their intentions and staying longer, meaning that they in fact turned out to be 'longterm international migrants'.
The report's author, Jonathan Thomas, also says that the Settlement Scheme is widely misunderstood by those who do know about it. Outreach workers report "an understandable presumption among a number of EU migrants who are being granted pre-settled status that their transition to settled status in the UK will be automatically granted after five years residence here". That is not the case; getting the full settled status requires a second application. "Lack of awareness of this", Thomas warns, "suggests potential trouble ahead".