There is no way of telling how many EU citizens will be left living illegally in the UK because of Brexit, a new report has concluded.
The Migration Observatory at the University of Oxford says that the government doesn't collect or release the data needed to work out how many Europeans "fail to come forward" to get settled status by the June 2021 deadline.
The institute's report, Not Settled Yet?, finds that the EU Settlement Scheme is a black box, with researchers unable to properly measure take-up or the general efficiency of the scheme.
Why does it matter?
The post-Brexit right to live in the UK long term is not automatic, even for those with permanent residence under EU law. Instead, Europeans — of all ages — must apply for it. While few are refused settled or pre-settled status, not everyone will apply in the first place, for a variety of reasons.
EU citizens who do not secure a new immigration status through the scheme will be living in the UK illegally (although the government claims that usual consequences of unlawful residence will not follow for Europeans). There is, therefore, a great deal of interest in how the Settlement Scheme is doing.
Campaigners, NGOs and ordinary citizens want to know things like:
what is the take-up: who is applying and not applying, and what percentage of the European resident population does that represent?
are EU citizens getting the right status: if they have been here for five years or more, are they getting the full settled status, or are they being palmed off with pre-settled status?
how smoothly is the scheme functioning: how long does it take to get an answer, for example?
The report concludes that although the Home Office has, by its usual standards, published a lot of information about the Settlement Scheme, "it is very hard to use the data to answer these questions". Among other things, "it will not be clear how many have failed to come forward" to get their settled status and are living here unlawfully.
Why don't we know these things?
Sometimes this is not the department's fault as such. The Office for National Statistics's immigration figures are notoriously ropey. As the Migration Observatory diplomatically puts it, ONS figures are "likely to underrepresent migrants… because based on a voluntary survey".
As a result:
it is likely that the total number of EUSS cases will eventually significantly exceed the estimated EU citizen population and this would still not reveal much about the number of EU citizens living in the UK who had not applied.
This is already happening, in fact: far more Bulgarians have already applied to the Settlement Scheme than we thought were living here. The same goes, to a less extreme extent, to Portuguese, Italian, Romanian, Spanish, Hungarian and Slovakian citizens.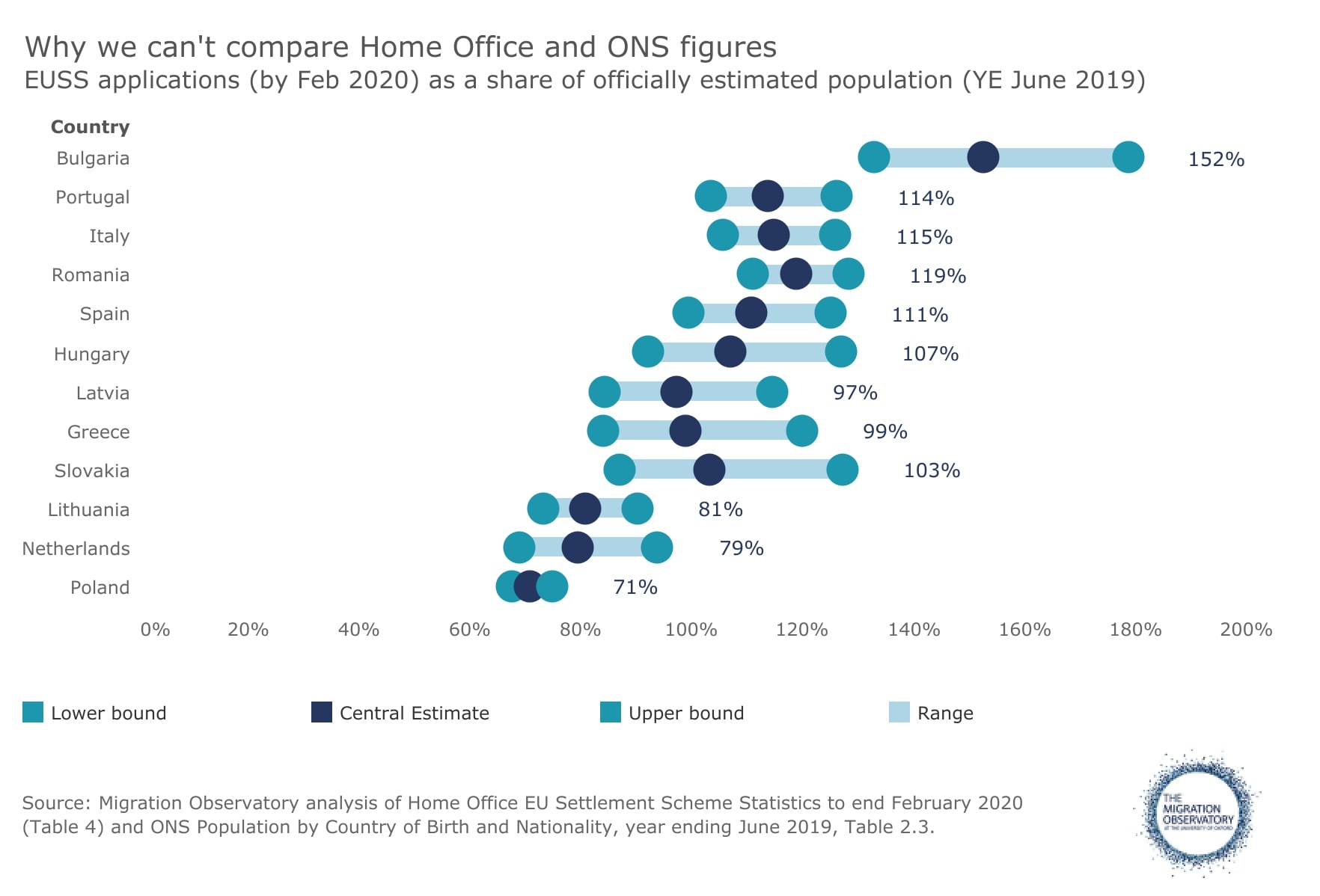 Other problems are very much of the Home Office's making. It does not publish figures for the number of people who have been through the Settlement Scheme, but only the number of applications. This means that everyone who has pre-settled status and upgrades it (as they must) to settled status is counted twice. The report reveals that "the Home Office IT system was initially set up to be able to extract data on individuals, only on applications and grants".
eBook
Settled Status Handbook (3rd edition)
Full guide to the settled status application process, including screenshots of the app and website and info on citizenship eligibility. Case studies included throughout.
View Now
Remarkably, the department is also keeping applications made on paper rather than online — a process reserved for the most complex cases — out of the statistics altogether. The Migration Observatory says that "paper applications and their outcomes are excluded from EUSS statistics".
Other information gaps include:
Can things be improved? In short, not really: "improved data is unlikely on its own to address the fundamental problems that face analysts who want to understand the take-up of the Settlement Scheme". Nor does coronavirus help.
There are some steps that could be taken, such using the existing Labour Force Survey to ask people whether they have settled status or not. Whether the authorities follow these constructive suggestions is open to doubt: the report's author, Madeleine Sumption, has been sounding the alarm about these exact issues since 2018.