Unlawful Detention (Advanced)
CPD Points:

3

Time to Complete:

3 hours
About this course
This course was last updated in October 2018.
This course teaches participants the basic principles of arguing an unlawful detention case in the immigration context. It looks at some key concepts and practicalities such as statutory detention powers, how to pursue a bail application, the different kinds of unlawful detention claim and tactical considerations as to evidence gathering and how to approach a case.
The course is aimed at solicitors, barristers, paralegals, and caseworkers, whether SRA, BSB or OISC regulated, of any level of pre or post qualification experience.
It is only available to paying members of Free Movement. If you are not already a member, you can join here and access not just this course but all of our courses. Membership starts from £22 plus VAT per month, or £220 plus VAT for annual membership, and you can cancel at any time. We also offer corporate and group membership options.
You can check out the course contents below.
For developments since this course was last updated, check Free Movement articles tagged "unlawful detention".
What people have said about this course
This was a helpful course that clearly set out the key issues to consider in this area.
Modules within this course
Overview and introduction

This module has a overview of the course and then looks at some of the key issues surrounding unlawful detention, including statutory powers of detention and the Home Office's reasons for use of detention and it's related policies. The module then goes on to detail some practical considerations for lawyers, such as detention reviews and key documents.

Types of challenges

This module looks at some of that ways in which a challenge may be brought against detention, including so-called Hardial Singh challenges, 'policy' challenges and challenges to the place of detention.

Practical steps in an unlawful detention judicial review

This course looks at some of the practical considerations that should be given in areas such as evidence gathering and seeking disclosure of documents or transfer of proceedings.

Release and bail

This module deals with steps to be pursued in order to seek release of a client from detention.

Damages claims

The module discusses some of the key principles to consider when making a damages claim should a challenge be successful.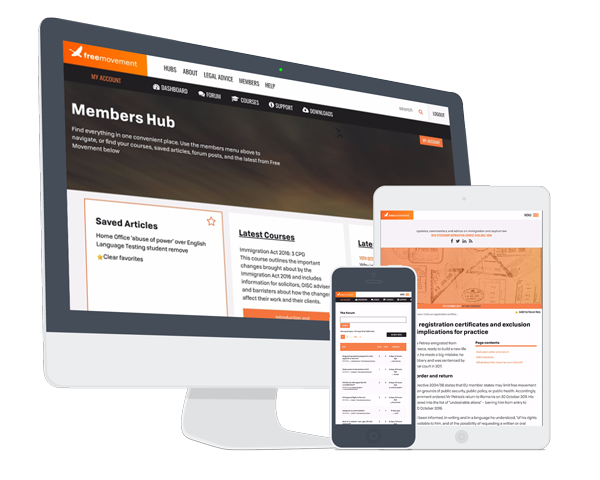 A great deal of time and effort goes into producing the information on Free Movement, become a member of Free Movement to get unlimited access to all articles, and much, much more
Join now and get access to all our training modules for free.
By becoming a member of Free Movement, you not only support the hard-work that goes into maintaining the website, but get access to premium features;
Access to all our online training materials
Downloadable CPD certificates
Single login for personal use
FREE downloads of Free Movement ebooks
Access to all Free Movement blog content
Access to our busy forums
Become a member