Professional Conduct and Ethics in Immigration Advice (Introductory)
CPD Points:

2

Time to Complete:

2 hours
About this course
This course was published in November 2022.
This course has been developed as a practical skills course for professionals providing immigration advice. This is particularly important for immigration lawyers who often represent vulnerable clients and are expected to conform to a high level of professional standards.
We will look at the different codes of conduct for the professional bodies regulating legal practice in the UK, including the General Council of the Bar, the Law Society of England and Wales, the Chartered Institute of Legal Executives, the Faculty of Advocates, the Law Society of Scotland, the General Council of the Bar of Northern Ireland, and the Law Society of Northern Ireland. We will cover important professional conduct issues with examples to help demonstrate the ethical problems an advisor might encounter in the provision of immigration advice, and how to deal with them.
The course is only available to paying members of Free Movement. If you are not already a member, you can join here and access not just this course but all of our courses. Membership starts from £22 plus VAT per month, or £220 plus VAT for annual membership, and you can cancel at any time. We also offer corporate and group membership options.
Modules within this course
Introduction to professional conduct and ethics

An introduction to professional conduct and ethics, including a general overview of the different sources.

Duty not to mislead

This module considers the duty not to mislead. This includes the duty to the Home Office and Tribunal and common examples.

Duty of confidentiality

This module covers the duty of confidentiality. This includes the duty to your client, identifying who your client is and the duty of disclosure.

Conflicts of interest

This module considers conflicts of interest. This includes examples of potential conflicts of interest which can develop and how to proceed in those circumstances, and conflicts with you, your firm or other clients.

Other conduct issues

This module considers other conduct issues which may arise. This includes the duty of candour and discrimination.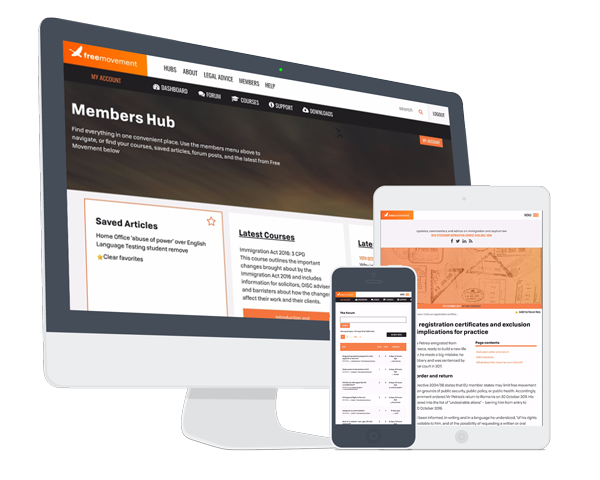 A great deal of time and effort goes into producing the information on Free Movement, become a member of Free Movement to get unlimited access to all articles, and much, much more
Join now and get access to all our training modules for free.
By becoming a member of Free Movement, you not only support the hard-work that goes into maintaining the website, but get access to premium features;
Access to all our online training materials
Downloadable CPD certificates
Single login for personal use
FREE downloads of Free Movement ebooks
Access to all Free Movement blog content
Access to our busy forums
Become a member