Palestinian Refugees (Introductory)
CPD Points:

1

Time to Complete:

1 hour
About this course
This course was updated in November 2023.
Palestine, the small region in the Middle East comprising theoretically of the Gaza strip and the West Bank, has been marked by frequent conflict and land seizures for years.
This course looks at the socio-political history of the region and the interventions of United Nations agencies. It considers Article 1D of the Refugee Convention, known as one of the 'exclusion' clauses, and the effect this has on Palestinians applying for protection in the UK.
The course is only available to paying members of Free Movement. If you are not already a member, you can join here and access not just this course but all of our courses. Membership starts from £22 plus VAT per month, or £220 plus VAT for annual membership, and you can cancel at any time. We also offer corporate and group membership options.
Modules within this course
Context of Palestinian refugees in the Middle East

This module looks at the socio-political background of Palestine and the region, the legal status of Palestinians, and the United Nations agencies established in response to the crisis and ongoing conflicts.

International law and protection of Palestinian refugees

This module delves into the protection available for Palestinian refugees and displaced persons. It compares Article 1A and 1D of the Refugee Convention and looks into the jurisprudence that has developed over the years in relation to the interpretation of Article 1D.

Applying Article 1D in asylum claims in the UK

This module considers how protection claims from Palestinians are dealt with by Home Office caseworkers in the UK.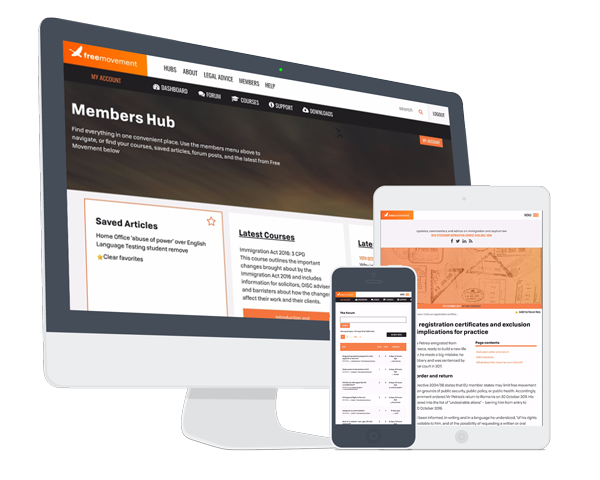 A great deal of time and effort goes into producing the information on Free Movement, become a member of Free Movement to get unlimited access to all articles, and much, much more
Join now and get access to all our training modules for free.
By becoming a member of Free Movement, you not only support the hard-work that goes into maintaining the website, but get access to premium features;
Access to all our online training materials
Downloadable CPD certificates
Single login for personal use
FREE downloads of Free Movement ebooks
Access to all Free Movement blog content
Access to our busy forums
Become a member