OISC Level 1 Accreditation: Online mock exams, regulations, ethics and more: 2 CPD
About this course
This course was last updated in January 2022.
Studying to become an OISC Level 1 adviser? Our short online training course includes three bonus online sample exam papers to practise on as well as covering exam preparation, the regulatory scheme and legal ethics.
Our three separate 20 question timed multiple choice tests are closely modelled on OISC past exam papers and are just what you need if you are preparing for the real exams.
Learn at your own pace, in the comfort of your own home and study the materials for as long as you want.
If you are looking for a course covering immigration law itself, we offer that as a separate course included with Free Movement Membership: OISC Level 1: Introduction to immigration, asylum, nationality and EU law.
You can check out the course content below.
This and all of our other training courses are only available to Free Movement Members. Free Movement Membership starts at £20 per month plus VAT but we offer new OISC advisers signing up with us a 20% discount for their first year of our annual membership plan, bringing down the price from £200 plus VAT to just £160 plus VAT.
Download our FREE OISC Level 1 handbook for the discount code.
Modules within this course
Introduction to OISC Level 1

About the OISC scheme, how it works and the need for compliance

Essential skills and abilities and the exam

Communication skills and case work skills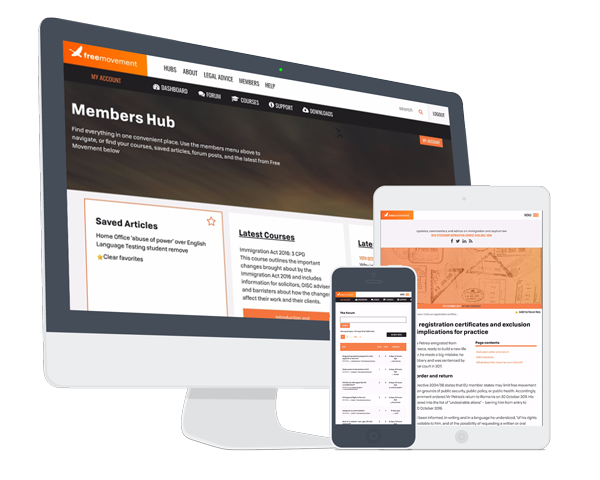 A great deal of time and effort goes into producing the information on Free Movement, become a member of Free Movement to get unlimited access to all articles, and much, much more
Join now and get access to all our training modules for free.
By becoming a member of Free Movement, you not only support the hard-work that goes into maintaining the website, but get access to premium features;
Access to all our online training materials
Downloadable CPD certificates
Single login for personal use
FREE downloads of Free Movement ebooks
Access to all Free Movement blog content
Access to our busy forums
Become a member