OISC Level 1 Accreditation: Introduction to immigration, asylum, nationality and EU law: 16 CPD
About this course
This course was last updated in January 2022.
Welcome to our complete and comprehensive online immigration law starter training course! It is ideal for aspiring OISC Level 1 advisers seeking accreditation and other budding immigration lawyers. We cover everything you need to know to get started in immigration law and get accredited with the OISC: what is it, how does it work, all about family and business immigration, nationality law, the EU Settlement Scheme and more.
We have carefully designed and written the course to cover absolutely everything in the OISC Level 1 syllabus. We use simple, plain English, diagrams, infographics and worked examples throughout the course as well as auto-marking "test yourself" questions at the end of every course unit.
We offer three bonus timed mock exams modelled closely on real OISC Level 1 exam papers AND a detailed course on legal ethics for OISC advisers, signposting and referral, exam preparation and everything else you need to know to be an OISC Level 1 adviser. Our mock exams provide customised feedback: if you are getting answers on certain topics wrong, we'll point that out and suggest further reading for you.
At your own leisure, in your own time, in your own home you can spend as long as you need on this and our many other online courses. You can check out the course content below.
Access to the course is for paying Free Movement Members only, so if you haven't joined already then sign up on our joining page. Membership starts from just £20 per month plus VAT and can be cancelled at any time.
Free Movement Membership starts at £20 per month plus VAT but we offer new OISC advisers signing up with us a 20% discount for their first year of our annual membership plan, bringing down the price from £200 plus VAT to just £160 plus VAT.
Download our FREE OISC Level 1 handbook for the discount code.
Modules within this course
Introduction to immigration law

Structure of immigration law in the UK, the immigration categories, making an application

Visitors, residents and family

Covering the different immigration categories and routes for migrants coming to or staying in the UK.

Asylum and protection

Who is and is not a refugee, how asylum applications are made and what status is granted to refugees

Nationality

Types of British nationality and becoming a British citizen by birth, registration or naturalisation

The EU Settlement Scheme

Overview of post-Brexit immigration status for EU citizens and their families, including late applications and consequences of failing to apply.

Business immigration and students

Introduction to the Points Based Immigration System and other work/study visas

General grounds for refusal, deportation and detention

General grounds for refusal, deportation and detention powers

Appeals and remedies

Rights and grounds of appeal, time limits, lodging appeals, higher appeals, administrative review and judicial review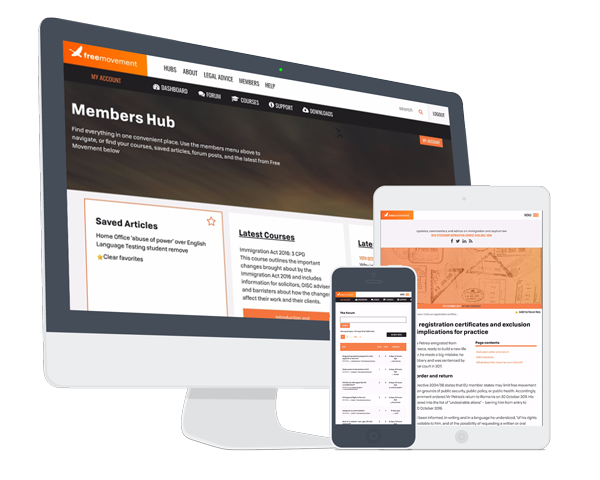 A great deal of time and effort goes into producing the information on Free Movement, become a member of Free Movement to get unlimited access to all articles, and much, much more
Join now and get access to all our training modules for free.
By becoming a member of Free Movement, you not only support the hard-work that goes into maintaining the website, but get access to premium features;
Access to all our online training materials
Downloadable CPD certificates
Single login for personal use
FREE downloads of Free Movement ebooks
Access to all Free Movement blog content
Access to our busy forums
Become a member