OISC Level 2 course: immigration and asylum online training
Comprehensive intermediate-level online immigration law training course covering the whole OISC Level 2 syllabus with worked examples, infographics, test-yourself questions, exam tips, short videos and more.
CPD Points:

40

Time to Complete:

40 hours
About this course
Our comprehensive online immigration law training course covers the OISC Level 2 immigration and asylum syllabuses with worked examples, infographics, over 100 self-test questions, exam tips and more. It is aimed at level 1 advisers aspiring to become accredited at level 2, in the immigration category, asylum and protection category, or both. It will also be useful to anyone learning to practise immigration law at an intermediate level, for example, a junior solicitor or an IAAS level 1 accredited caseworker.
We cover immigration applications under the rules and outside the rules, asylum, protection and human rights claims, nationality law, challenging immigration decisions, detention and bail applications, and deportation and removal.
The final module of this course explains how immigration advisers and organisations can apply to raise their level of competence. We also provide some tips for how to prepare for the assessment.
As with all of our courses, completion of this course can be counted towards continuing professional development and trainees will receive a certificate at the end.
The course can be taken at your own leisure, in your own time, in your own home. You can spend as long as you need on it. You can check out the course content below.
The course is only available to paying members of Free Movement. If you are not already a member, you can join here and access not just this course but all of our courses. Membership starts from £22 plus VAT per month, or £220 plus VAT for annual membership, and you can cancel at any time. We also offer corporate and group membership options.
This course was published in November 2023.
What people have said about this course
Detailed but not overwhelming. The examples where good and illustrated complex parts well. The quiz at the end was very good.
Well written and exam focused.
I thought the test questions were helpful. The language used was clear. The visuals for more complicated parts of the rules were great.
Very clear language, useful examples, links to relevant further information, legislation, etc.
Modules within this course
Immigration law

This module includes a recap of the structure and sources of immigration law and the key concepts that advisers need to have have an understanding of. This includes some key terminology that is used throughout immigration law practice, such as no recourse to public funds, the right of abode, extensions and switching and section 3C leave.

Entry and stay under the Immigration Rules

This module covers the main categories of entry and stay under the Immigration Rules – visitors, family members and the operation of Appendix FM, the points-based immigration system and other work and business visas, students, the EU Settlement Scheme, and the ten-year long residence rules.

Asylum and protection

This module covers all aspects of the process for making a protection claim in the UK. This includes lodging an asylum claim in the UK, section 120 notices, admissibility, interviews and evidence, legal aid and support, decision outcomes and fresh claims. 

Refugee family reunion

This module covers the process for applying for family reunion and the requirements that must be met by the applicant and sponsor. We provide advice on avoiding refusals, and the remedies available for an applicant if they do receive a refusal. Finally, we cover funding for family reunion applications.

Human rights and leave outside the Rules

This module covers the human rights applications under Article 8 of the European Convention on Human Rights and leave outside the rules applications, such as for discretionary leave. We also cover applications that do not fall within any other category, but are raised on "compelling and compassionate grounds". 

Nationality

This module covers how British nationality is acquired by operation of law, by registration and by naturalisation. We also discuss how British nationality can be lost, including via renunciation, deprivation and nullification, and how this can be challenged. 

Refusals and challenging decisions

This module looks at the grounds for refusal of an immigration application. It also covers who has a right to an appeal and how to lodge an appeal, the outcomes of an appeal, and other remedies including administrative review and judicial review.

Immigration offences and enforcement

This module looks at the criminal offences that can be committed by migrants such as illegal entry and stay, deception, overstaying and breaching conditions. We will also look at the immigration control offences which can be committed by anyone, including assisting unlawful migration, trafficking, employing migrants who do not have a right to work and renting to migrants who do not have a right to rent. It also covers immigration enforcement, including detention, bail, removal and deportation.

Regulation and assessment

This module explains how to raise your level of competence from level 1 to level 2. It covers the assessment format and tips on how to prepare for the assessment.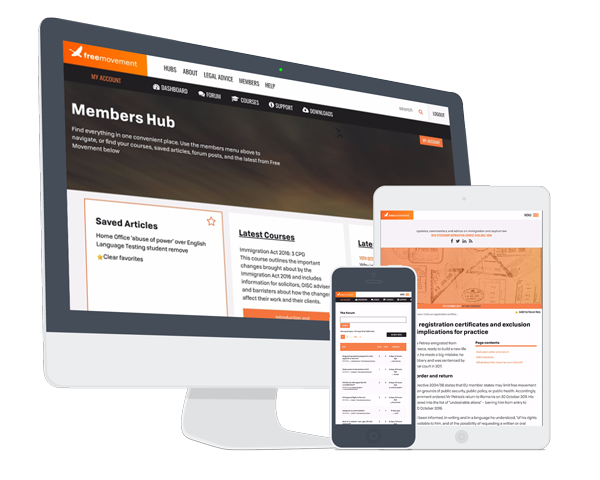 A great deal of time and effort goes into producing the information on Free Movement, become a member of Free Movement to get unlimited access to all articles, and much, much more
Join now and get access to all our training modules for free.
By becoming a member of Free Movement, you not only support the hard-work that goes into maintaining the website, but get access to premium features;
Access to all our online training materials
Downloadable CPD certificates
Single login for personal use
FREE downloads of Free Movement ebooks
Access to all Free Movement blog content
Access to our busy forums
Become a member