International Surrogacy – Immigration and Nationality Law Issues (Advanced)
CPD Points:

4

Time to Complete:

4 hours
About this course
This course was last updated in July 2020.
Recent years have seen an increase in international surrogacy arrangements, under which citizens or residents of the UK who are unable to conceive pay someone in a foreign country to carry and give birth to their child. The process can bring enormous joy to childless families, but comes with considerable legal complications — including the immigration status and citizenship of a child born abroad to a foreign birth mother. As a result, careful planning is needed on the immigration side to ensure that intended parents are able to bring their child back to the UK after the birth.
This course, written by experienced solicitor Karma Hickman, goes through the legal and practical implications of international surrogacy. It contains dozens of case studies and worked examples and is suitable for experienced practitioners seeking to gain detailed knowledge about this topic. You can check out the course contents below.
For developments since this course was last updated, check Free Movement articles tagged "surrogacy".
The course is only available to paying members of Free Movement. If you are not already a member, you can join here and access not just this course but all of our courses. Membership starts from £22 plus VAT per month, or £220 plus VAT for annual membership, and you can cancel at any time. We also offer corporate and group membership options.
Modules within this course
Surrogacy law and parenthood

British citizenship

Surrogacy and British nationality

Entry clearance

Surrogacy and entry clearance

Wrap-up and quiz

Concluding bits and pieces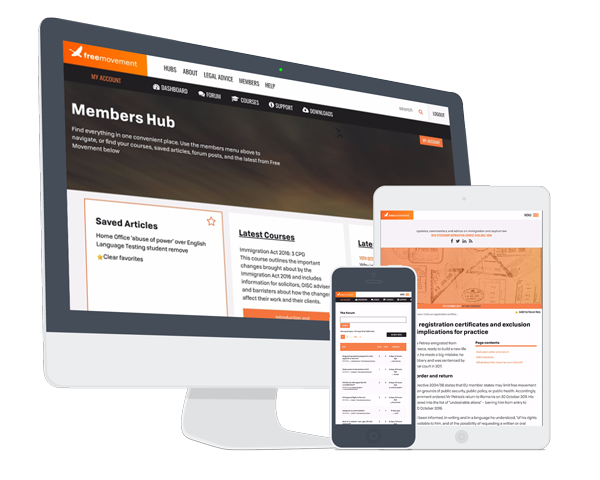 A great deal of time and effort goes into producing the information on Free Movement, become a member of Free Movement to get unlimited access to all articles, and much, much more
Join now and get access to all our training modules for free.
By becoming a member of Free Movement, you not only support the hard-work that goes into maintaining the website, but get access to premium features;
Access to all our online training materials
Downloadable CPD certificates
Single login for personal use
FREE downloads of Free Movement ebooks
Access to all Free Movement blog content
Access to our busy forums
Become a member