Immigration Offences and Civil Penalties (Intermediate)
CPD Points:

2

Time to Complete:

2 hours
About this course
This course was last updated in October 2023. It incorporates changes introduced by the Nationality and Borders Act 2022 and the Illegal Migration Act 2023.
The statute book is crammed full of criminal offences relating to borders and immigration control, from illegal entry to renting property to an unauthorised migrant. Most are rarely prosecuted, but it is still worth being aware of the main criminal offences in this area, as well as the fines that landlords, employers and transport companies can (and do) face.
In the first two modules of this course we break down the various immigration criminal offences into migration offences and immigration control offences. Migration offences can only be committed by migrants themselves: British citizens cannot commit an act of illegal entry, for example. Immigration control offences can be committed by anyone. A migrant or British citizen can commit an offence of evading immigration control, obstructing an immigration officer or trafficking a migrant, for example.
In the final module we look at civil penalties. Civil penalties are a financial sanction — a fine, in other words — levied under civil rather than criminal law as a means of punishing certain breaches of immigration law. Although civil penalties do not attract custodial sentences, the sums involved can be extremely high.
The course is only available to paying members of Free Movement. If you are not already a member, you can join here and access not just this course but all of our courses. Membership starts from £22 plus VAT per month, or £220 plus VAT for annual membership, and you can cancel at any time. We also offer corporate and group membership options.
You can check out the course contents below:
For developments since this course was last updated, check Free Movement articles tagged "criminal offences".
Modules within this course
Criminal offences by migrants

This module examines the various criminal offences that might be committed by a migrant on entry to the UK or within the UK.

Immigration control offences

There are a range of laws which forbid assisting migrants with breaches of immigration control, for example by assisting with a sham marriage, assisting unlawful immigration or employing or renting to an unauthorised migrant.

Civil penalties

As well as criminal sanctions there are various civil penalties that can be imposed on carriers, employers and landlords for failure to conduct immigration checks in certain circumstances.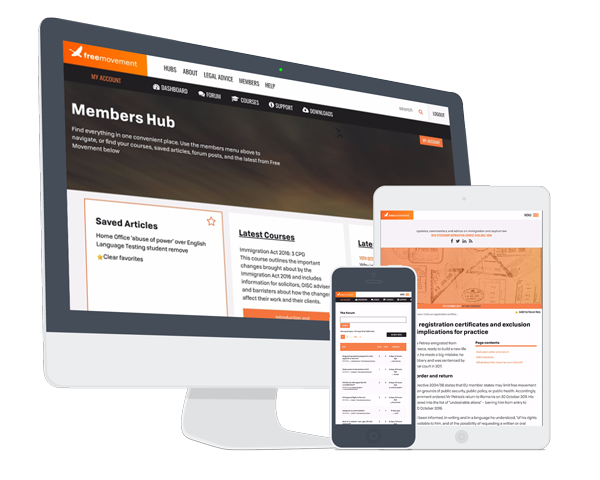 A great deal of time and effort goes into producing the information on Free Movement, become a member of Free Movement to get unlimited access to all articles, and much, much more
Join now and get access to all our training modules for free.
By becoming a member of Free Movement, you not only support the hard-work that goes into maintaining the website, but get access to premium features;
Access to all our online training materials
Downloadable CPD certificates
Single login for personal use
FREE downloads of Free Movement ebooks
Access to all Free Movement blog content
Access to our busy forums
Become a member