Immigration Act 2016 (Intermediate)
CPD Points:

3

Time to Complete:

3 hours
About this course
This course was last updated in December 2021.
This course outlines the important changes brought about by the Immigration Act 2016 and includes information for solicitors, OISC advisers and barristers about how the changes will affect their work and their clients.
The course is only available to paying members of Free Movement. If you are not already a member, you can join here and access not just this course but all of our courses. Membership starts from £22 plus VAT per month, or £220 plus VAT for annual membership, and you can cancel at any time. We also offer corporate and group membership options.
You can check out the course content below.
Modules within this course
Introduction and commencement

Introduction to the Immigration Act 2016 and its broad effects and information on which provisions have taken legal effect and when.

Labour market and illegal working

Covering the Director of Labour Market Enforcement, Labour Market Enforcement Undertakings and Orders, the new illegal working offence, amendments to the employing illegal workers offence and illegal working closure notices and compliance orders.

Access to services

Covering the new offence of leasing premises, new eviction powers for landlords and new restrictions on driving and bank accounts.

Enforcement

Covering new enforcement powers, detention of vulnerable persons and pregnant women and the important new concept of Immigration Bail.

Appeals

Covering further amendments to appeal rights and reviewing the changes already wrought to rights and grounds of appeal by the Immigration Act 2014.

Support

Covering new asylum support and local authority support arrangements, including the loss of appeal rights.

Other provisions

Covering border security provisions on airport control areas, maritime enforcement and persons excluded under international obligations, the new language requirement provisions for public sector workers and amendments to fees and charges provisions, including the new immigration skills charge.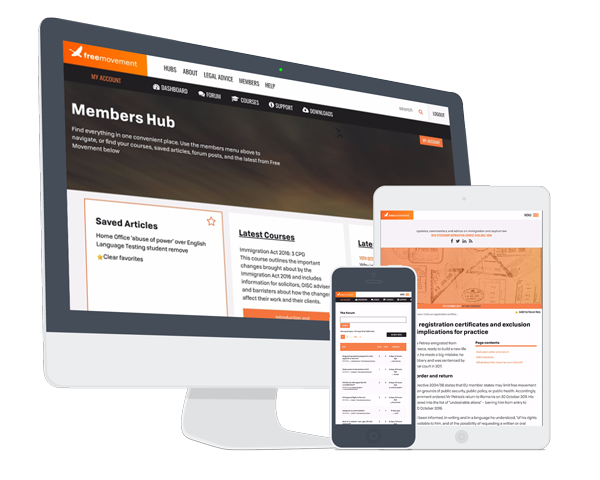 A great deal of time and effort goes into producing the information on Free Movement, become a member of Free Movement to get unlimited access to all articles, and much, much more
Join now and get access to all our training modules for free.
By becoming a member of Free Movement, you not only support the hard-work that goes into maintaining the website, but get access to premium features;
Access to all our online training materials
Downloadable CPD certificates
Single login for personal use
FREE downloads of Free Movement ebooks
Access to all Free Movement blog content
Access to our busy forums
Become a member