The backlog of asylum cases has passed 70,000 despite a fall in the annual number of applications.
Almost 71,000 asylum seekers, including dependants, were awaiting an initial decision on their claim for refugee status as of 30 June 2021, according to new Home Office figures. The overall backlog has doubled in just a couple of years: at the end of 2018, the figure was 36,000.
The rise in pending cases comes despite the number of new applications remaining below pre-pandemic levels. The flow of asylum claims into the system rose in the second quarter of 2021, but remains well below the 2019 peak. The running total in the year ending 30 June 2021 is lower than the number for the year to 30 June 2020.
A different measure of the backlog — asylum seekers waiting for more than six months for an initial decision — also shows an alarming rise. The number of people in this position is up almost 40% year-on-year, to 54,000 (see chart below).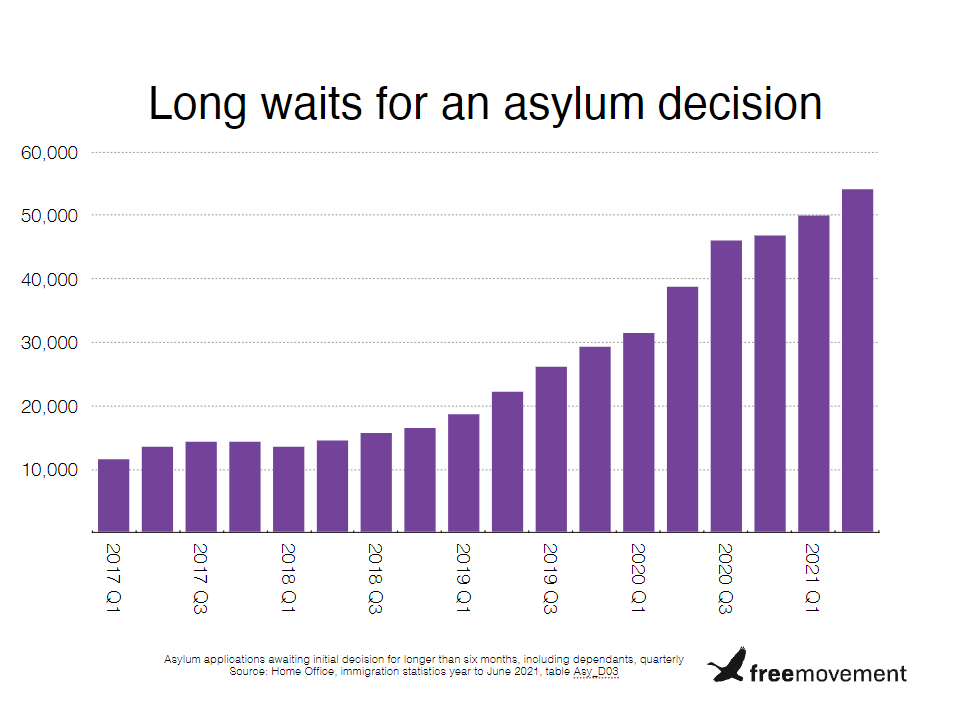 Included in the backlog are 3,000 Afghan asylum seekers. The Home Office appears to be in no particular rush to resolve their cases despite the Taliban takeover, as we'll be discussing on tomorrow's episode of the Free Movement podcast. In addition, 64 Afghan citizens were refused asylum between March and June this year (compared to 153 grants), and 139 put in immigration detention. The figures for removals only go up as far as the first quarter of 2021, when ten people were returned to Afghanistan.
What about resettlement? Earlier this month, Home Office minister Chris Philp wrote a testy letter to the Financial Times chastising the paper for its "incomplete" reporting on that issue:
The FT states that since the start of the pandemic, the UK has ended a resettlement scheme. But you fail to mention the launch of the UK Resettlement Scheme (UKRS) in March, which replaced the UK's vulnerable persons resettlement scheme after this exceeded its target of welcoming 20,000 refugees fleeing the conflict in Syria, and which has ensured the continued resettlement of refugees.
We now know that 310 people benefitted from the UK Resettlement Scheme in the first six months of 2021. Overall, resettlement is running at about a quarter of pre-pandemic levels, as the Migration Observatory at the University of Oxford points out.
Finally, a word on the number of asylum claims being declared "inadmissible" under new rules in force since 1 January:
1,509 'notices of intent' were served to individuals to inform them that their case was being reviewed in order to determine whether removal action on inadmissibility grounds was appropriate and possible. This more than doubled in Q2 (April to June) 2021 with 3,052 notices being issued.
That said, only seven people actually had their case deemed inadmissible in 2021 so far, and none have been removed from the UK.