Today the Home Office published a new plan for immigration with the title, somehow both grandiloquent and banal, New Plan for Immigration. It is mainly concerned with asylum and people who enter the UK illegally (those two concepts being subtly mashed together) but there are also some miscellaneous proposals for tweaks to citizenship laws.
The asylum proposals are mostly irrelevant to the real needs of a creaking system, which as we set out in some detail yesterday are largely of the Home Office's own making. As former immigration minister Caroline Nokes wrote last week, "getting to grips with the growing backlog of asylum decisions… will require investment". Instead we have a hodgepodge of measures that try to chip away at such safeguards as currently exist for asylum seekers in the UK, the majority of whom will ultimately be recognised as genuine refugees. Fundamentally, though, there is little that is radical here and much that has been tried (and discarded) before.
Bonus points for "safe and legal" arrivals
The word "illegal" or a derivative of it appears 74 times in the document, epitomised by the sentence "In 2019, 32,000 illegal attempts to enter the UK illegally were prevented in Northern France". The idea is to contrast clandestine entry, including dangerous crossings of the English Channel, with the orderly process of resettlement directly from refugee camps under government programmes.
The reality is that such programmes, which have been on hiatus throughout the pandemic, do not represent a "queue" which asylum seekers considering a journey to the UK ought to join and wait their turn. Over the past five years, the UK has resettled around 26,000 refugees, including 20,000 Syrians. (This looks impressive by European standards but most EU countries receive far higher numbers of in-country asylum seekers.) The United Nations estimates that there are 26 million refugees around the world, and they cannot in any case apply directly for resettlement in the UK, instead being selected by NGOs.
At any rate, the strategy is to contrast refugees who have arrived via "illegal" routes with those who have used "safe and legal routes". The latter are to be treated better than the former, creating a sort of two-tier asylum system.
Bones thrown to the "safe and legal" cohort include:
Indefinite leave to remain on arrival for resettled refugees, rather than five years' temporary permission leading to ILR as now.
A possible tweak to the family reunion rules such that "unmarried dependent children under the age of 21", rather than under 18 as now, can come to the UK if both their parents are here as refugees already.
A bit of extra funding for integration programmes, already announced, "tailored and flexible employment support arrangements" and improved English language teaching.
Some chat about reopening resettlement schemes, but with no timetable nor numerical target akin to the "20,000 Syrians in five years" in place between 2015 and 2020.
Punishment of clandestine entrants
By contrast, people who have entered the UK illegally to claim asylum, or who have travelled through a "safe third country" such as France, will be have fewer rights than before.
Rules allowing the Home Office to refuse even to consider an asylum claim where the person has come via a safe third country are already in place but get another airing. We are told that "anyone who arrives into the UK illegally – where they could reasonably have claimed asylum in another safe country – will be considered inadmissible to the asylum system, consistent with the Refugee Convention".
There will be a "rebuttable presumption" that people can be returned to EU and other developed countries, and sections 77 and 78 of the Nationality, Immigration and Asylum Act 2002 amended so that people can be removed despite having a pending asylum claim or appeal. This is all academic given that punting asylum seekers to other countries is admitted to be "contingent on securing returns agreements", which do not exist (but will be pursued).
Detail of @pritipatel's New Plan for Immigration shows her asylum approach is based on fantasy politics:
• no returns agreement in place with any 'safe' country to take back asylum seekers
•no agreements in place with any "alternative safe third country" pic.twitter.com/vroNXhZq3W

— Alan Travis (@alantravis40) March 24, 2021
So instead, people in this position will be punished with a new "temporary protection status" instead of refugee status. This is for people with inadmissible claims, and who cannot be returned, and:
did not come to the UK directly,

did not claim without delay, or

did not show good cause for their illegal presence.
Temporary protection will be a grant of permission to remain in the UK for no longer than 30 months, with no recourse to public funds and "restricted" family reunion rights. They would also be "regularly reassessed for removal from the UK" (a policy that already exists, at least on paper).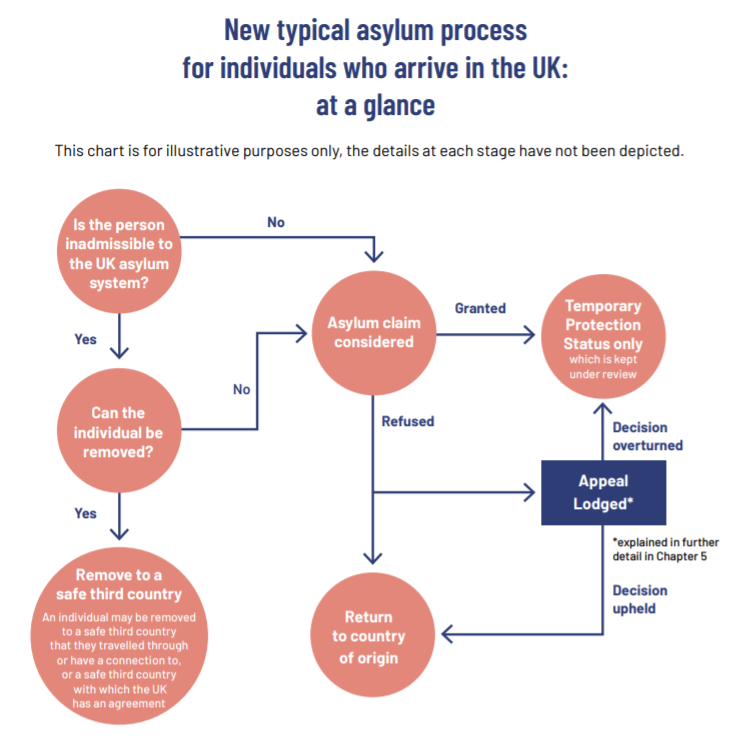 There will be an increase in the maximum sentence for entering the UK illegally. The maximum currently is six months, but the document does not say what this would change to. The separate "facilitation" offence of assisting unlawful immigration will now attract a maximum of life in prison, up from 14 years (in reality the average sentence handed down is three and a bit years).
There follow a range of other measures which will affect all asylum seekers, not just those said to have "jumped the queue". 
Other asylum measures
Changes to substantive law
There are to be changes to the legal test for whether someone has a "well-founded fear of persecution", subject to consultation and the Refugee Convention. People will first have to prove on the balance of probabilities that "they are who they say they are and that they are experiencing genuine fear of persecution". There will then be consideration of "whether the claimant is likely to face persecution if they return to their country of origin". This would have to be established on the lower standard of proof of "reasonable likelihood".
This effectively rolls back the law to the 1990s, before the courts held in a series of cases that having such a split standard of proof was impractical, overly complex and generally stupid. Quite why this zombie issue of refugee law is now shaking the grave dirt from its boots is anyone's guess, although presumably the Home Office thinks that it will make it harder for asylum claims to succeed. 
There will also be a statutory definition of "persecution", in line with the Refugee Convention.
National Age Assessment Board
There are plans for new bureaucracy around age assessments. A National Age Assessment Board will set centralised standards and processes for assigning an age to asylum seekers who claim to be under 18. These would be put into secondary legislation. The functions of this board "may" also include (perhaps they have not made up their minds):
acting as a first point of review for any Local Authority age assessment decision and carrying out direct age assessments itself where required or where invited to do so by a Local Authority.
The board will promote "scientific age assessment methods", whatever those are. It would make everyone's life easier if age assessment were a science, but it is not.
There is also to be legislation allowing immigration officers, rather than social workers, to make "to make reasonable initial assessments of age". The current policy of treating someone as an child unless they seem clearly over 25 may be reduced to 18. Also up for consultation is a "fast-track" statutory appeal process for age assessments to reduce the number of judicial reviews in this area.
Asylum appeals and judicial reviews
There will be a "Good Faith Requirement" for appeals. "Anyone bringing a claim or a challenge in the courts and their representatives will be required to act in good faith at all times". This is so nebulous as to defy commentary.
Also a "new 'one-stop' process" to incentive people to raise all asylum or human rights issues up front:
People who claim for any form of protection will be issued with a 'one-stop' notice, requiring them to bring forward all relevant matters in one go at the start of the process.
It may be that this is different from the existing one-stop process, if the word "will" indicates that notices will be mandatory rather than discretionary. Caseworkers and judges will be told to give "minimal weight" to evidence introduced later in the process, "unless there is good reason".
There is one paragraph on bringing back some form of fast-track asylum appeals, but no details. Clearly there are no fresh ideas on how to get such an affront to justice past the judges.
On the judicial review front, the Home Office is "considering" (so presumably will consult on) making people who lose JRs pay some of the government's costs. Tribunal judges may also get additional powers to make wasted costs orders "in response to specified events or behaviours, including failure to follow the directions of the court, or promoting a case that is bound to fail".
Also under consideration is requiring medical and other experts to be drawn from a state-approved panel. This is, I kid you not, with a view to "putting the independence of the experts beyond question".
Removals
Also in the mix are some bits and pieces on removing people from the UK. Perhaps the most eye-catching is an attempt to blackmail other countries into taking their citizens back:
We also expect our international partners to work with us on facilitating the return of their own nationals back to their country where those nationals have no lawful right to remain in the UK. We will seek to use the range of levers we have to improve returns co-operation, including considering whether to more carefully control visa availability where a country does not co-operate with receiving their own nationals who have no right to be in the UK.
This will go down extremely well at the Foreign Office.
Existing powers to remove asylum support from people who fail to comply with attempts to remove them will be enforced (no doubt triggering a wave of human rights challenges). 
The scheme under which someone can be let out of jail early if they leave the UK will be adjusted. The early release window will be increased from 9 months to 12 months at the end of the sentence, subject to the person serving out at least 25% of their overall sentence.
Finally, the maximum sentence for a foreign national offender who returns to the UK in breach of a deportation order will be increased from six months to five years. This will of course have the effect of keeping such people in the country for longer when the whole point is to get rid of them.
Trafficking and slavery
Too many people are victims of human trafficking and it is a pain, so there will be changes to keep more people out of the support system. 
There will be a consultation on a "public order exemption" so that people with a criminal sentence of 12 months or more can be denied access to the National Referral Mechanism and the associated protections, even if there are reasonable grounds to suspect that they are a trafficking victim.
The legal test for issuing a reasonable grounds decision may change from "reasonable grounds to believe that a person may be a victim" to "reasonable grounds to believe that a person is a victim". Likewise the wording of the associated guidance could be tightened. These measures too will be consulted on.
On the plus side, there are various improvements to the system promised, including legislation to give confirmed victims an entitlement to temporary permission to remain.
Tweaks to British nationality law 
Finally there will be some changes to nationality law. These have nothing whatever to do with the main themes of the policy statement, but are mostly welcome.
The nationality measures generally concern niche scenarios (nevertheless very important to those affected). One is where someone is unable to inherit British citizenship from their father because their mother is still married to someone else, in which case the law deems the husband to be the parent for citizenship purposes. Such children will in future be entitled to register as British, rather than registration being at the discretion of the Home Office.
Children of British Overseas Territories citizens who did not inherit that citizenship because of discriminatory rules (e.g. against unmarried fathers) will also get new routes to citizenship via registration. Such routes were introduced in respect of full British citizens years ago — sections 4C and 4F of the British Nationality Act 1981 — and these are essentially being extended to British Overseas Territories citizens too. 
As a general backstop, there will be a "new discretionary adult registration route". This will allow adults, not just children, to get citizenship at the discretion of the Home Office "in compelling cases". The existing equivalent for children is section 3(1) of the 1981 Act.
There will be more flexibility introduced on the residence requirements for citizenship, essentially in response to this Windrush case.
However, officials think that the route to citizenship for stateless children — paragraph 3 of Schedule 2 to the 1981 Act — is being abused. Parents are said to be deliberately ensuring that their children acquire no other nationality so that they can use the statelessness process to become British. As a result, there will be extra "requirements and actions parents are required to follow before their children are able to benefit from statelessness provisions".
Consultation
A consultation on many of the proposed measures will run until 6 May 2021. The consultation had not opened at time of writing but is supposed to later today on a dedicated website, https://newplanforimmigration.com.