The mantra of "safe and legal routes" is regularly repeated by the government when justifying increasingly draconian legislation in an attempt to prevent refugees from travelling to the UK under their own steam. The argument is that refugees should use these safe and legal routes instead of arriving in small boats or the back of lorries to claim asylum.
In this article we look at what safe and legal routes are available, how they are accessed, and the grant of leave and entitlements of those who are successful. We have also taken a look at asylum applications made over the same period of time, so that the impact of these bespoke routes on arrivals can be considered.
Unless indicated otherwise, figures come from the government statistics for the year ending March 2023. We have focussed on the period 2020 to the end of March 2023, as it is during this period that most of the bespoke schemes that are currently open were set up.
UNHCR resettlement schemes
There are three different general resettlement schemes operated in partnership between the UN refugee agency (UNHCR) and the UK government: the UK resettlement scheme (or UKRS), the community sponsorship scheme and the mandate resettlement scheme. All three depend on UNHCR to identify those eligible. Full details are set out in the UK Refugee Resettlement policy guidance.
No application can be made for resettlement under the first two of these three schemes. UNHCR is explicit about this fact. A person just has to wait and hope they will somehow be picked. Even if they are picked, they have no say about the country in which they will be offered resettlement. And, to put things in context, less than 1% of the world's refugees are submitted by them to partner countries for resettlement every year.
Under the UK resettlement scheme (UKRS), UNHCR identifies and interviews people with potential resettlement needs, decides whether they are a refugee and will refer them to the UK where they meet the criteria for resettlement as set out in UNHCR's resettlement handbook. The scheme can include unaccompanied children. It appears that this scheme is currently closed to new referrals.
The community sponsorship scheme operates in tandem with the UK resettlement scheme. It provides for families arriving in the UK to receive support from community groups, including the provision of housing for a minimum of two years, and support with accessing services such as English language lessons, NHS, social services, cultural orientation, and support towards employment and self-sufficiency. Consent must be obtained from the local authority before the application is submitted to the Home Office.
Once the community sponsor is ready and is matched to a family, they need to jointly agree on the family's arrival with the local authority. The family will usually arrive 6 to 12 weeks after that. The family is identified by UNHCR, following the same processes as for the UK resettlement scheme.
The Home Office provides funding to Reset, an organisation that helps community groups to participate in the scheme. The Refugee Council supports community groups in Yorkshire and Humber to participate in the scheme. Certain requirements need to be met to be a community sponsor, which is usually a registered charity or community interest company, or a church group.
The third scheme, the 'mandate' one, is only available to people who UNHCR has recognised as refugees and identified as being in need of resettlement. This scheme is for people who have a close relative in the UK, who must be settled in the UK or have limited leave to remain in a route that leads to settlement, and who are willing to accommodate and support the refugee. The refugee must be the minor child, spouse, or parent or grandparent aged over 65 of the UK based relative. Exceptional circumstances are required for other family members to benefit from the scheme.
Grants under the mandate scheme are negligible, with only four last year, two in 2021 and five in 2020. As can be seen from the below, the majority of grants are under the UK resettlement scheme. In comparison to the other resettlement schemes we'll look at here, we can see that the numbers are relatively low.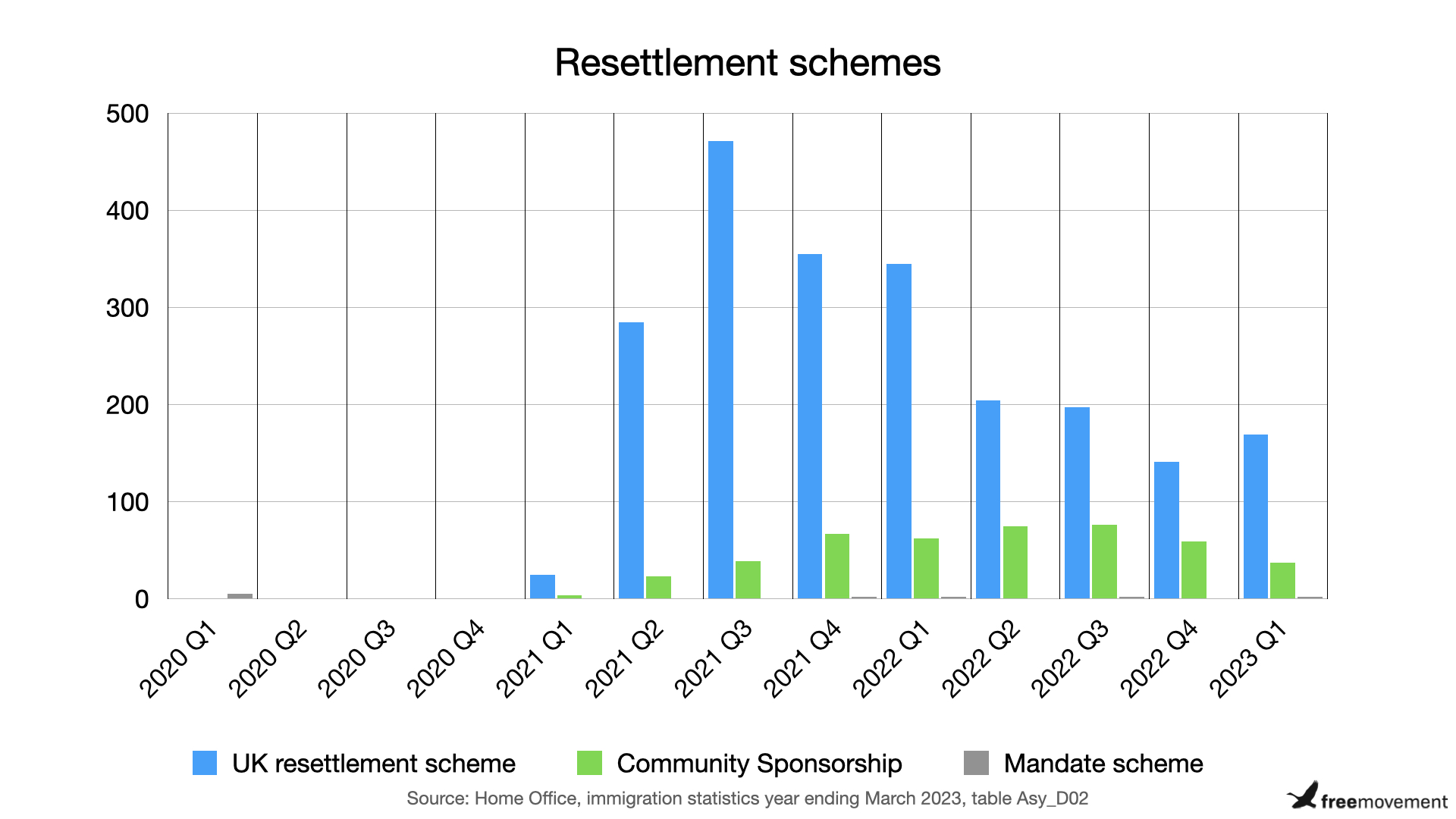 Once accepted by the UK, people are granted six months' leave outside the rules to enable their entry and are then granted indefinite leave to remain and refugee status on arrival here. Refugee family reunion is available to this group to bring eligible family members over to join them under Appendix Family Reunion (Protection).
Refugee family reunion
Where a person has refugee status and has not naturalised as a British citizen, they are entitled to bring their partner and children to the UK where they meet the requirements. Family reunion applications can be made under Appendix Family Reunion (Protection) of the immigration rules. There is no provision in the rules for children to apply to bring their family members to the UK.
Those entering under the refugee family reunion rules are not formally recognised as refugees.
Where the rules cannot be met, applications can also be made on the grounds of exceptional circumstances under paragraph FRP 7.1. These applications are considerably more difficult and can be dangerous for the person concerned.
Refugee and Migrant Forum of Essex and London (RAMFEL) recently obtained FOI data showing that 1,386 (66%) of family reunion applications that were rejected by the Home Office were allowed on appeal between 2019 and 2022. Our article Top tips for making refugee family reunion applications outside the normal rules is essential reading for anyone making these applications.
Family reunion is a crucial route for refugees to be able to reunite with their families. However, the applications can be overly complex and difficult to navigate without a legal aid lawyer with the capacity and expertise required. As a result, grant rates are relatively low.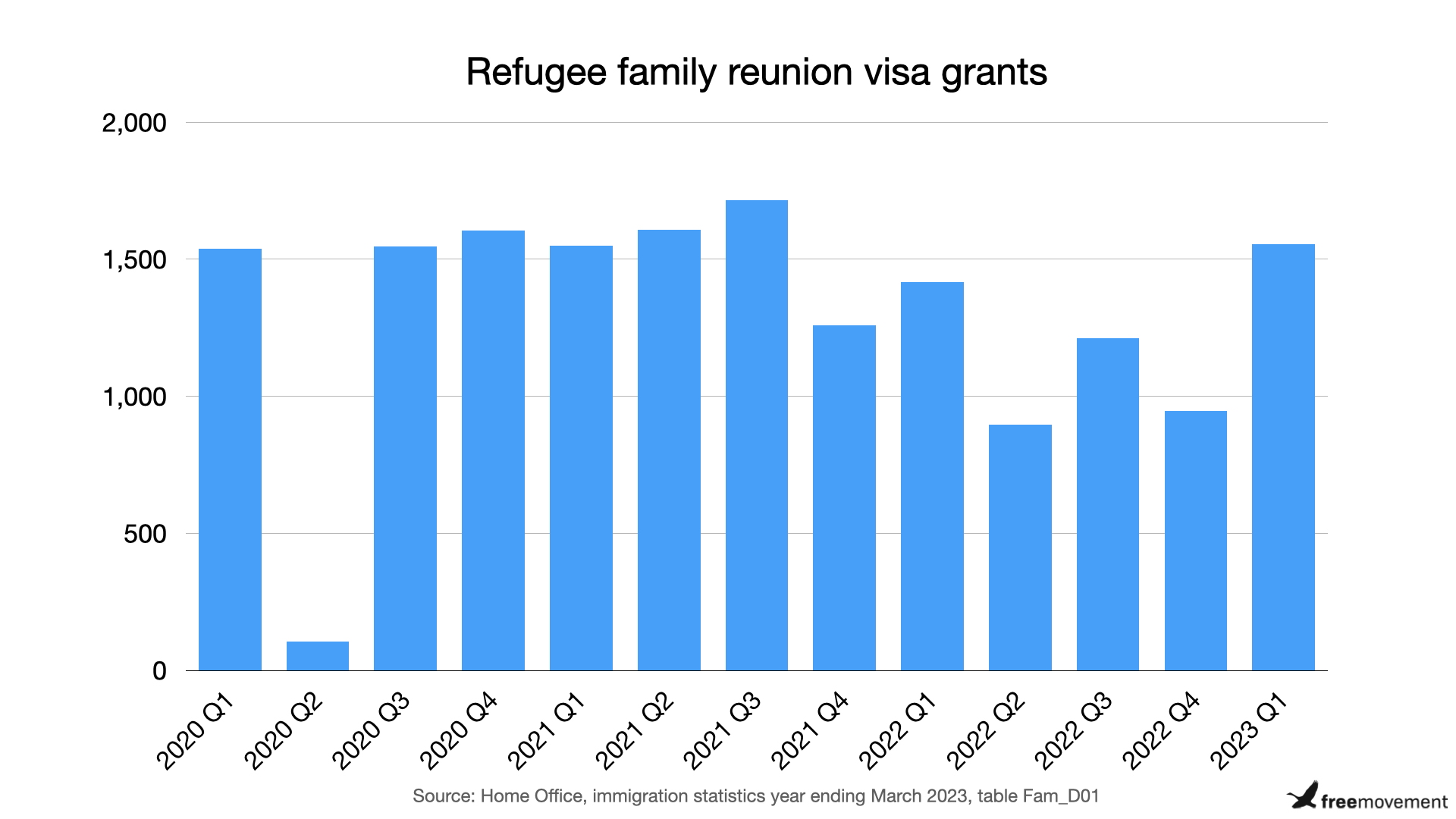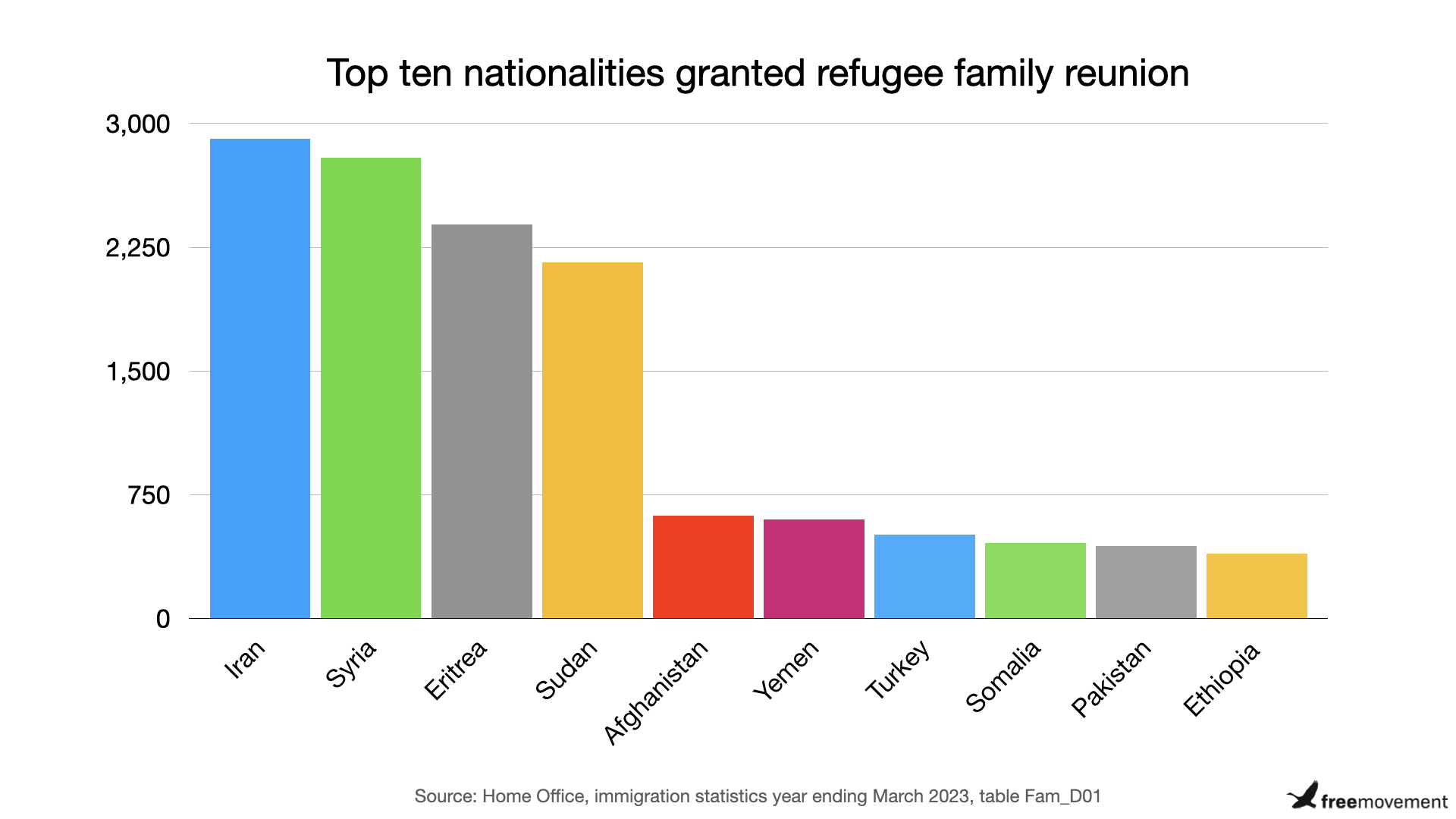 Successful applicants are granted leave that expires at the same time as their refugee relative, but they do not receive refugee status.
Hong Kong
China's parliament passed a draconian new National Security Law for Hong Kong, bypassing Hong Kong's own Legislative Council, on 30 June 2020. In response, the UK government announced the Hong Kong British National (Overseas) Visa on 22 July 2020, and Appendix Hong Kong British National (Overseas) was later introduced effective from 31 January 2021. This scheme, including how to apply, is covered in detail here.
There are two separate routes, BN(O) Status Holder and BN(O) Household Member. The second of these is for adult children and their dependants, who formed part of the same household as a BN(O) Status Holder. BN(O) Status Holders can bring a dependent partner and children, and other family members with a "high level of dependency".
This is the only one of these bespoke routes which has an application fee, which is £180 if applying for two and a half years, and £250 if applying for five years. The Immigration Health Surcharge must also be paid. For adults this is currently £1,560 for two and a half years and £3,120 for five years.
As can be seen below, the number of grants is starting to drop significantly. The scheme has been operating for over two years and the majority of people who are eligible and wish to come to the UK are likely to have already done so.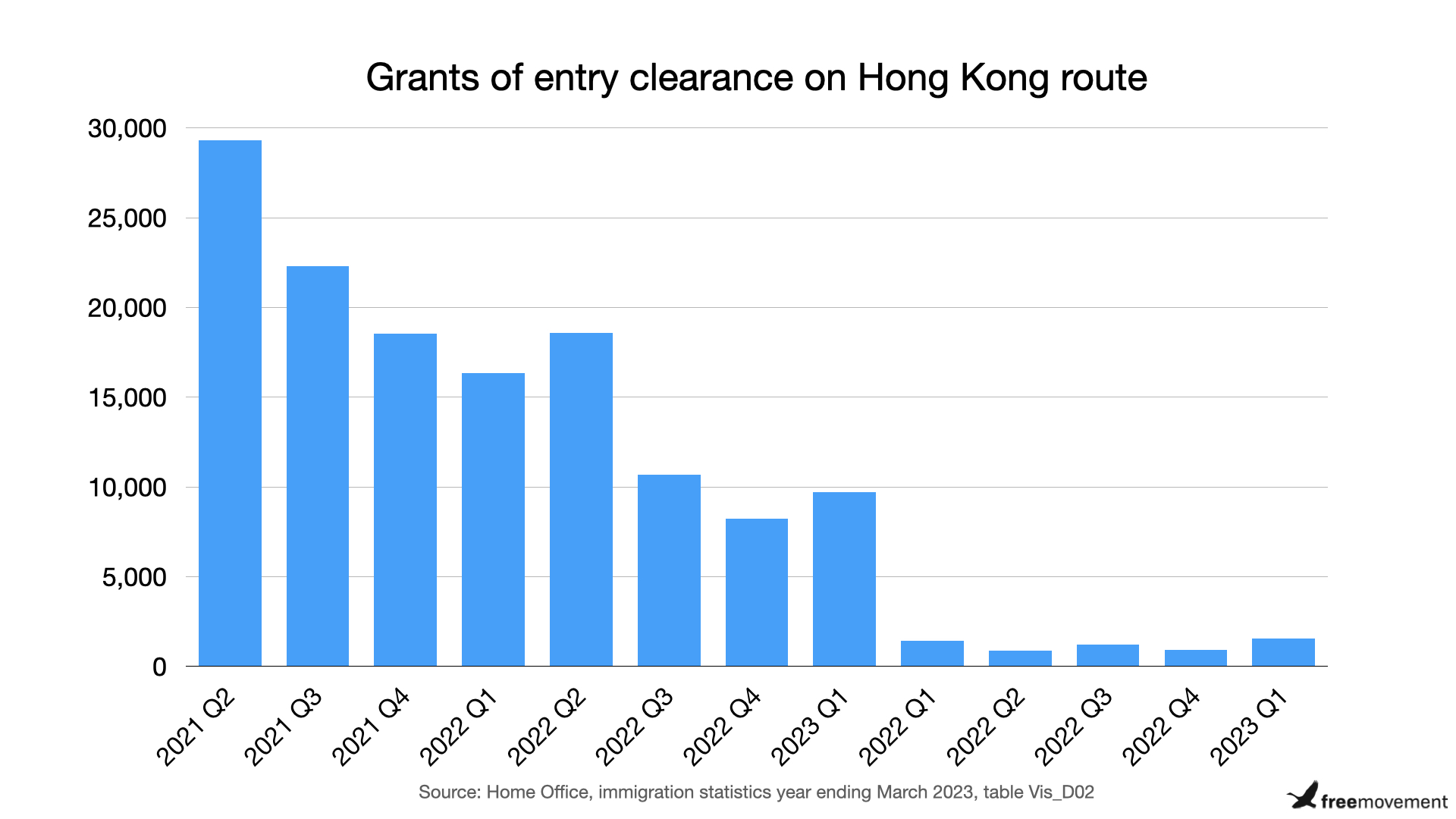 Those granted leave under this route can apply for indefinite leave after five years' continuous residence in the UK (Including that acquired prior to the grant of leave in this route). Initially this grant of leave was subject to the No Recourse to Public Funds condition with no ability to ask for that to be lifted, however this was later amended so that people with this type of leave are now permitted to apply to have the condition lifted.
The BNO route is available to and has been used by people with a large variety of nationalities, including Australia, India, Indonesia, Japan, South Korea, Australia, Malaysia, Morocco, Nepal, Pakistan, Portugal, Russia, Taiwan, Vanuatu, Angola, Burma, Canada and Yemen (source: table Data_Vis_D02). It is therefore difficult to assess the impact of this route as an alternative to irregular arrivals. The numbers of applications from Hong Kong nationals has stayed very low, though, running at less than 40 applications per quarter.
Only 22 Hong Kong nationals have been granted refugee status since the first quarter of 2020. Delays may account for some of this low number, but it seems likely that some people will have withdrawn their claims after the BNO route was opened.
Afghanistan
The Taliban regained control of Afghanistan in August 2021 and the UK evacuated around 15,000 people to safety under Operation Pitting. Two routes were announced to help Afghan refugees: the Afghan Citizens Resettlement Scheme (ACRS) and the Afghan Relocation and Assistance Policy (ARAP).
It is not possible to apply under the Afghan Citizens Resettlement Scheme. The scheme is split into three Pathways, the first of which was filled before it opened, with those who had been evacuated under Operation Pitting. Pathway 2 is only for cases that are referred to the UK by UNHCR, as for the general resettlement schemes detailed above. Pathway 3 had 1,500 places available, which is to include family members, and the Foreign, Commonwealth & Development Office accepted expressions of interest from British Council contractors, GardaWorld contractors and Chevening alumni.
It is possible to apply under ARAP. In order to access the ARAP scheme, a person must first apply for an "eligibility assessment" that is carried out by the Ministry of Defence. The form expressly states that it is not an application for leave. Once deemed eligible, the Ministry of Defence makes the application to the Home Office on behalf of the applicant. The relevant immigration rules are Appendix Afghan Relocation and Assistance Policy (ARAP). The criteria for ARAP were narrowed considerably in December 2021.
Family members must be included in the initial eligibility application, and applicants can bring a partner, their children, and an additional family member.
Both schemes have triggered a very considerable amount of litigation as a result of their inaccessibility and strict criteria:
Those who are successful were granted six months' leave outside the rules, and then indefinite leave to remain after arrival in the UK (eventually). They were not granted refugee status, which limits their ability to access family reunion. In contrast to the Homes for Ukraine scheme, Afghans were put into hotels, many of them left there until now, and they have been told they must leave the accommodation at the end of July 2023.
Given the fact that both schemes effectively filled their first year's quota with people evacuated from Afghanistan under Operation Pitting, there have been only low numbers of grants since then.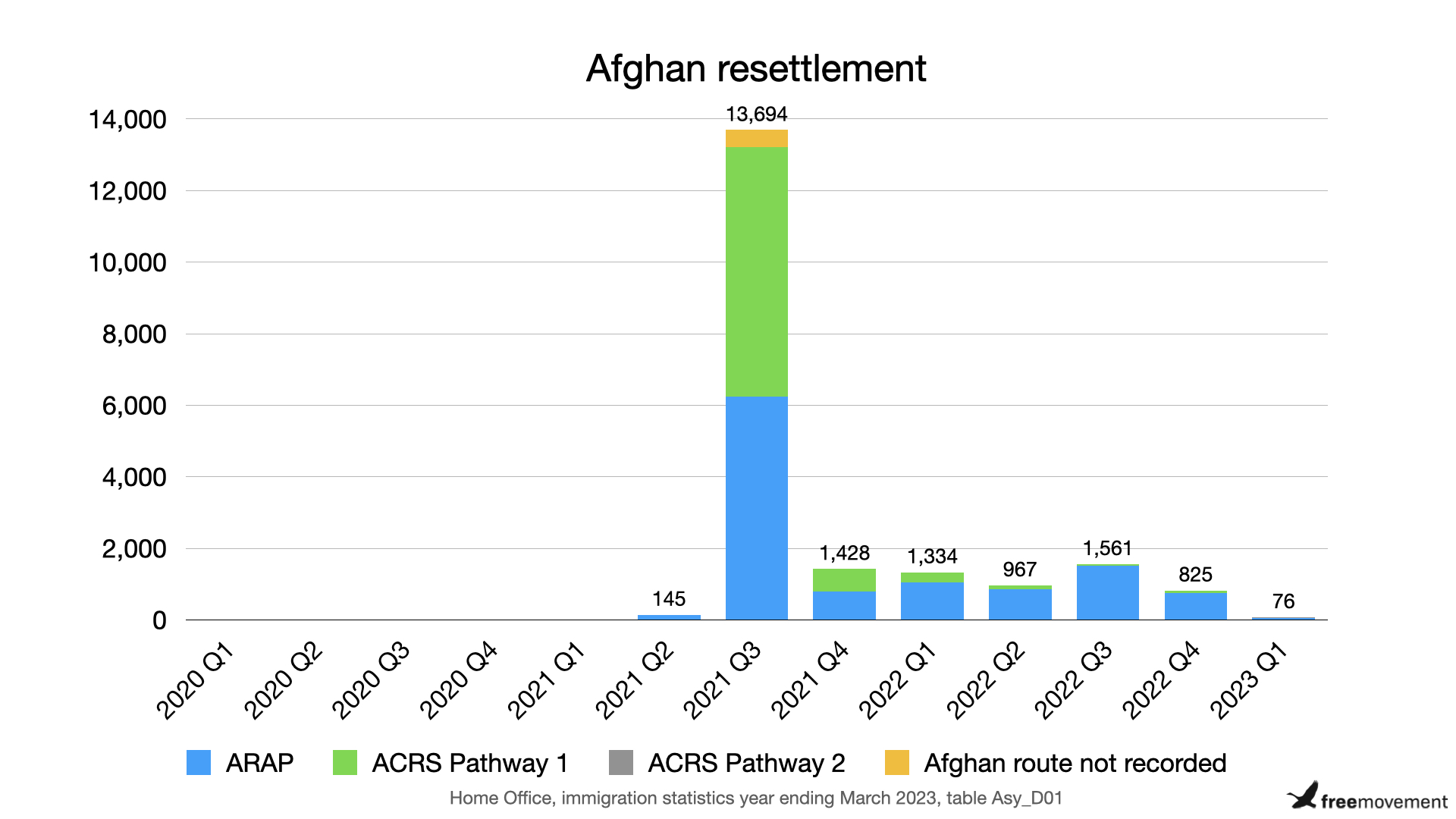 In contrast, we can see a large increase in the number of people arriving via the Channel and claiming asylum.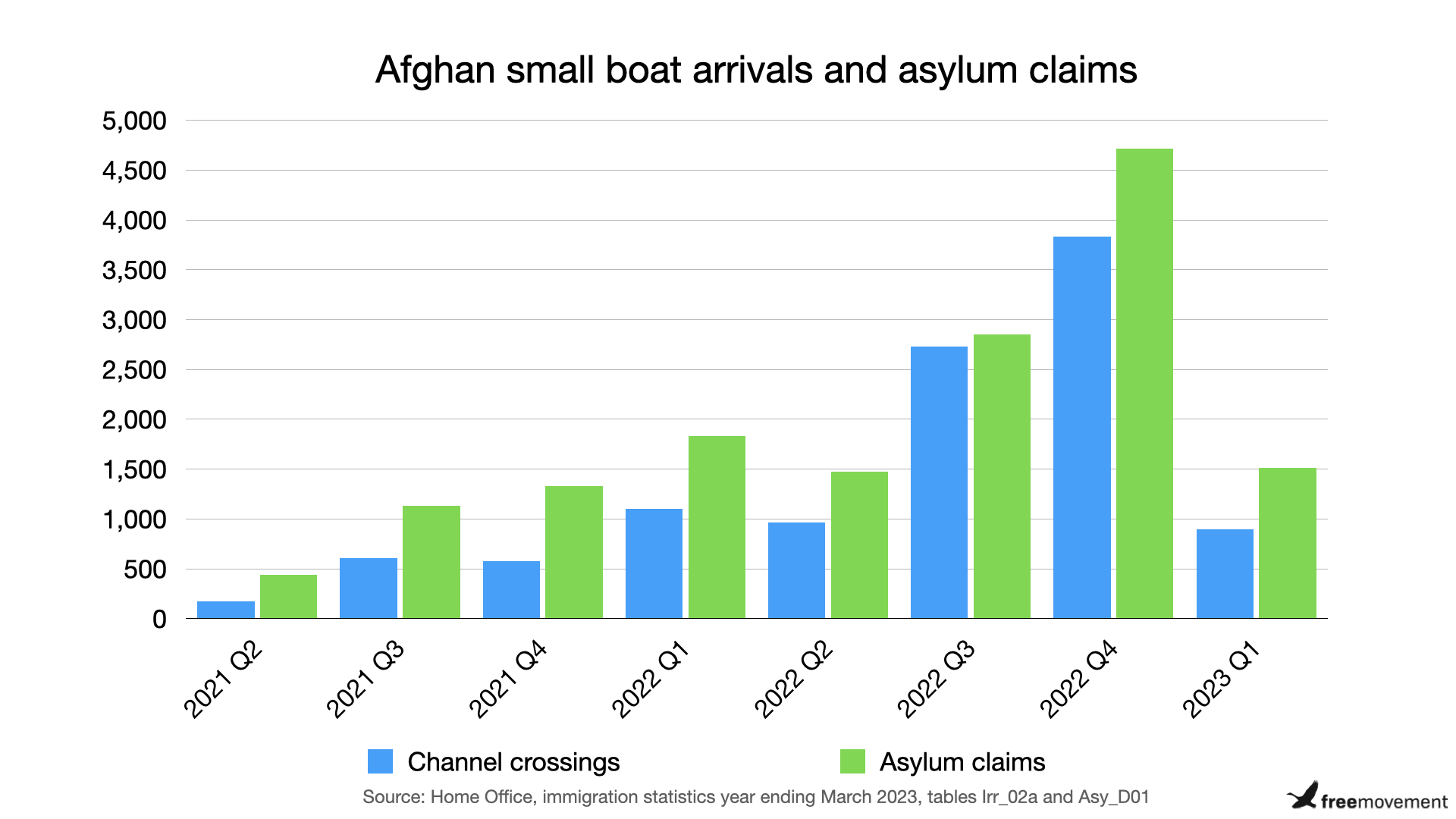 It is unclear how many of those people making that journey would have been eligible under other other routes, but many do so because they have family but are unable to reunite with them under existing schemes.
Ukraine
The first of the UK's three schemes to help those displaced by Russia's invasion of Ukraine was the Ukraine Family Scheme, introduced on 4 March 2022, just over a week after the invasion. The Ukraine Sponsorship Scheme (better known as 'Homes for Ukraine') was introduced on 18 March 2022. A third scheme was later introduced for people who were already in the UK, and so that will not be covered here.
Our guide to the schemes can be found here, and the relevant immigration rules are Appendix Ukraine Scheme. A vastly wider group of family members can be brought than under any other provision of the immigration rules or resettlement scheme, including grandparents, grandchildren, siblings, cousins, aunts and uncles.
Successful applicants under the Ukraine schemes are granted three years' leave to remain, and there is no path to settlement. At the moment the scheme looks successful due to the numbers arrived, but it has not been without its problems, both during set up and since, and the question of what happens to Ukrainians after year three will become more and more urgent as time passes, and it is unclear what the government's plans are for this large group of people.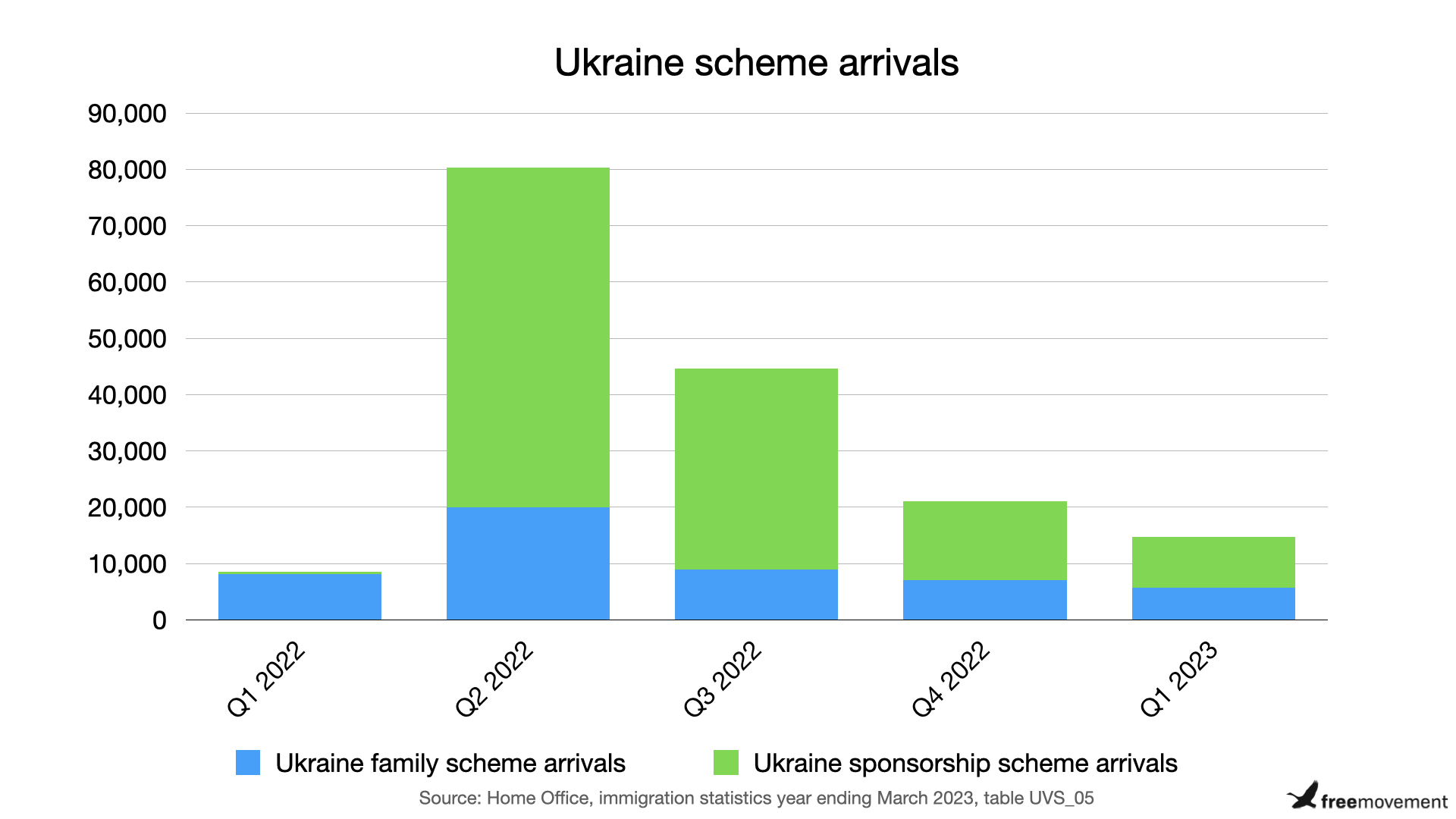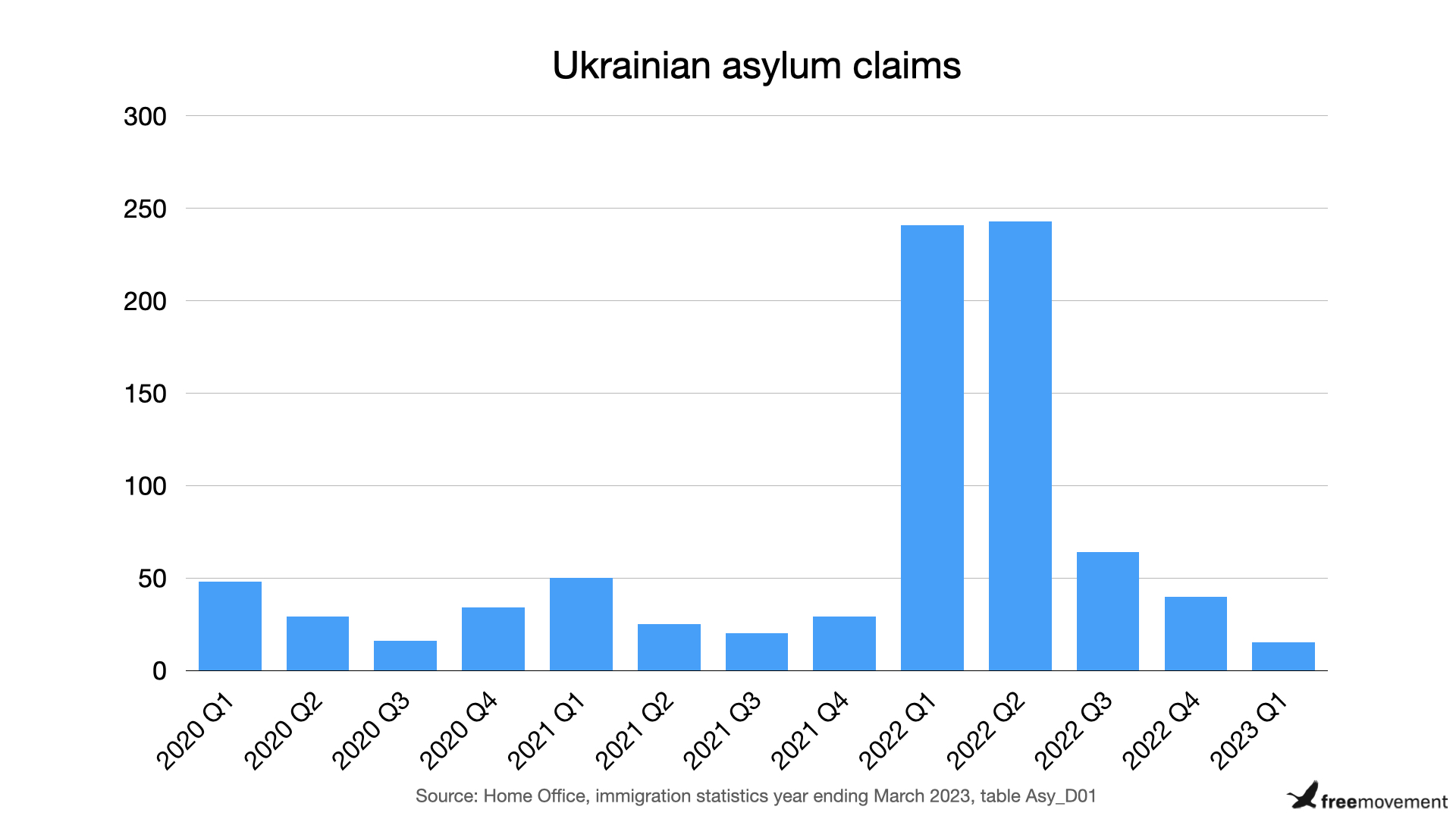 Four grants of protection were made to Ukrainian nationals in the year ending March 2023, and there were no refusals. Given the lack of a path to settlement for Ukrainians in their bespoke schemes, we may start seeing an increase in people entering the asylum system.
Only one Ukrainian is recorded as having entered the UK by traveling across the Channel in a small boat, in the second quarter of 2022 (source: table Irr_D01).
Scheme comparison table
| | | | | | |
| --- | --- | --- | --- | --- | --- |
| | Length of leave granted? | How long until settlement? | Refugee status? | Application process? | Refugee family reunion available? |
| UK Resettlement | Six months LOTR | ILR granted on arrival | Yes | No | Yes |
| Family reunion | In line with refugee sponsor | In line with refugee sponsor | No | Yes | No |
| Hong Kong | 2.5 or 5 years | After continuous residence in the UK of five years | No | Yes (£) | No but people can apply to bring dependants |
| ARAP | Six months LOTR | ILR granted on arrival | No | Can submit a request for eligibility assessment | No |
| ACRS | Six months LOTR | ILR granted on arrival | No | No | No |
| Homes for Ukraine | Three years | N/A, settlement is not available | No | Yes | No but people can apply to bring in dependants |
| Ukraine Family Scheme | Three years | N/A, settlement is not available | No | Yes | No but people can apply to bring in dependants |
Conclusion
Considerable numbers of refugees and people in need of protection have benefited from the UK's resettlement schemes over the last few years. But there are issues with this "bespoke" approach, not least the difficulty in setting them up as quickly as is needed and the lack of transparency around how people can access some of the schemes.
Overwhelmingly, those who have been able to access protection have been from Ukraine and Hong Kong and, for a brief moment in 2021, from Afghanistan. Notable recent examples of where safe routes are needed but have not been provided include Uganda (in respect of LGBTQI+ people) and Sudan.
For these people, there are no "safe and legal" routes for them to come to the UK. We will continue to see people making their own way here in order to seek safety, regardless of the government's attempts to legislate their way out of our interconnected world.