Yesterday, at least 27 people drowned in the Channel. We do not know exactly how many died yesterday or in recent months because the bodies are sometimes lost. A family of five were reported as drowned in October 2020 but the body of one of the children, Artin, aged 15 months, was only recovered on the Norwegian coast in June 2021.
Crossing the Channel in small boats is inherently risky. A disaster like this seemed inevitable. There have been 23,000 deaths by drowning in the Mediterranean since 2014. Many of those seeking to cross the Channel have already taken huge risks to reach Europe. But entering the UK by lorry was hardly safe and there were two major disasters in lorries in the last 20 years, including the deaths of 39 people as recently as 2019. Well over 300 people have died attempting to enter the United Kingdom since 1999.
Small boat crossings only began in earnest in 2018. With entry by lorry becoming harder and harder, a small number of Iranian refugees resorted to inflatable dinghies to reach the United Kingdom. Little was done to deter or prevent such journeys and more and more refugees followed. An official report later pinned the blame on those at the top of the Home Office:
The surge in small boats in late 2018 was not foreseen and it is at least arguable that had it been, and had more decisive action been taken earlier to demonstrate that these attempts would not succeed, the small boats route may not have become established in the minds of many migrants and facilitators as an effective method of illegal entry, as the evidence would suggest is now the case. By the beginning of 2019, it was already much harder to stop this threat from growing, and by the beginning of 2020 it appeared to be too late.
All that Sajid Javid, then Home Secretary, could do was appoint himself "Gold Commander" and declare a "major incident" at the end of 2018. This proved insufficient disincentive to refugees.
Priti Patel took over as Home Secretary in 2019 and appointed an ex-military "Clandestine Channel Threat Commander" in mid-2020. It was only then that attempts were made to remove refugees to EU countries through which they had already passed. Such requests soared from 3,300 in 2019 to 8,500 in 2020.
By then, it was too late. The pandemic lockdown began in March 2020, making it virtually impossible to send anyone anywhere. At the end of 2020, the UK decided to drop out of what is known as the European Union's Dublin system, which permits such removals. Only 100 asylum seekers had been returned to EU countries that year and all of the remaining thousands of pending "transfer out" requests lapsed at 11pm on 31 December 2020.
The UK government has proven incapable of agreeing an alternative returns arrangement with France or any country, EU or otherwise. Several countries were mooted at different times in the British press as candidates for receiving refugees from Britain, including Albania, Ghana and Rwanda, but their governments always swiftly denied the possibility. The immigration minister was pressed by a BBC interviewer yesterday to say whether any country was seriously entertaining the idea, but declined.
Initially, entry by small boat seemed to be mostly a change of route from lorries. But the asylum statistics published today show a dramatic overall increase in asylum applications in the summer of 2021: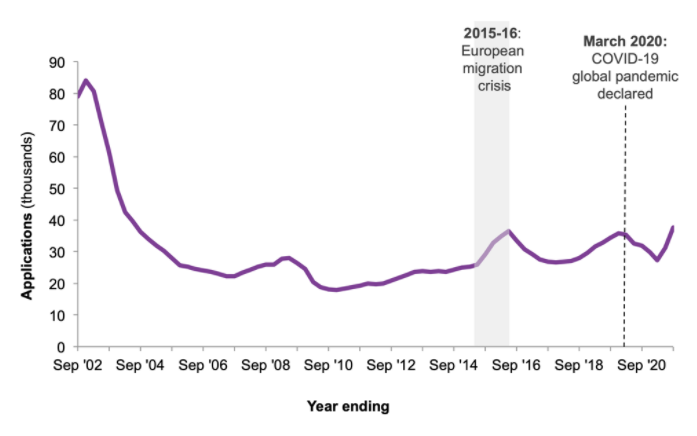 The number of asylum applications in the quarter July to September 2021 was the highest since 2003. At the same time, entry by safe and legal routes remained very low. The Afghan Citizens Resettlement Scheme which Priti Patel announced as "launched" in August 2021 has not yet opened and entry of refugee children from the EU via the Dublin system ceased at the end of 2020.
For me, the other stand-out statistic is that 64% of initial asylum decisions by the Home Office are grants of asylum, and a further 48% of asylum appeals were successful. We have to be careful combining these figures given the huge delays at the Home Office in making decisions, but we can see that a clear majority of those entering the UK over the last few years have been found to be genuine refugees.
My own view is that there is no simple solution to stop small boat crossings now that they are an established route into the UK. Clearly the French could do more to stop people setting off, given the media coverage of French police apparently standing by at the beach as refugees set off in dinghies. The deaths yesterday may cause some refugees to think again about their route but many have already endured horrendous journeys and risks to reach Calais.
There is no evidence to suggest that being horrible to some people who have already arrived will stop others from following in their footsteps. Even if they knew what awaited them, they have already endured horrific experiences far worse than even Priti Patel can devise. The Nationality and Borders Bill merely promises more of the same: for example, by making survivors of yesterday's terrible crossing liable to criminal prosecution. Ministers are touting legislative solutions to humanitarian problems.
We should have safe and legal routes into the UK but they need to be implemented carefully and they should not be presented as if they were a simple solution to the demand to enter the UK from Calais. A numerically capped safe and legal route from France to the UK may actually increase demand for unsafe crossings because it might serve to attract people to France. The French might therefore be loath to permit the UK to operate such a scheme.
The depressing reality is that these deaths — and thousands more — are the price our society is willing for other people to pay in order to maintain our system of closed borders.