The EU Settlement Scheme promised convenience and efficiency for those required to secure their immigration status in the UK after Brexit. Yet statistics retrieved from the Home Office indicate that at least 36,000 applications had faced delays of over three months by October 2019. In this post, we explore what this figure tells us about how the scheme is operating and what the number of delays may indicate. 
What do the figures show?
The Home Office is publishing only limited data on how long it takes to process Settlement Scheme applications. Statistics retrieved from a freedom of information request show that on 19 October 2019 there were 33,350 applications that had been waiting for a decision for between three and six months, and another 2,920 that were waiting for six months. (This FOI request was sent in October 2019; the Home Office only responded on 30 April 2020.)
It is important to be clear about what this data does not tell us. These figures represent only a snapshot of the Home Office caseload on the particular day that it was captured. It therefore does not indicate a total number of delayed cases. It does not, for example, include any cases that were decided before 19 October where applicants had been waiting over three months. 
It is also possible that the number of applications facing delays of three months or more has increased. Since July 2019 (the point by which the delayed applications in the statistics would have been submitted), the number of pending cases, or backlog, has increased from 88,900 to 315,900 (see chart).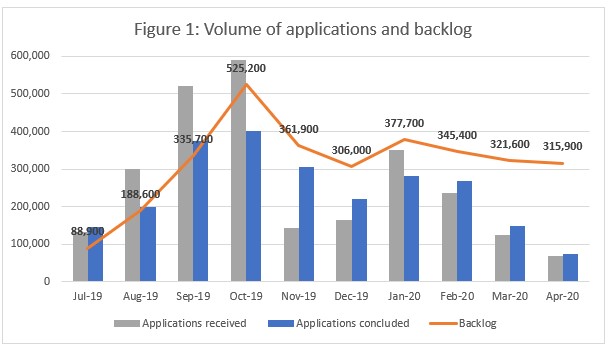 Despite these limitations, and considering that the majority of applications can be processed in a matter of days, this data does provide some indication of the number of applications facing significant delays. 
Why are some decisions taking so long?
Initially, the Home Office stated that "applications usually take between 1 and 4 calendar days". In January 2020, the expected processing time was updated to "around 5 working days… but it can take up to a month". The Home Office has also warned that applications are "likely to take longer than a month to process" where:
They need to request more information from the applicant
The applicant is a minor and their application is not linked to an adult's
The application submits a paper application – for example if they are relying on a derivative right to reside in the UK
The applicant has a relevant criminal record
The applicant is a non-EEA or non-Swiss citizen and applying based on a relationship they haven't relied on in a previous application to the Home Office
However, the Home Office information page does not explain in general terms that applications could face delays of longer than three months or even six months. Nor has there been any specific explanation of the delays recorded in the data we have received.
There are some clues. The Home Office told the immigration inspector that around 40% of pending cases in June 2019 "could not be resolved until the applicant submitted further evidence". While this percentage may have changed since June, it could still represent a large proportion of the reasons for delay. The Home Office has now refused around 700 applications, including "many" which "had been under consideration for several months and in most cases, subject to repeated unsuccessful attempts to obtain missing evidence or information from the applicant". 
eBook
Settled Status Handbook (3rd edition)
Full guide to the settled status application process, including screenshots of the app and website and info on citizenship eligibility. Case studies included throughout.
View Now
Another potential source of delay relates to those with pending prosecutions or ongoing police investigations. This can cause applications to be "paused" for six months while waiting for the Police National Computer to be updated. Applicants are informed if their application is paused for this reason, but it is not clear how many have experienced this type of delay. 
Given the increase in applications since last year, any administrative capacity issues are likely to have continued and been potentially exacerbated. On the other hand, it is also possible that new policy advice, letter templates or IT fixes, required to solve stalled cases, will have been implemented (see paragraph 6.36 of the immigration inspector's latest report). 
There are also now likely to be further delays from the operational impact of COVID-19; for example the closing for a period of the Settlement Scheme call centre and the loss of capacity for voluntary organisations providing support to applicants. 
Responding to and learning from delay
Long delays in acquiring settled status could lead to a range of problems, including people being wrongly refused employment or tenancies. An unreasonable delay of three months or more can cause significant stress to applicants left in limbo. 
It was clear early on that the Home Office has a huge task on its hands to manage the Settlement Scheme. The pandemic has not made that job any easier. Furthermore, delay is an almost inevitable feature of any bureaucratic system. What is important, however, is that delay is responded to and used as a means of learning. There are a series of steps that could be taken by the Home Office to better manage and learn from delay in the Settlement Scheme system.
First, there should be more clear and accurate information about what could delay an application and how long this delay could last. It is important to allow individuals to plan the best time to apply and submit any potential evidence required. 
Second, if delays are caused by applicants struggling to find the necessary evidence to get status, this may indicate that the requirements are too demanding, especially for a scheme that is supposed to be simple and easy. If this is the case, more needs to be done to proactively respond to such issues and learn from them. We do not need to look too far to see examples of the problems that arise when it is assumed that applicants in this position should simply be refused status.  
Third, the Home Office should publish further data on the number and length of delays experienced by applicants and undertake an analysis of the reasons why some applications are taking longer than expected. The Home Office clearly has much more data than it is publishing. This approach is stifling not only transparency, but also the development of improvement.
This article was co-authored by Alice Welsh, Research Fellow at the Public Law Project.