In 2011, the landmark case of MSS v Belgium and Greece concluded that conditions in Greece were so dire, asylum seekers' human rights would be breached if returned. Removals to Greece under the Dublin III Regulation were suspended as a result. Though conditions in Greece remain critical, in December 2016 the European Commission recommended that Dublin returns to Greece resume. Many member states, most notably Germany, began to bombard Greece with take back requests. The Greek Asylum Service denied most requests and were clear in their refusals – adequate reception conditions for returnees cannot be assured in Greece:


The Home Office has sent Greece only two take back requests since 2016, both of which Greece refused to accept. However, some transfers from other member states have been successful. Of further concern is that the Home Office is currently seeking to send those formally recognised as refugees in Greece back to that country.

But is Greece a 'safe' country for asylum seekers and refugees? After just six months volunteering in Athens I can confidently say that the answer is no.
There is rightly attention on the "hotspots", as the EU reception centres on five Greek islands close to Turkey are called. But there are few eyes on the mainland, where it is assumed that conditions are better. Yet it is clear that minimum reception conditions enshrined in law are still not met here for asylum seekers, and the situation for recognised refugees is no better. NGOs and European courts alike understand that conditions are capable of breaching Article 3 of the European Convention on Human Rights and the return of asylum seekers and refugees to Greece is unlawful.

Some progress since the damning findings in MSS

Many of the European Court of Human Rights's findings in MSS still ring true today, eight years later. But there have been material developments since.

Judges in MSS heard evidence of an asylum system operated by an understaffed police force, with less than a 1% success rate. Asylum seekers were systematically detained in appalling conditions upon arrival at Athens airport and even tricked by police into believing they could not claim asylum. For those who did manage to lodge an asylum claim, interviews were often conducted in languages the asylum seeker did not understand and no proper refusal letters were given when claims were rejected.

The Greek Asylum Service has since been established, officially recording its first asylum claim on 10 June 2013. Though still deficient, the asylum process in Greece now largely mirrors that of the UK.

Following what is referred to as the "refugee crisis", which saw over one million refugees arrive in Greece over the course of 2015 and 2016, the UN Refugee Agency initiated a cash assistance program. This functions much like the Home Office's Aspen card. There is also a programme for housing vulnerable asylum seekers. But these initiatives benefit only a small proportion of those who are destitute and waiting lists are long even for those eligible.

The EU has also thrown millions at Greece for migration related initiatives and programmes. That said, there is continuing controversy over how this money has been spent, and it is currently being investigated by the EU's anti-fraud watchdog.

The second phase of the Greek crisis

Though many have declared the end of the "refugee crisis" in Greece, simply because arrivals by sea have slowed, another crisis began when the EU closed the borders along the Western Balkan route in 2016. With no way to travel onwards, people have been forced to stay and claim asylum in Greece. From 2015 to 2018 there was over a 400% increase in claims for asylum in Greece.

The Greek Asylum Service cannot cope. Chronic understaffing and frequent strikes due to unpaid wages mean that the system is far from functional – it is simply unable to effectively register and process people's protection claims.

In order to claim asylum on the mainland, most people are expected to claim asylum on Skype. Although there are over 60,000 asylum seekers in Greece, the Greek Asylum Service has two members of staff and one interpreter answering the Skype lines. Unsurprisingly, asylum seekers cannot get through to claim asylum, causing serious delays and leaving people undocumented and vulnerable to arrest and detention in the meantime.

Even once someone has managed to claim asylum, substantive interviews are scheduled for as far away as 2025. Most are expected to endure these years waiting without adequate shelter or support.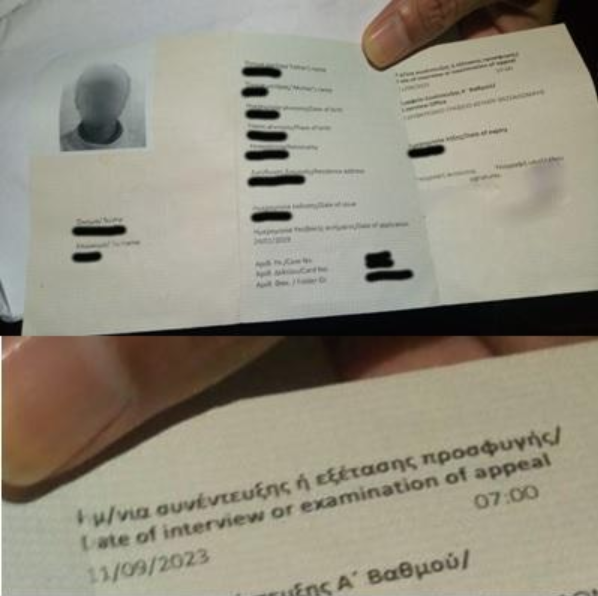 In contrast to the UK, where many refugees are granted asylum on appeal, refugee status is awarded in less than 3% of asylum appeals in Greece. Lack of legal aid is a major barrier to accessing justice, leaving people unable to effectively present their case.

Homelessness and destitution

Most asylum seekers are considered to fall outside the narrow legal definition of 'vulnerable', including families where both parents are present in Greece. UNHCR's housing programme is therefore a plaster on a gaping wound, with current occupancy rates at 98% yet accommodating only around a third of asylum seekers in Greece. The majority are left to fend for themselves. There is no accommodation provided by the state or EU for destitute asylum seekers who are ineligible for the UN programme.

Those in camps on the mainland face deplorable conditions. The camps are predominantly populated by people considered 'vulnerable' enough to have been transferred from the hotspots in the first place. There is no clear referral pathway into camps for those who are destitute on the mainland.

Unlike in the UK, asylum seekers have the right to work in Greece, but barriers to the struggling employment market mean that few can secure a job and sustain themselves or their family. Greek citizens too struggle to find employment and the minimum wage remains the lowest in the EU at €3.94 per hour. For most asylum seekers and refugees, including those with children, squats or the streets are the only option.

Cruelly, those without official accommodation are ineligible for UNHCR's cash assistance program. There is a vicious cycle of homelessness and destitution.

Returning recognised refugees

Though it seems the Home Office is not trying to return asylum seekers at present, they are quietly but surely trying to enforce the return of recognised refugees to Greece.

It is generally assumed, both in law and by lay people, that refugees are in a better position than asylum seekers. One of the crucial findings in MSS was the particular vulnerability of asylum seekers as a group. An asylum claim being accepted generally has positive effects both psychologically and practically.

But in Greece, being recognised as a refugee means less access to accommodation and support. Directive 2013/33/EU sets minimum standards for the reception conditions of applicants for international protection – beneficiaries of international protection are afforded no such guarantees.
eBook
Refugee law in the UK: a practical guide
Accessible guide to the law and practice of refugee status determination in the UK including examples, arguments and common scenarios.
View Now
Legally, it is stated only that those with refugee status must have the same access to social assistance as citizens. But in Greece what little social assistance the state offers its poorest citizens cannot be obtained by refugees due to practical and administrative barriers. Benefits cannot be paid without a bank account, for example, which refugees struggle to open as proof of address or proof of homelessness is required. Furthermore, length of residence or the inability to obtain necessary documents mean that refugees are ineligible for Greek social assistance.

While many Greek citizens can rely on family in place of state support, most migrants in Greece have no such option. Refugee Support Aegean has in fact documented that rights for refugees exist only on paper, and that recognised refugees face a "dead end" in Greece.

For the "lucky" asylum seekers with UNHCR cash assistance or accommodation who have now been granted refugee status, mass evictions as well as the withdrawal of cash assistance are now in effect, due to a recent decision by the Greek Ministry of Migration Policy. NGO workers are striking in response, noting that this will leave newly recognised refugees street homeless and unable to survive.

All returns to Greece should cease

Both asylum seekers and refugees in Greece are struggling, unable to meet their basic living needs. State support is inadequate or unobtainable, and EU initiatives are being phased out. Despite sustained condemnation from human rights organisations both in Greece and internationally, comprehensive academic research, damning media attention and successful legal challenges, conditions in Greece remain inhuman and degrading. The "crisis" is not over; all returns should cease.