The government has very, very belatedly published the Disruptive Powers Transparency Report for 2020, which includes at page 27 the figures for the number of British citizens stripped of their status on the basis that to do so was 'conducive to the public good'. There were 27 in 2019 and 10 in 2020. No figures for 2021 have yet been published.
Here's our updated chart, which includes all the figures we are able to access on nullification, deprivation on grounds of deception and deprivation on grounds of being conducive to the public good.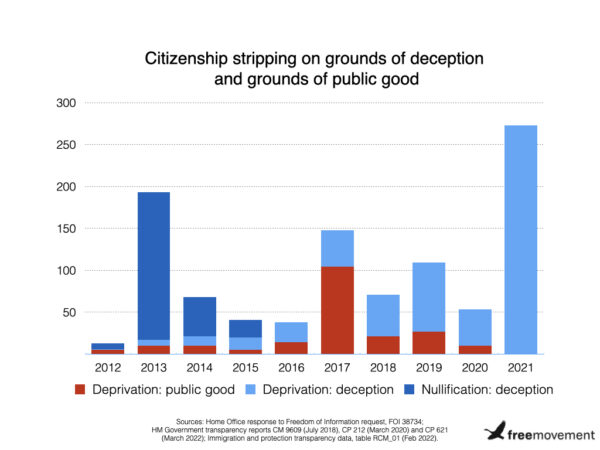 The grand total of decisions is 1,007 since 2012, and that does not include any public good decisions in 2021.
The nullification process was held to be largely unlawful by the Supreme Court in late 2017. It seems plausible that the recent surge in numbers of deprivation decisions for deception (273 decisions in 2021 alone) is due to the Home Office belatedly using the correct deprivation process against some of those it had previously unlawfully used the nullification process against. There may therefore be some duplication in the individuals who have received nullification decisions and decisions to deprive on the grounds of deception.