Sunak gave a major speech this morning claiming that his "Stop The Boats" plan is working. Is it? There are some signs of success but it probably has nothing to do with the Illegal Migration Bill.
Small boats
It is true that small boat crossings are down on last year. Sunak says they are 20% down. We saw from the statistics published on 25 May that overall crossing this year are lower compared to the same period last year: 3,793 in January to March 2023 compared to 4,548 in January to March 2022. I'm not sure that works out as a full 20% but it's close. Some further partial statistics were also published this morning.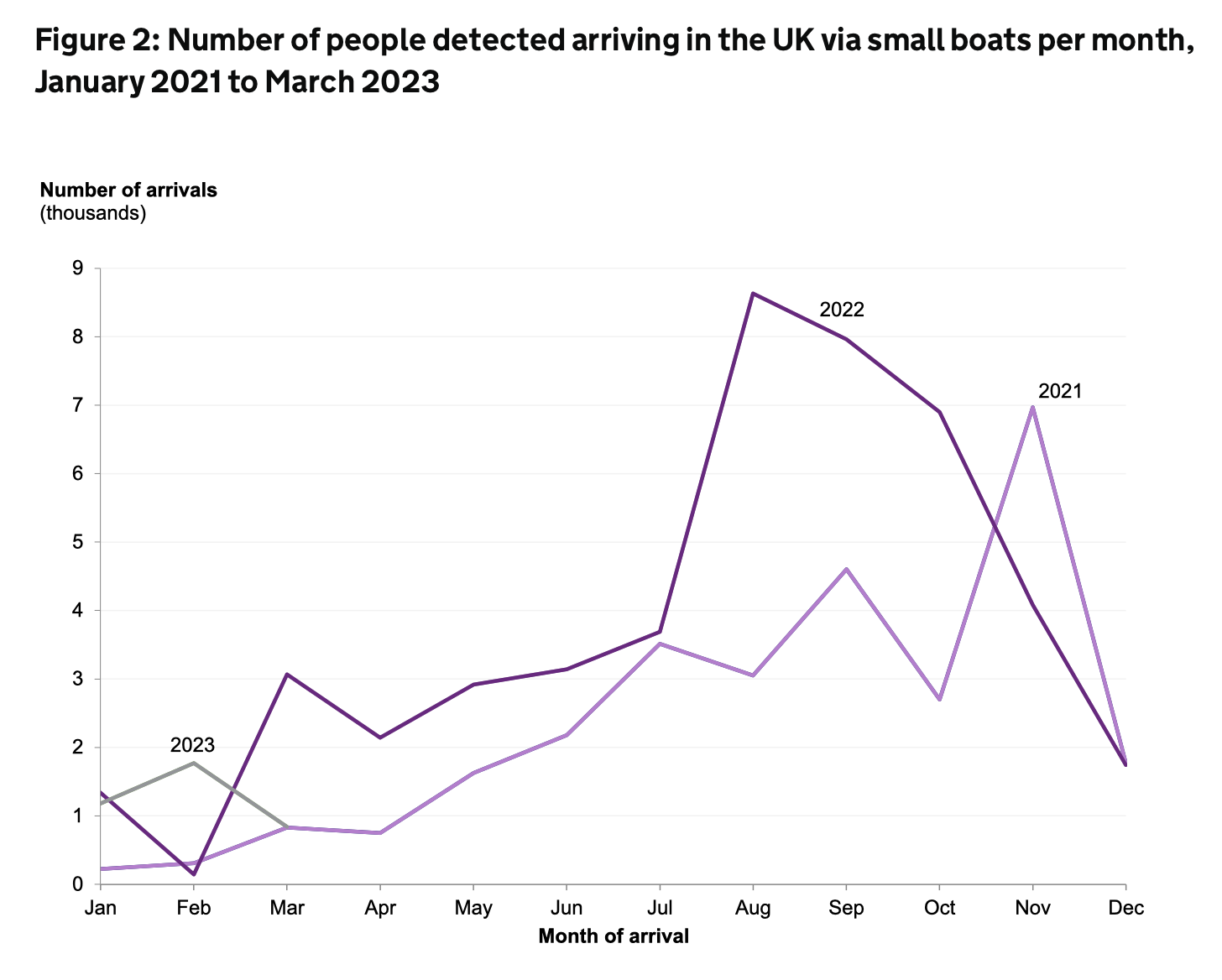 It is conceivable this might be related to the Rwanda plan. However, there are three other potential explanations which are also plausible.
One is that people are shifting route again in order to try and enter by clandestine means. So far, those arriving in small boats have wanted to be detected. The whole idea was to claim asylum, which involves making yourself known to the authorities. As I've previously suggested, if being detected (a) has no benefits (because your asylum claim will never be considered) and (b) actually carries risks (because you might be detained and then removed to Rwanda) then migrants might either decide not to come or decide to avoid detection.
Another is that the weather has been worse this year than last. Small boat crossings are heavily dependent on the weather.
Another is that the efforts to prevent departures from the French coast have been more effective. Sunak says they have. That's got nothing to do with the Rwanda plan or how migrants are treated once they reach the UK, though.
Given there has never been any evidence that deterrent policies actually work, I'd guess that the three alternative explanations have more to do with the reduction compared to last year. If it's all about the weather, I suppose we'd soon see crossings increase to comparable or higher numbers than last year. There's no good way I can think of to test the other hypotheses. By their nature we can't count clandestine arrivals.
Also, the boats have not "stopped". Sunak criticises those who think it is impossible to "stop the boats". I'm one of them, unless an immediate returns deal with France is put in place.
Albanians
The British government has gone big on singling-out Albanians and Sunak specifically points to government success in returning 1,800 Albanians. There was a significant rise in Albanian arrivals last year and it was short-lived. Over 12,000 arrived in small boats in 2022 compared to, so far, 28 in 2023.
Sunak claims this is "proof that our deterrent strategy can work". He says people stop coming if they know they won't get to stay. The problem is that this has nothing to do with Rwanda or the Illegal Migration Bill because the Illegal Migration Bill was announced on 7 February 2023, long after the strange spike in Albanian asylum claims has fallen.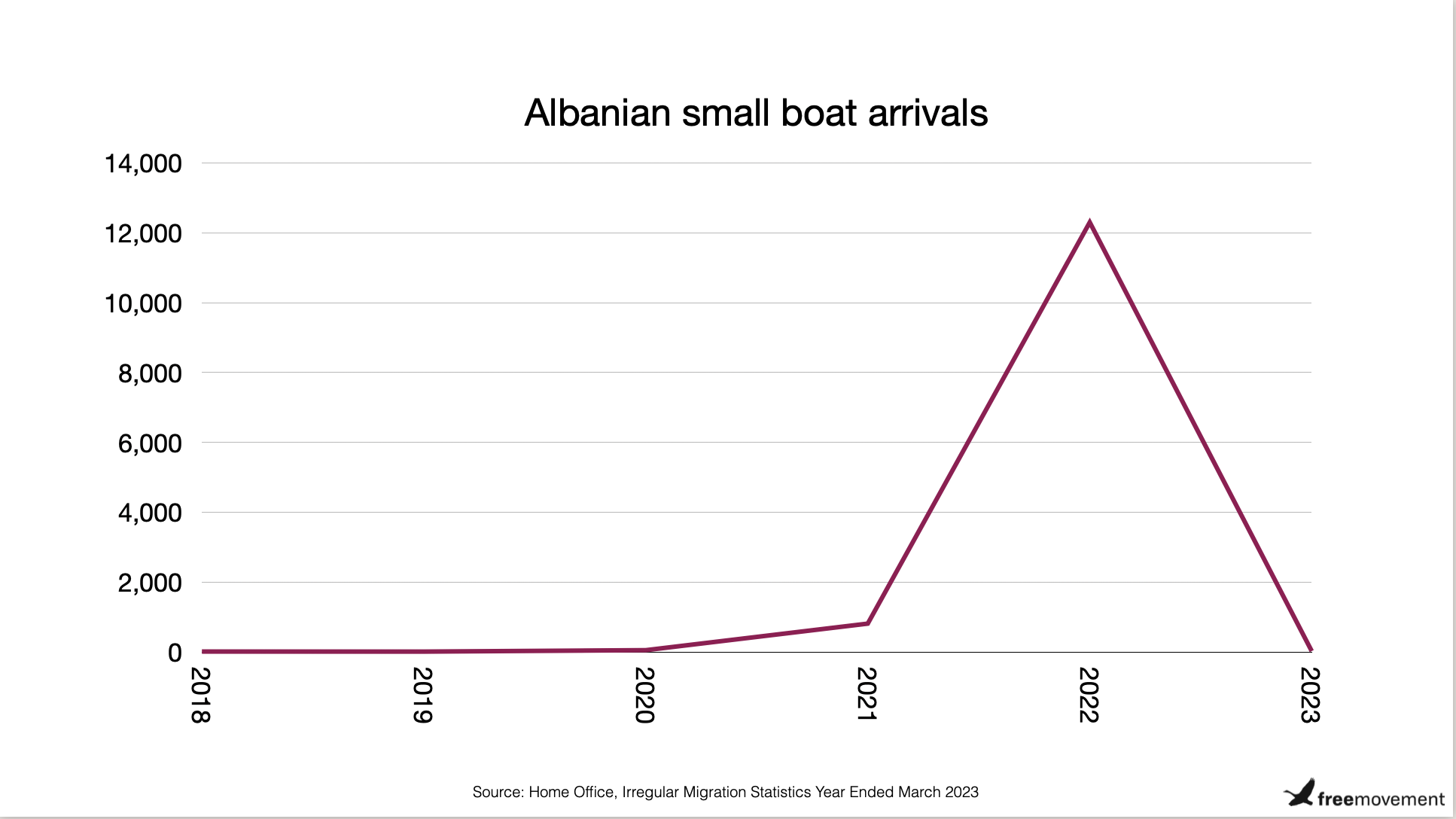 The sharp decline might be linked to the increase in returns. Or it might be that their route of entry has changed and they are now entering without detection, for example in the back of lorries again. Or it might be due to something else, such as closer co-operation with the Albanians.
The success rate in Albanian asylum cases has also, according to Sunak, fallen sharply, so just 1 in 50 cases. I don't know how big the sample size is. I suspect he is including withdrawn asylum applications, which would not normally be counted when calculating success rate. A lot of Albanians made then withdrew their asylum claims last year.
Around half of Albanian asylum cases were succeeding before that big spike in arrivals. The profile of applicants was very different then. It was mainly women, whereas the majority of the 12,000 are said by the government to have been men. I'm not sure that trumpeting a fall in success rate is a thing to celebrate. The reality seems to be that a load of people arrived last year who weren't refugees, unlike many previous asylum seekers from Albania.
Asylum backlog
Sunak said that the "initial decision legacy backlog" is down by over 17,000 and that the government is "on track to clear it entirely by the end of the year". The first part is true but very selective. The second part does not look true at all at this point.
Asylum applications made before 28 June 2022 are now classified by the Home Office as "legacy". A "legacy" from previous Conservative Home Secretaries, of course. The date is entirely arbitrary. It is the commencement date for parts of the almost-forgotten Nationality and Borders Act 2022, Priti Patel's signature legislation. The only sensible date for dividing the backlog would be 7 February 2023, which is the date after which no asylum applications will be considered once the Illegal Migration Bill becomes law.
The problem is that the rest of the backlog has been rising rapidly. It does seem to have stabilised over the winter, though, when there were few small boat arrivals due to the weather, and it has not started to go up since.
The good news for the government is that the overall backlog has started to fall very slightly. But there are still nearly 140,000 outstanding applications to get through, and many asylum seekers have been waiting years for a decision now. Meanwhile, they are prevented from working and stuck in hotels.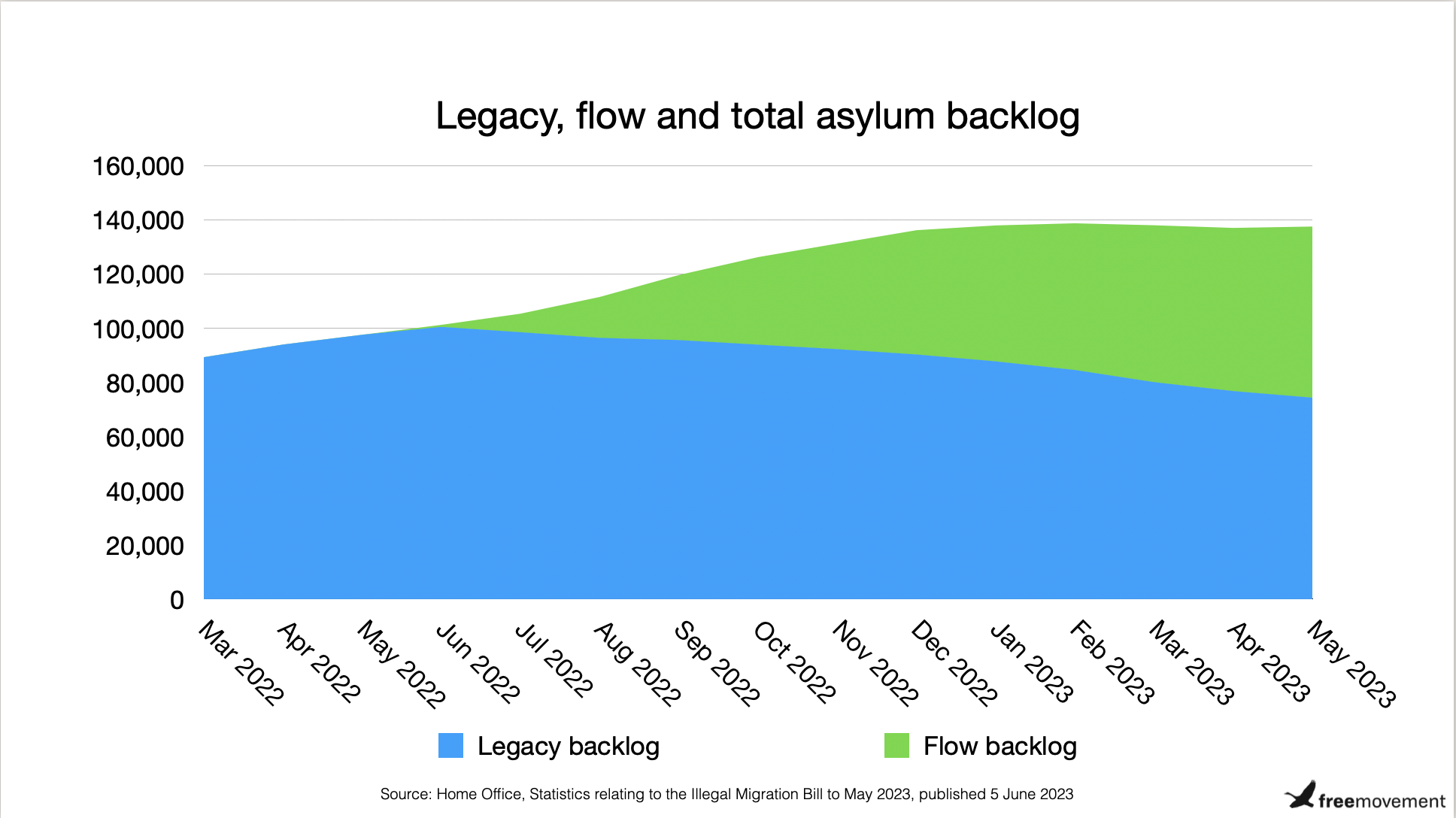 There's little sign in this data that the government is really on track to clear even the "legacy" backlog. I'm sure they can do so because it really isn't very hard to grant asylum to Afghans, Syrians, Eritreans, Sudanese, Iranians and some others. But there's precious little sign the government is managing that yet.
Finally, Sunak suggests there is a need to get asylum seekers out of hotels or to ask them to double up in hotel rooms "where appropriate" to save money. Yet he also announced two additional barges are to be used, which are thought to be vastly more expensive than hotels.
Meanwhile:
The BBC has been leaked evidence that the Rwanda plan could £3 billion per year
The Guardian has been leaked evidence that even the Home Office expect to be detaining 3,000 refugees per month at very considerable financial cost as well as human cost.
The Times reports that the Home Office estimates — as high as they may seem — are so optimistic they are "demented". The task is likely to be far, far greater than is being made out in public.
So, there are signs that aspects of government asylum policy are starting to work, in the sense that arrivals are lower as are unfounded asylum claims by Albanians. The deals with France and Albania seem to be having some effect. The asylum backlog has started to stabilise.
But there's no evidence this has anything to do with the Rwanda plan or the Illegal Migration Bill, which is likely to be extremely expensive.