The Investor visa route has been closed to all new applicants with "immediate effect", the Home Office announced this afternoon, citing "security concerns" and "wider corruption". This follows multiple media reports yesterday that closure was imminent, although an announcement had not been expected until next week.
A statement of changes to the Immigration Rules has been published to give effect to the closure, coming into force at 4pm today. It has amended the section of the Rules covering Tier 1 (Investor) to say:
This route is now closed to new applicants. Individuals who already have entry clearance, leave to enter or remain as a Tier 1 (Investor) Migrant may apply under these rules to extend their stay or for indefinite leave to remain.
The explanatory notes to the statement of changes say:
The effect of this Statement of Changes in Immigration Rules is to close the Tier 1 (Investor) Migrant route, as set out in Part 6A of the Immigration Rules, to new applications. These changes preserve the ability of those who already have leave to enter or remain as a Tier 1 (Investor) Migrant to extend their stay in the route, including an applicant's ability to make an application for entry clearance outside the UK if they have held leave as a Tier 1 (Investor) Migrant in the 12 month period preceding the date of application, and to apply for settlement.
Applications for leave to remain as an existing Investor migrant must be made before 17 February 2026, and applications for indefinite leave before 17 February 2028.
The notes say that giving the usual 21 days' notice before pulling the trigger would "trigger a 'closing down sale' effect, involving a very substantial upturn in application levels in advance of closure", including from "individuals that represent some degree of potential harm".
The Tier 1 (Investor) visa allowed foreign citizens to get permission to live in the UK in return for an investment of £2 million in the British economy. The investment could be in shares or bonds issued by UK companies. It had been around in some form or another since 1994.
Timeline
October 1994: Immigrant Investor scheme launched, with a minimum threshold of £1 million.
June 2008: Tier 1 (Investor) introduced.
February 2014: Migration Advisory Committee review finds limited economic benefit to Tier 1 (Investor) and makes various recommendations for adjustments.
November 2014: minimum investment raised to £2 million; caseworkers are empowered to refuse applications if there are reasonable grounds to suspect that the money was obtained unlawfully.
April 2015: investors required to open UK bank account, with associated money laundering checks, before applying.
March 2019: government bonds removed as qualifying investment.
February 2022: route closed to new applicants with immediate effect.
The route has long been controversial in terms of dirty money concerns generally and its use by Russian citizens specifically. Around half of all Investor visas ever issued are reportedly under review. That review was first announced in March 2018 — the last time there was major tension with Russia, in the aftermath of the Skripal poisonings — and has never reported. The Financial Times says the government has promised to publish it "before April".
Russian nationals used to account for up to one third of Investor applicants, but that has fallen to 10% or less in recent years.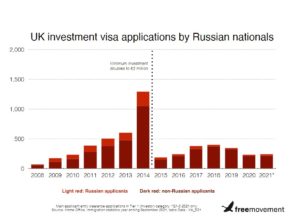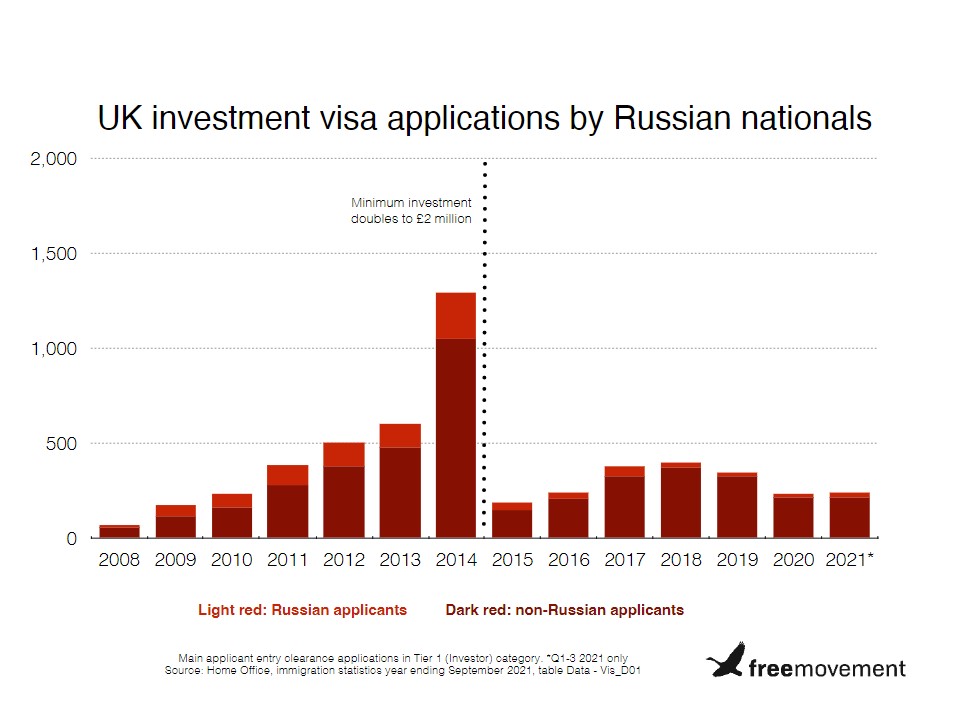 As Sophie Barrett-Brown points out, closing the route to all nationalities to stick it to Putin does throw the baby out with the bathwater. The Home Office could already refuse individual applications if worried about the applicant's character or where the money comes from.
But the explanatory notes to the statement of changes say that, Russians aside, "it remains an ongoing concern that the route is vulnerable to exploitation by those marketing complex investment arrangements in order to facilitate entry under the route without making any genuine investments in the UK". Last year, the Court of Appeal held that a scheme for effectively loaning migrants the money needed to secure an Investor visa was within the rules.
The department says that it will amend the much-maligned Innovator route to provide an investment-related migration option, in autumn 2022.
In late 2018, the Home Office briefed the media that the Investor route was about to close. Nothing in fact happened that time around: the route remained open. This time, it's for real.
This article was originally published before the changes were officially confirmed and has been updated several times.