As a result of the almost aggressively complex way our immigration system works, not just in law but procedure as well, Ukrainians applying under the Ukraine Family Scheme or Homes for Ukraine may appear to be granted less time in the UK than they were promised.
Applicants to both schemes are told that they can stay in the UK for "up to three years". This is now being written into the Immigration Rules (a statement of changes was issued today; more on that to follow). But the documents issued to successful applicants don't always make this clear, leading people to get confused or even distressed. So what is really going on?
"I was only given three months instead of three years"
Everyone applying for UK entry clearance from abroad (including Ukrainians) who is granted immigration permission lasting more than six months is issued a sticker (or "vignette") in their passport with a 90-day validity. It used to be 30 days but during the pandemic, the Home Office extended it to 90.
This is not the length of time people are allowed to stay in the UK. It is the window someone has to enter the UK on their visa. Once in the UK, they should pick up their biometric residence permit from the nominated Post Office. This BRP should show the actual length of time the person's immigration permission lasts (normally three years under the Ukraine schemes).
Applicants should get a letter explaining this.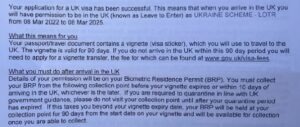 "My residence permit expires on 31 December 2024, that's still not three years"
Let's say you are issued a 90-day vignette in your passport. You arrive in the UK before it expires and pick up your BRP at the Post Office, expecting to see it endorsed for three years.
To your surprise — perhaps because you have also dutifully read what I have just explained above — the BRP is only valid until 31 December 2024, i.e. a few months short of the promised three years.
There is an administrative reason for this. Everyone with immigration permission lasting beyond the end of 2024 nevertheless has a BRP with an expiry date of 31 December 2024. This is the date that the Home Office plans to transition everyone off physical permits and onto a digital status instead (as is already the case with EU citizens granted permission under the EU Settlement Scheme).
Someone granted permission beyond that date will still be able to remain for the full three years. They will just prove their status using the new digital status system after 2024.
In other words, the expiry date of the residence permit is not necessarily the expiry date of your immigration permission.
"I was given a border stamp showing six months, not three years"
Not everyone applying for the Ukraine schemes needs full-on entry clearance. People with a Ukrainian international passport can instead be issued permission to enter the UK in the form of a letter.
When that applicant arrives in the UK, they will need to show that letter to a Border Force officer, who will issue them with a six-month entry stamp.
In order to get the full three years, that person (and their family members) then need to fill in a second application form to convert the six months into three years. This involves an appointment at a visa application centre in the UK to "enrol their biometrics" (provide fingerprints and a photograph). They will then be sent a BRP dated until 31 December 2024.
–
In summary, although it might seem that the Home Office is issuing less than three years of permission by mistake, it just requires applicants to jump through one or two minor, if inconvenient, hoops before they receive the full three years.