UPDATE: Use of official application forms (paper or online) is mandatory from 1 February 2017. See new post: Can the Home Office force EU nationals to use the official 85 page permanent residence application form?
In a useful policy document explaining internal processes within the UK Visas and Immigration department of the Home Office, it is confirmed that applicants for EU free movement documents such as residence certificates and residence cards do NOT have to use the forms provided by the Home Office. The guidance document is addressed to Home Office caseworkers and tells us how they will process applications.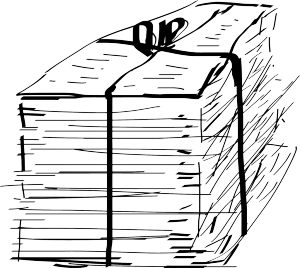 The news that the forms are optional may come as quite a relief to those faced with the 85 page EEA(PR) or, even worse, the mammoth EEA(FM) I covered previously: UK blatantly obstructing EU free movement rights with red tape. Since that post, a new version of the EEA(FM) form has been introduced that is even longer. It now weighs in at 137 pages. At the time of that blog post I drew attention to the "not mandatory" disclaimer that used to be included on the old forms but which was omitted from the new EEA(FM). It is still missing on the even newer version but this policy offers reassurance that the form is still not a mandatory one.
An application for a Family Permit to enter the UK does have to be made online using the prescribed form, but this type of document is in theory an optional one and it is not a formal EU law document.
The document, Processes and procedures for EEA documentation applications, at pages 6 and 7 runs through the various forms the Home Office provides and wrongly states that applicants "must" use them but them goes on at page 8:
Previous application forms

Forms EEA(QP), EEA(FM), EEA(EFM) and EEA(PR) came into use on 30 January 2015. However, you may continue to see applications made on the previous forms.

This is acceptable, provided the applicant pays the specified fee and (if they are a non-EEA national) gives their biometric information.

A letter asking for a document to be issued, or an application made on one of the previous forms is acceptable, provided the applicant:

submits the specified fee with the application
gives their biometric information, if they are a non-EEA national applying on or after 6 April 2015
The guidance repeatedly then reiterates the point later in the more detailed sections on the types of application, for example at page 10 regarding registration certificates:
You cannot refuse or reject an application just because it is not on the right form. A letter requesting a registration certificate, or an application made on the previous form (EEA1), is acceptable provided the correct fee is submitted with the application.
Similar wording is used later int he guidance for the EEA(FM), EEA(EFM), EEA(PR) and DRF1 forms.
Need affordable legal advice?
Arrange a video chat at a time that suits you.
Use your own smartphone, pc/mac or tablet.
No commitment, no risk.
This is certainly correct as a matter of law: there are no mandatory forms that have to be used for EU law applications, unlike for domestic UK immigration law applications under the Immigration Rules.  Those interested in Surinder Singh rights should note that this policy applies to their applications, which are made under EU law not UK rules: the EEA(FM) does not need to be used for Surinder Singh applications.
However, it will always be necessary to pay the required fee and provide biometric details if a non EU national. The relevant pages from the new EEA(FM) can be used for that purpose.
The policy document was issued on 30 August 2016, before the introduction of the new online EEA(QP) and EEA(PR) applications covered in this separate blog post: Home Office launching online EU applications and passport return service. No doubt the policy instruction will be updated again in due course.
Need help?
Here on Free Movement I try to provide information to help people with their own cases. Those interested in making an EU law application may be interested in my ebook guide making an application and the Application Checking Service provided via Free Movement: