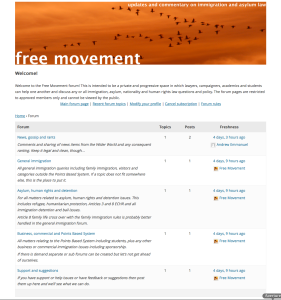 The Free Movement forum launches today. It is intended to be a private, progressive space in which immigration lawyers, campaigners, academics, students and select others can help one another and discuss any or all immigration, asylum, nationality and human rights law questions and policy. To help create that space, the forum is restricted to members only, cannot be viewed by the public and is not open to those who work for or with the Home Office.
The intention is that the forum be a friendly and co-operative environment for genuine and open discussion. The Chatham House Rule will apply.
Joining details and house rules can be found on the welcome page. There is an approval process to verify that an individual satisfies the membership criteria. The following different forum spaces are available at launch but can be contracted or expanded depending on demand:
Introduce yourself
Please take the time briefly to introduce yourself here and set up a picture to help humanise the whole thing and facilitate a friendly atmosphere.

News, gossip and rants
Comments and sharing of news items from the Wider World and any consequent ranting. Keep it legal and clean, though…

General immigration
All general immigration queries including family immigration, visitors and categories outside the Points Based System. If a topic does not fit somewhere else, this is the place to put it.

Asylum, human rights and detention
For all matters related to asylum, human rights and detention issues. This includes refugee, humanitarian protection, Articles 3 and 8 ECHR and all immigration detention and bail issues.
Article 8 family life cross over with the family immigration rules is probably better handled in the general immigration forum.

Business, commercial and Points Based System
All matters relating to the Points Based System including students, plus any other business or commercial immigration issues including sponsorship.

Support and suggestions
Support or help issues or feedback or suggestions.
Obviously, there's not a lot in them right now but that will hopefully change!
The forum can only be accessed by approved members. The contents are invisible to non members and clicking on a direct link to a place within the forum will redirect a non member to the joining page. The membership fee is £25 annually for an individual. Payment is managed by Paypal and is made by credit or debit card directly on the Free Movement website. Card details are seen by Paypal only.
A more complex pricing structure or alternative methods of payment (like cheques or bank transfer) are not feasible at launch but may follow if there is a need. It all takes time to set up and administer, there's only so much time in the day, and I have no intention to give up the day job! For the same reason, indulgence is cravenly craved for any gremlins that crop up. I'm particularly worried about whether the social log in route works properly. It certainly seems to if used for initial registration then payment is made, but I'm not quite so sure about the other way around. If you plan future use of one-click log in using Twitter, Facebook, Linked In or Google it might be wisest to sign up using the icons then pay afterwards.
The forum will add an extra layer of additional content to Free Movement and may even produce material for the main publicly accessible blog, which will continue as before.