The EU Settlement Scheme scheme has been set up by the UK government for European residents to apply for "settled status" after Brexit. It is considered necessary because most citizens of European Union countries will lose their existing legal status in this country after it leaves the EU. EU citizens who do not apply for this new status will, eventually, become unlawfully resident.
This statement is not designed to scare anyone. But it is important to realise that you cannot get settled status unless you apply for it, and that there are legal consequences for not applying by the June 2021 deadline.
For most people, it is likely that the application will be accepted and either settled or pre-settled status granted without much further ado. There is more on how to apply and the difference between the two flavours of status in this post: How to apply for "settled status" for EU citizens.
But the Settlement Scheme is not a registration system. It is an application. Applications can be refused.
One of the most likely reasons for refusal will be criminal convictions. This briefing examines the likely approach of the Home Office to past criminal offending.
Overview
All applications for settled status will be checked against criminal records databases, presumably for both the UK and for other EU countries (while the UK remains within the EU and with access to such databases, at least). This is likely to reveal a substantial number of recent and historic offences among the cohort of people applying.
In short, EU citizens may face deportation action for historic offences if they have:
Received any sentence of imprisonment at all within the last five years
At any time (no matter how historic) received a sentence of 12 months or more for a single offence
For those resident for less than five years, if they in the last three years received three or more convictions (including with non-custodial sentences)
Previous involvement in serious deception such as sham marriage or assisting unlawful immigration
A final decision on whether to pursue deportation will be subject to a proportionality assessment by the Home Office on the individual facts of the case, presumably taking into account length of residence, family links to the UK and similar.
As discussed below, this is a very weak level of protection against deportation because the Home Office position on when EU citizens can and will be deported has changed massively over the last ten years while EU law remained, in theory, the same.
How many people are affected?
It can be assumed that some EU citizens and family members with criminal records will apply for settled status. However, those who are aware they have a criminal record and are aware that their application will be checked for criminality are less likely to make an application in the first place.
I am not familiar with the data held on the nationality of criminal offenders. Migration Observatory say there is no simple way to estimate numbers but further work could potentially be done on this issue. The Ministry of Justice has previously released figures on EEA nationals sentenced to a sentence of 12 months or more, but most unhelpfully it appears to have included UK citizens in the total.
What is the proposed threshold for refusal on criminality grounds?
The Home Office has stated that it will apply existing EU law on deportation to any previous criminal convictions. Future convictions after Brexit (and after transition if there is a transition period) will be subject to the current UK thresholds for deportation (see below).
The EU-UK Withdrawal Agreement records this commitment in the event of a deal being reached on UK exit from the EU, and the UK has explicitly stated that the same approach will be followed in the event of a "no deal" scenario.
EU law sets out principles to be applied in deportation cases, not hard and clear criteria. The UK position on when EU citizens can and should be deported under EU law has changed very considerably in the last ten years. So in practice, what criminal offending will attract deportation as far as the Home Office is concerned?
Appendix EU of the Immigration Rules sets out the current Home Office approach to "suitability" criteria at paragraphs EU15 and EU16. EU15 simply states that an application will be refused where, at the date of the decision
The applicant is subject to a deportation order or to a decision to make a deportation order; or
The applicant is subject to an exclusion order or exclusion decision.
The criteria for deportation on the basis of past criminality are therefore not in fact set out in Appendix EU. Instead, the criteria are set out in a policy document entitled EU Settlement Scheme public beta phase: suitability requirements (Version 1.0, 21 January 2019) and an older policy document not updated since 2017 called EEA decisions taken on grounds of public policy (version 3.0, 14 December 2017).
This first policy, which is specific to the settled status scheme, states that where an applicant for settled or pre -settled status meets any of the following criteria, he or she will be referred to Immigration Enforcement for consideration for deportation:
the applicant has, in the last 5 years, received a conviction which resulted in their imprisonment
the applicant has, at any time, received a conviction which resulted in their imprisonment for 12 months or more as a result of a single offence (it must not be an aggregate sentence or consecutive sentences)
the applicant has, in the last 3 years, received 3 or more convictions (including non-custodial sentences) unless they have lived in the UK for 5 years or more
the case is of interest to Criminal Casework in respect of deportation or exclusion, for example where the applicant is in prison and the case is awaiting deportation consideration
the applicant has entered, attempted to enter or assisted another person to enter or attempt to enter into a sham marriage, sham civil partnership or durable partnership of convenience (or IE is pursuing action because of this conduct
the applicant has fraudulently obtained, attempted to obtain or assisted another person to obtain or attempt to obtain a right to reside in the UK under the EEA Regulations 2016 (or IE is pursuing action because of this conduct)
the applicant has participated in conduct that has resulted in them being deprived of British citizenship
Where a case is referred to Immigration Enforcement, a proportionality assessment will then be applied on the individual facts of the case, presumably taking into account factors such as length of residence and family ties to the UK. However, this assessment will be governed by the older policy last updated in 2017 which is not specific to the settled status scheme. Much of this policy is redacted and the policy appears to emphasise potential reasons to deport over potential reasons not to deport; much of the policy is devoted to explaining why EU law does not necessarily prevent deportation.
How does refusal work in practice?
Appendix EU states that an application for settled or pre-settled status will be refused on criminality grounds where a deportation decision has been made. This suggests that where an application for settled status is made and a person might meet the criteria for deportation, no decision will be reached on the application until the case has been referred to Immigration Enforcement and a decision made on whether to pursue deportation on the facts of the case.
This means:
A settled status application will presumably be put on hold, potentially for a long time, while considered for deportation
It is not clear that the applicant will be informed that this is what is happening
Immigration Enforcement may be overwhelmed by referrals, leading to substantial delays
It is only if the person is served with a deportation decision that the application for settled status will be refused
If a deportation decision is made and the settled status application is refused, it is not clear whether the Home Office

will attempt to detain, notify of a right of appeal on human rights grounds or serve a "deport first, appeal later" notice requiring any appeal to be pursued from abroad
It is unknown whether the Home Office has given thought to the practical ramifications of its policy on criminality and how to manage the resulting casework.
How has the UK position on EU law deportation changed over time?
The suitability policy sets out the different policies that have applied over time as to whether an EU citizen will be considered for deportation.
In 2009, the position was that an offence leading to a sentence of imprisonments of at least two years was needed before deportation would be considered. But since October 2015, any sentence of imprisonment at all now leads to consideration for deportation:
prior to 1 April 2009, Home Office policy was to consider the deportation of an EU citizen (or their family member) where they had received a single custodial sentence of 24 months or more
on 1 April 2009, this was reduced to 12 months for sexual, violent or drug-related convictions
on 14 January 2014, the 12-month criterion was applied to all other convictions, and a further criterion was included of 6 or more custodial sentences for any offence in the last 3 years
was further amended on 27 January 2014 to a custodial sentence of 12 months or more for any offence and 4 or more custodial sentences for any offence in the last 3 years
on 1 April 2015, the criterion of a single offence resulting in a custodial sentence of 12 months or more was retained, and the low level persistent offending criterion was reduced to 3 convictions in the last 3 years
from 6 October 2015, the sentencing criterion was removed for all EU cases and since then, HM Prison and Probation Service (HMPPS) have referred all EU and non-EU citizen foreign national offenders to the Home Office for deportation consideration
EU law on deportation did not change during this period but the UK interpretation of EU law certainly did. The UK position could therefore evolve further.
What is the legal position if there is no deal?
My assessment is that the legal position of EU citizens with historic criminal offending would be highly uncertain and insecure in the event of no deal. If the commitment to apply EU law standards to past offending were to be met, legislation might be needed to disapply certain aspects of UK law and discriminate positively in favour of EU citizens in order to honour the commitment. It seems unlikely that such changes would be prioritised given the politics in the event of no deal and lack of public sympathy for convicted criminals.
Ultimately, it might be official policy not to deport EU citizens for relatively minor historic offences but UK law and practice might contrive to defeat official policy.
The default position in the event of "no deal" is that EU citizens become subject to the UK Immigration Acts and therefore section 3(5) of the Immigration Act 1971 on deportation becomes applicable:
A person who is not a British citizen is liable to deportation from the United Kingdom if—

1. the Secretary of State deems his deportation to be conducive to the public good; or

2. another person to whose family he belongs is or has been ordered to be deported.
This provision includes very wide discretion and can potentially be applied to historic offending.
If the Secretary of State were minded to try and protect the position of historic criminal offenders (unlikely) then he might consider introducing a policy about how this power is exercised which differentiates between EU citizens and other foreign nationals. Positive discrimination on the basis of nationality might be politically and legally difficult.
Immigration Form Checking
Look over your application before you send.
Experienced lawyers check for mistakes & issues.
Save time & money on spotting issues early.
DIY guides to make filling out easy.
There are also other statutes which apply to the deportation of foreign criminals, namely the "automatic deportation" provisions of the UK Borders Act 2007 and the statutory considerations applicable to judges deciding deportation cases in Part 5 of the Nationality, Immigration and Asylum Act 2002 as amended. On the face of it, the 2007 Act would probably not require automatic deportation for historic offences leading to a conviction exceeding 12 months, but this is not absolutely clear. However, the 2002 Act, amended by the Immigration Act 2014, clearly does apply to historic offences if a deportation case is brought against a person and they lodge a legal challenge against it. That does not assist us with understanding whether a deportation case would indeed be brought, but it tells us that in the event one is brought the legal protection against deportation is very narrow.
Does the UK respect EU law on deportation?
It is all very well for the UK to commit to applying EU law standards on deportation, but what is the UK's current record on faithfully applying EU law?
EU law on deportation is complex and is intended to balance the right of free movement (citizens will be dissuaded from moving if they can easily be deported for minor offending) with the interests of national governments and populations. Essentially, there are three levels of protection depending on length of residence and in all deportation decisions the deporting authority must show the decision is proportionate, not based solely on the past offending and that there is a "genuine, present and sufficiently serious threat affecting one of the fundamental interests of society."
However, there are several concerns arising:
The Home Office is thought to act in breach of EU law on deportation on what amounts to a systematic basis. Deportation proceedings are frequently brought against EU citizens with relatively minor convictions who will almost inevitably win their appeal, if they appeal (many probably do not appeal as no legal aid is available and out of country appeals have been introduced). The success rate in all EU free movement appeals, which includes EU deportation cases, was around 51% for the first two quarters of 2018 according to the latest tribunal statistics. There is therefore a concern that although the Home Office states that it will apply EU law, in reality it will apply an unrecognisably watered down version of EU law.
This problem also arises in cases of serious past and sometimes historic convictions abroad. Such cases will attract public opprobrium, not sympathy. For example, a conviction for rape will trigger deportation action even if committed decades ago, with no subsequent related offending and with considerable change of circumstances. If an appeal were to be pursued against such a decision it would be very likely to succeed because EU law requires a present threat for deportation to be justified.
There is no longer any clear public guidance to Home Office caseworkers on minimum sentence or severity before deportation is pursued. This ambiguity and uncertainty does not adequately protect EU citizens. See the EEA decisions taken on grounds of public policy document.
In short, the Home Office commitment to apply EU law standards when considering deportation for past criminal behaviour is somewhat hollow.
Does the UK have capacity to deport more EU citizens?
The UK is only accustomed to deporting a relatively small number of EU and non-EU criminals per year. See chart below for quarterly totals from 2010 Q1 to 2018 Q3(coincidentally coinciding with the changes in UK position on deportation of EU citizens discussed earlier).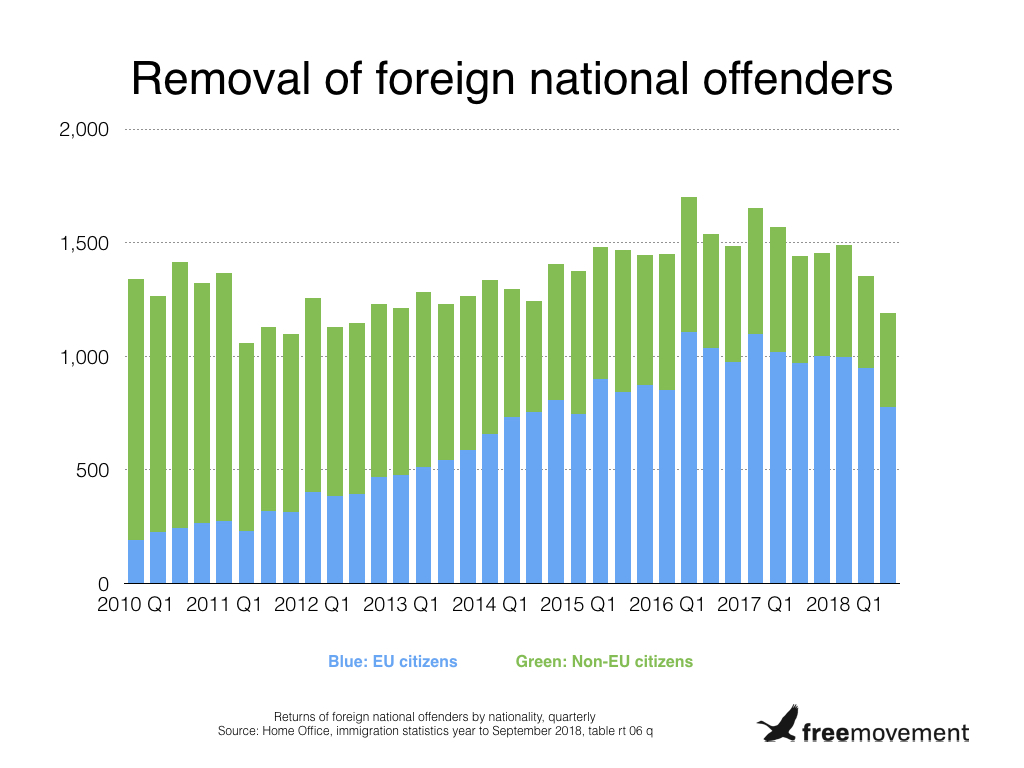 These deportations will have occurred opportunistically, when an individual has committed an offence in the UK, or where an individual has applied for residence and criminal records checks have revealed previous offending. Figures on "known to have overseas criminal record" are available from 2015 onwards and have never exceeded 300 per quarter.
A huge number of EU citizens will be applying for settled status and, assuming that some EU citizens with a criminal record do apply, the UK is likely to be faced with a sudden and significant increase in the number of cases in which deportation action is considered.
Whether the UK has the capacity to deal with that increase is questionable, not least because immigration detention capacity is shrinking.
What will be the future threshold for refusal?
Where a person is granted settled or pre settled status, that person can have that status taken away from him or her in future by way of deportation action under UK law for any subsequent criminal offending (or other activities attracting a "conducive to the public good" deportation).
UK standards on deportation are complex but summarised in this Free Movement infographic: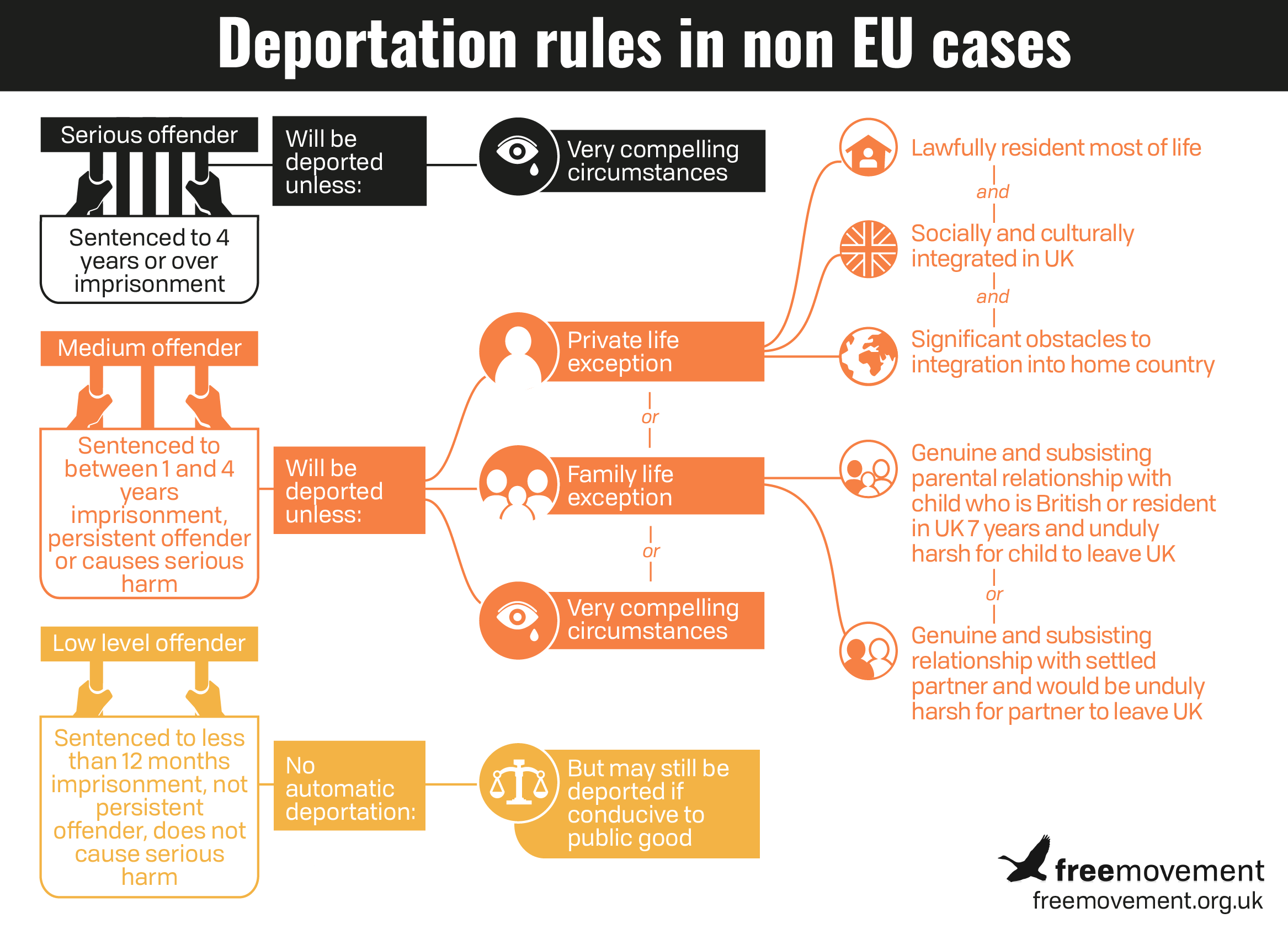 Protection against deportation is far weaker in UK law compared to EU law so a sharp increase in deportation action against resident EU citizens would therefore be expected after the protection of EU law standards ceases to apply.
What happens where an applicant fails to disclose criminal offending?
Paragraph EU16(a) of Appendix EU to the Immigration Rules states that an application for settled or pre-settled status can be refused where:
In relation to the application and whether or not to the applicant's knowledge, false or misleading information, representations or documents have been submitted (including false or misleading information submitted to any person to obtain a document used in support of the application); and the information, representation or documentation is material to the decision whether or not to grant the applicant indefinite leave to remain or limited leave to remain under this Appendix.
Failure to disclose criminal offending would therefore potentially trigger a refusal on the grounds of deception. It is far from clear whether accidental non-disclosure would trigger a refusal but it is likely it would depend on the circumstances. For example, failure to disclose an old driving conviction whether there was no sentence of imprisonment might be accepted as accidental but failure to disclose an assault conviction might not be.
Where a refusal on this basis is contemplated, official policy is to make further inquiries of the applicant and/or relevant third parties or to invite them to an interview.
A proportionality assessment is also to be made prior to a refusal, including consideration of the seriousness of the deception, whether the applicant was aware and the impact on the applicant and family members of a refusal.