Protests have been held outside Campsfield House immigration removal centre on the last Saturday of the month for the last 20 years. The detention centre's reputation has been scarred by escapes, riots and hunger strikes ever since it opened north of Oxford in 1993, although in recent years barbarities elsewhere have taken centre stage. In 2005, Kurdish asylum seeker Ramazan Kumluca took his own life at Campsfield after being detained for six months and denied bail three times. He was just 18.
Campaigners were accordingly overjoyed last week at the news that the government is closing Campsfield. The Home Office announced that the detention centre will shut its gates by May 2019, when a contract with outsourcing company Mitie to run Campsfield comes to an end.
The decision is part of the department's response to the second Shaw review of immigration detention. The Home Office says that it wants to develop alternatives to locking migrants up and that the use of detention "will be kept under review". In concrete terms, it has committed to reducing the size of the detention estate by 40%, compared to 2015 levels, by next summer.
The number of people held in immigration detention has been falling recently. At the end of the most recent quarter, there were 2,200 migrants in detention centres, the lowest figure on record (the data goes back to 2008).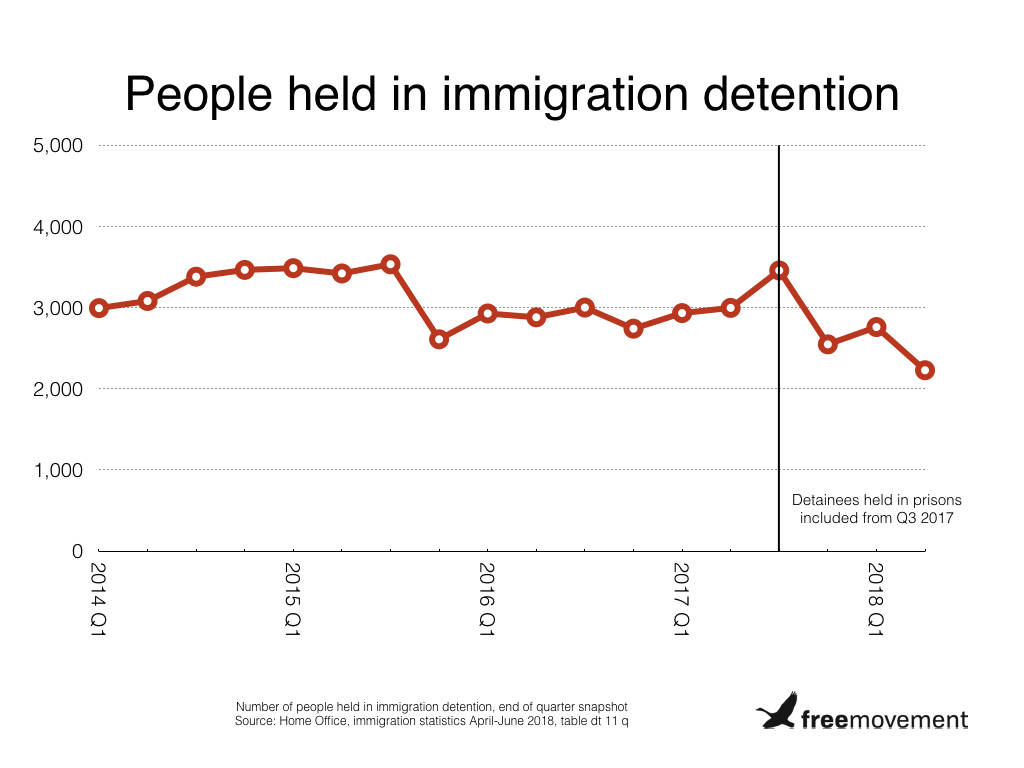 The above takes a snapshot of the number of people in detention on a given date. You can look at it in another way, by seeing how many people pass through detention centres each year. Here too the numbers are down, although not radically. Around 27,000 people entered detention over the course of 2017, less than a couple of years ago but more than in 2010. The picture is similar for the number of people recorded leaving detention.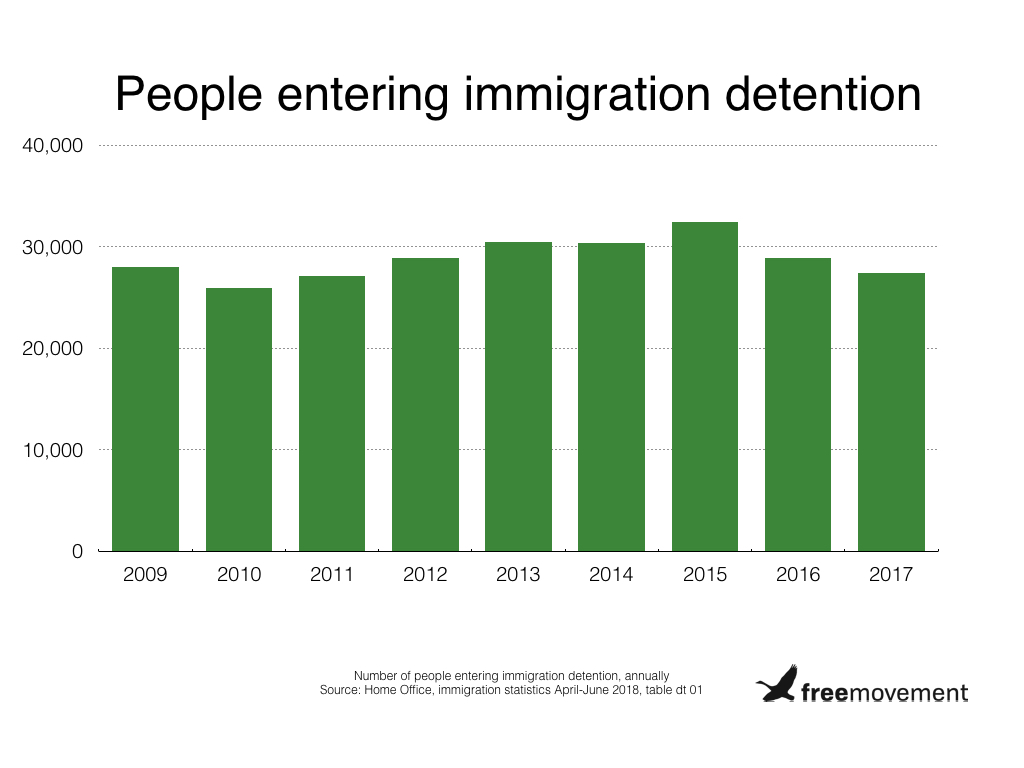 A rising proportion of those detained are from the European Union: around a quarter last year.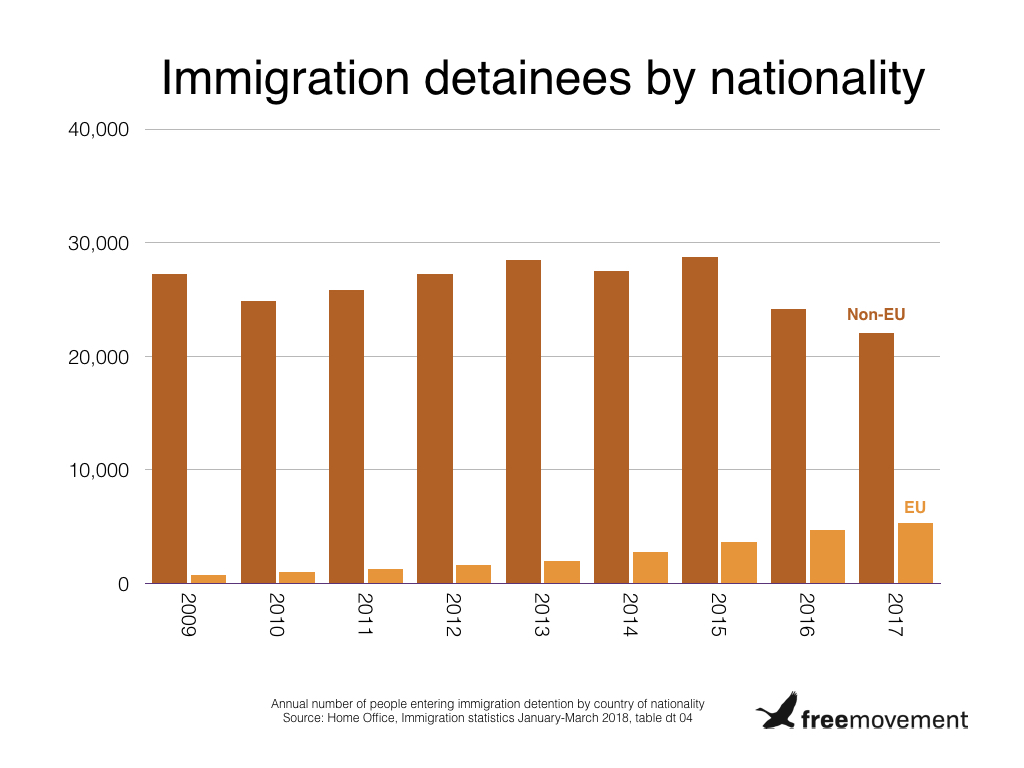 There are ten detention centres in the UK, including Campsfield. These hold most of those detained under immigration powers, but prisons are used for immigration detention as well. Until very recently, the Home Office did not include detainees held in prisons in its published statistics on immigration detention, but we know now that around 350 people (around one in every eight detainees) is in a prison rather than a detention centre. That appears to represent a significant fall: a 2014 report by Bail for Immigration Detainees found that up to 1,200 detainees were in prisons, or almost one in three.
At the time of Stephen Shaw's first detention review in 2015, the maximum capacity of this "detention estate" (including 400 prison spaces) was just over 4,900 people. This had fallen to 3,500 people by the time of his follow-up review this year.
That is already a drop of 28%. Dungavel IRC in Scotland (capacity: 249) has been slated for closure for two years now. Campsfield's capacity is 282. Removing them from the picture gives a new total of a little under 3,000, or 39% below the level recorded in 2015. That explains why the Home Office can say with confidence that it will reduce the size of the detention estate "by almost 40% since 2015": the entirety of the reduction is accounted for by centres that have already closed or shortly will. Campaigners should not take that target to imply any further detention centres closures, in other words.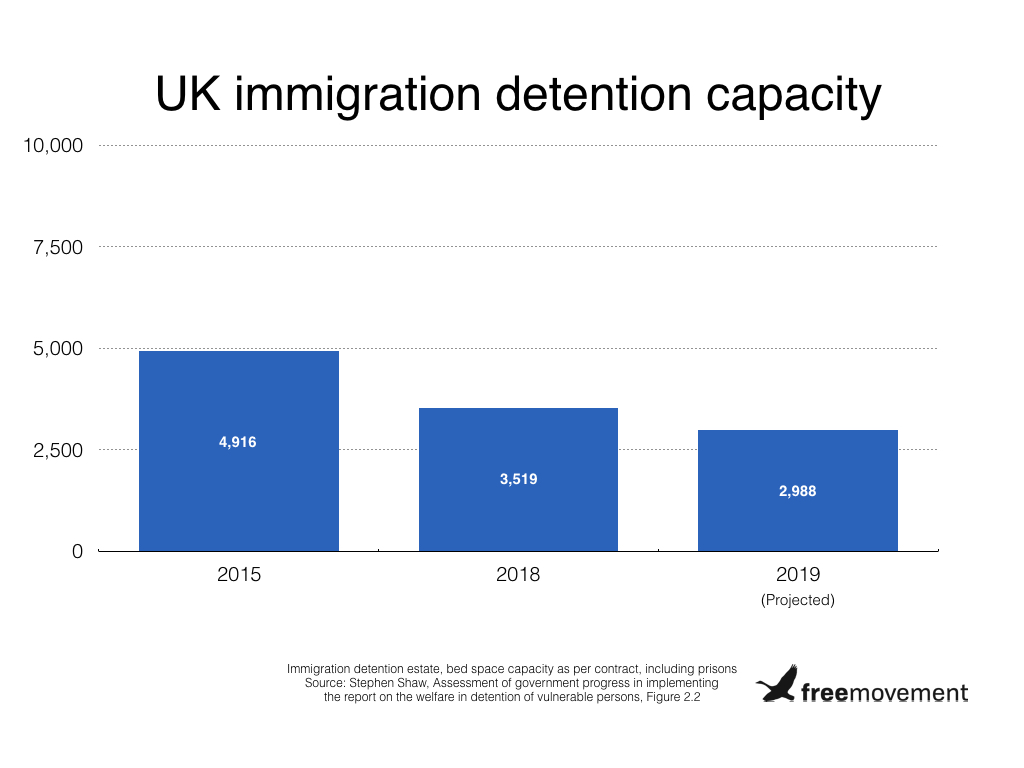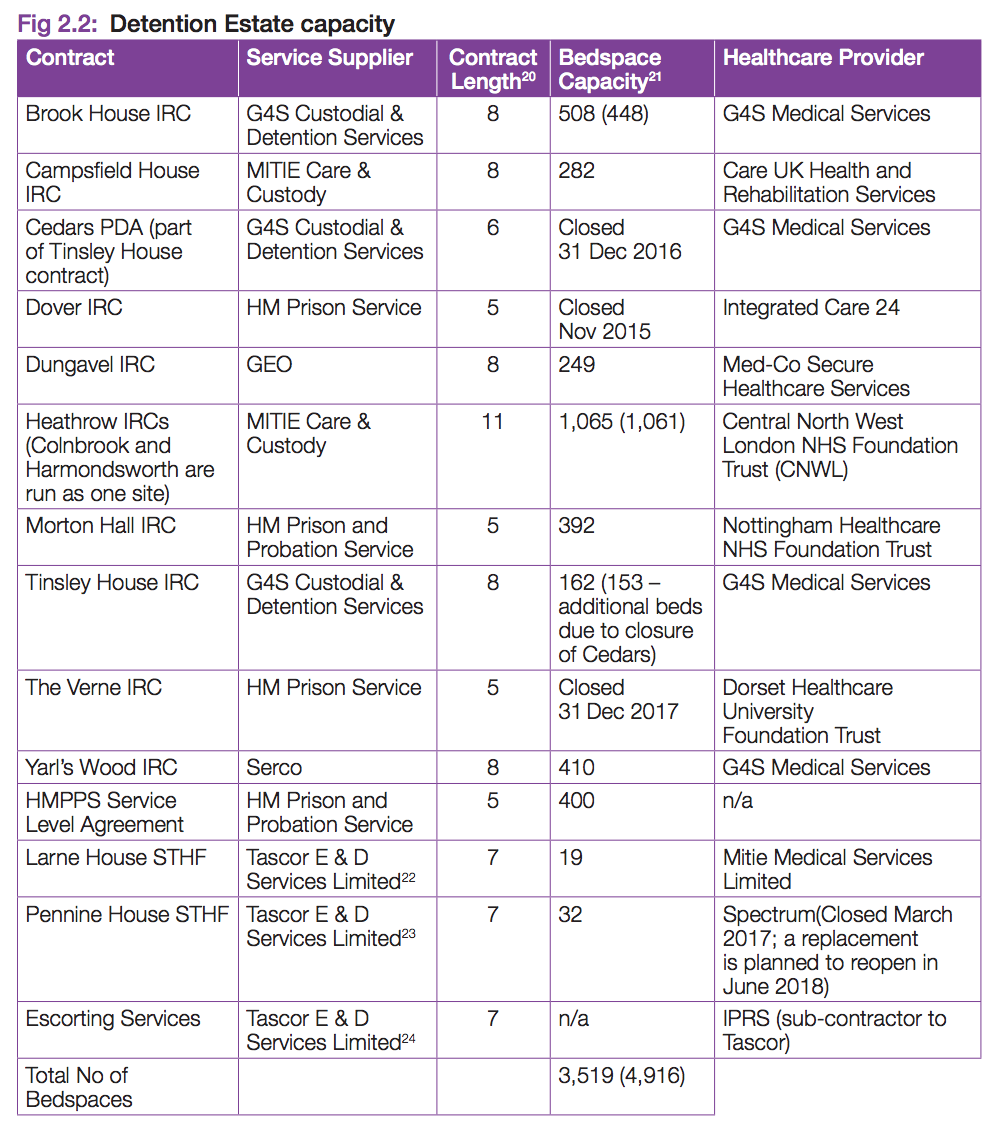 We have been here before with Campsfield. In 2002, Home Secretary David Blunkett announced that the "outdated" centre would close the following year. Instead, the Home Office expanded it.
It costs £86 a day to hold someone in detention, with the Home Office putting the total cost of the system at over £100 million. With four self-inflicted deaths in detention last year alone, the human cost is higher still.