Soul-searching in a large bureaucracy often manifests in well-meaning paperwork. So it is that the Home Office has published an ethical decision-making model. The document is intended to help staff grappling with difficult moral choices in the course of their work. 
This was one of the recommendations of the Wendy Williams Review into the Windrush scandal, following which Priti Patel promised a kinder, gentler Home Office. Recommendation 17 of the Williams report was:
The Home Office should develop a set of ethical standards and an ethical decision-making model, built on the Civil Service Code and principles of fairness, rigour and humanity, that BICS [Borders, Immigration and Citizenship System] staff at all levels understand, and are accountable for upholding. The focus should be on getting the decision right first time. The ethical framework should be a public document and available on the department's website.
The framework has duly been made available. It is, in fairness to all involved, short and jargon-free. The basic message is that if making a given decision, such as to deny someone immigration papers or kick them out of the country, is making you feel bad, you should not plough ahead regardless. Instead, you should look again or discuss with colleagues whether the rules really do demand that outcome. If there is no way to grant the person status within the rules, escalate the case to senior officials.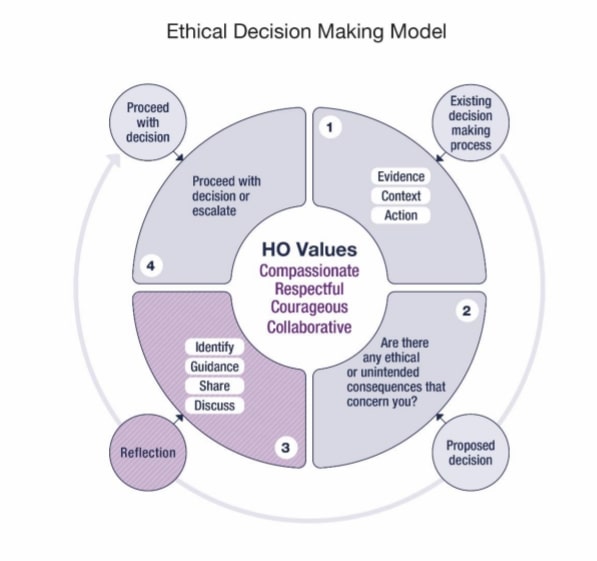 Caseworkers are encouraged to "think critically about exercising the discretion you already have". This emphasis on existing discretion is potentially important, and ties in with other post-Windrush work. New guidance on How to consider discretion is in the works to replace the existing document on Leave outside the Rules.
The discretion guidance also flows from a Williams recommendation and looks pretty good in draft. It reminds decision-makers that "there will be situations where the Rules either do not cover the particular circumstances, or where there may be good reasons for allowing entry or stay even though the person does not qualify under the Rules". Probably the signalling function of such a document is as important as its detailed contents: caseworkers who don't make it through all 20+ pages should at least pick up the general vibe that they are expected to grant more cases using discretion.
The problem is that chin-stroking huddles pondering ethics and discretion is a long way from the day-to-day reality of the immigration system. Asylum seekers are interned in Covid-ridden camps, stormtroopers on jet skis drill in the Channel and young men with autism are lined up for deportation. The Home Office is of course a very large organisation with many different sub-cultures in its various teams and offices. At a high level, though, it is hard to see how officials who really think through the consequences of their decisions in the way this guidance envisages could faithfully implement the current run of immigration policy.