Work and Study Visas (Introductory)
CPD Points:

2

Time to Complete:

2 hours
About this course
This course was last updated in August 2023.
Welcome to our introductory course on the UK's Points Based Immigration System and other work/study routes! Here we talk you through the "points-based" visa options for highly skilled migrants, sponsored workers, temporary workers and students, as well as other lesser-known routes such as the UK Ancestry visa.
The course is only available to paying members of Free Movement. If you are not already a member, you can join here and access not just this course but all of our courses. Membership starts from £22 plus VAT per month, or £220 plus VAT for annual membership, and you can cancel at any time. We also offer corporate and group membership options.
For developments since this course was last updated, sign up for Free Movement email alerts and select the "business" option.
Modules within this course
Introduction

This module introduces the Points Based Immigration System, looks at work-related immigration trends and the structure of the Immigration Rules.

Highly skilled migrants

This module looks at the options available for highly skilled migrants. This includes Global Talent, Innovator Founder, High Potential Individual and Graduate visas.

Sponsored workers

This module looks at the routes that require visa sponsorship. This includes Skilled Worker visas, the Global Business Mobility routes, Scale-up visas and other sponsored categories.

Students

This module looks at the visa and sponsorship routes available for students and school children.

Other work visas

This module looks at Appendix Temporary Work, the other routes available to come to the UK for work purposes and settlement.

Final quiz and feedback form

Test your knowledge by completing our quiz on work and study visas.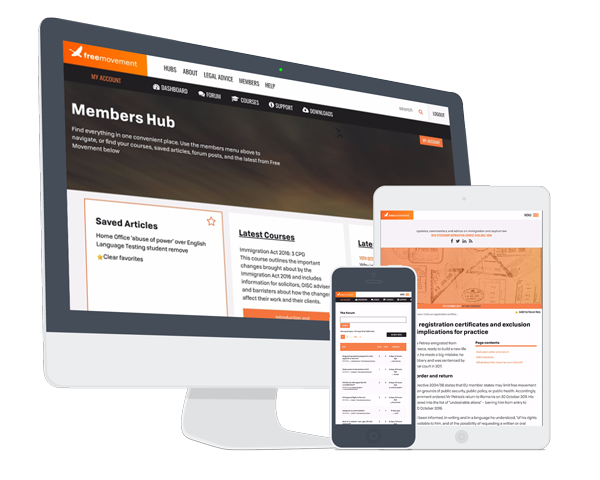 A great deal of time and effort goes into producing the information on Free Movement, become a member of Free Movement to get unlimited access to all articles, and much, much more
Join now and get access to all our training modules for free.
By becoming a member of Free Movement, you not only support the hard-work that goes into maintaining the website, but get access to premium features;
Access to all our online training materials
Downloadable CPD certificates
Single login for personal use
FREE downloads of Free Movement ebooks
Access to all Free Movement blog content
Access to our busy forums
Become a member