Advising Employers: Sponsor Licence Duties (Introductory)
CPD Points:

1

Time to Complete:

1 hour
About this course
This course was published in May 2023.
The Home Office has long outsourced immigration to employers. If an employer wants to employ a worker who is not settled in the UK, they require authorisation from the Home Office. This authorisation is known as a 'sponsor licence'. Employers must apply to the Home Office for a sponsor licence and the Home Office will decide to either approve or refuse the application. Employers who hold a sponsor licence are known as 'sponsors'. In return for this freedom to sponsor workers, sponsors make a pledge that they accept all the duties of sponsorship.
The Home Office can decide to penalise the sponsor if it fails to comply with their sponsor duties. Sanctions can include downgrading, suspending or revoking the sponsor licence and reporting the sponsor to the police or other authorities.
This short course will provide an overview of the key sponsor duties and take you through the sponsor compliance process. It is designed for immigration representatives who are new to this area and would like to get a handle on the basics.
The course is only available to paying members of Free Movement. If you are not already a member, you can join here and access not just this course but all of our courses. Membership starts from £22 plus VAT per month, or £220 plus VAT for annual membership, and you can cancel at any time. We also offer corporate and group membership options.
You can check out the course contents below.
Modules within this course
Introduction

This module looks at the importance of sponsor duties and what is required of employers. This includes compliance, reporting and record-keeping duties.

Maintaining the licence

This module covers how employers can prepare for Home Office compliance visits and how immigration lawyers can assist with this preparation by carrying out mock audits. We will also look at what happens when sponsors are found to be failing to carry out their duties.

Renewals and refusals

This module looks at how a sponsor licence is renewed and what happens when a licence application is refused, including challenging the refusal decision.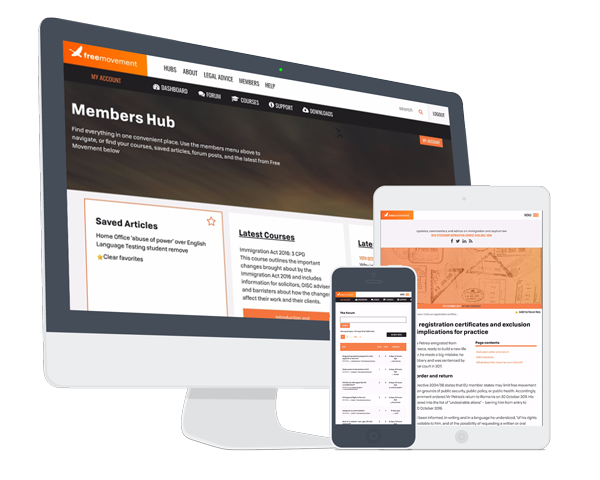 A great deal of time and effort goes into producing the information on Free Movement, become a member of Free Movement to get unlimited access to all articles, and much, much more
Join now and get access to all our training modules for free.
By becoming a member of Free Movement, you not only support the hard-work that goes into maintaining the website, but get access to premium features;
Access to all our online training materials
Downloadable CPD certificates
Single login for personal use
FREE downloads of Free Movement ebooks
Access to all Free Movement blog content
Access to our busy forums
Become a member