Judicial Review for Immigration Lawyers (Advanced)
CPD Points:

3

Time to Complete:

3 hours
About this course
This course was published in October 2023.
In recent years, judicial review – the primary mechanism for challenging the lawfulness of decisions made by public bodies – has been of ever increasing importance to immigration practitioners. This has been due to restrictions on or outright removal of statutory appeal rights, and the expansion of hostile environment policies and powers affecting people subject to immigration control.
In this in-depth and practical course, we will cover the key resources for practitioners involved in judicial review proceedings; pre-action matters; the pervasive topics including professional duties, evidence, the grounds for judicial review and remedies; along with hearings and appeals.
The course is only available to paying members of Free Movement. If you are not already a member, you can join here and access not just this course but all of our courses. Membership starts from £22 plus VAT per month, or £220 plus VAT for annual membership, and you can cancel at any time. We also offer corporate and group membership options. You can check out the course contents below.
Many thanks to Jed Pennington and Gabriel Tan for their work on this course.
Modules within this course
Introduction

This module covers when judicial review can be used, key resources for immigration lawyers and the preliminary matters that need to be considered before a claim is issued.

Pervasive Topics

This module covers the pervasive topics of the judicial review process, including procedural rigour and the duty of candour, evidence, grounds for judicial review, remedies and funding.

Preparing to Commence Proceedings

This module covers funding, the pre-action steps that must be taken, how to prepare a claim, the process of applying for permission and what happens once permission is granted. 

Judicial Review Hearings and Appeals

This module covers preparation for the final hearing, the full hearing itself, judgments and the rules in relation to appeals, and funding considerations.

Final Quiz and Feedback Form

Complete our final quiz on judicial review for immigration lawyers to test your knowledge and please leave us feedback on the course.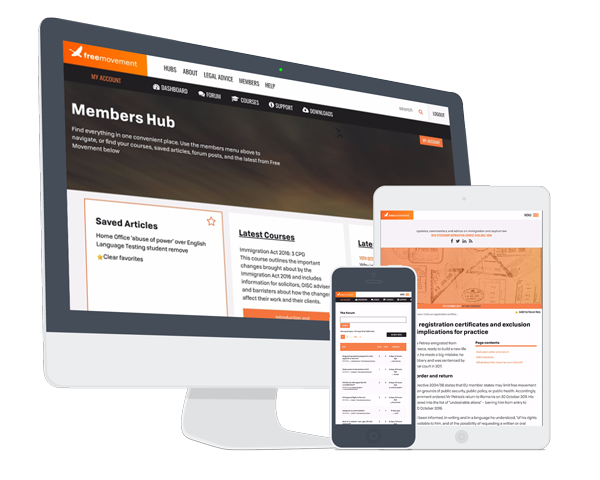 A great deal of time and effort goes into producing the information on Free Movement, become a member of Free Movement to get unlimited access to all articles, and much, much more
Join now and get access to all our training modules for free.
By becoming a member of Free Movement, you not only support the hard-work that goes into maintaining the website, but get access to premium features;
Access to all our online training materials
Downloadable CPD certificates
Single login for personal use
FREE downloads of Free Movement ebooks
Access to all Free Movement blog content
Access to our busy forums
Become a member