Introduction to the EU Settlement Scheme: 2 CPD
About this course
This course was last updated in June 2020.
There are thought to be between three to four million EU citizens and their family members living in the UK, although nobody is quite sure how many exactly. Almost all of them will need to apply for a new immigration status by 30 June 2021 if they want to continue living legally in the UK. With very few exceptions, anyone who has not acquired a new immigration status by the deadline will be living unlawfully in the UK at that point.
This course provides an overview of the system under which EU citizens and their families can acquire that new status: the EU Settlement Scheme. The scheme grants "pre-settled status" or "settled status", depending on length of residence. You can check out the course contents below:
The course is only available to paying members of Free Movement. If you are not already a member, you can join here and access not just this course but all of our courses. Membership starts from £20 per month and you can cancel at any time.
The material was last updated on the date shown on the top right of this page. For developments since that date, check Free Movement articles tagged "settled status".
Modules within this course
What is the EU Settlement Scheme?

All about the EU Settlement Scheme

Application process for EU nationals

How to apply for settled and pre-settled status

Family members of EU citizens

The EU Settlement Scheme for non-Europeans.

Refusals

Reasons and modes of challenge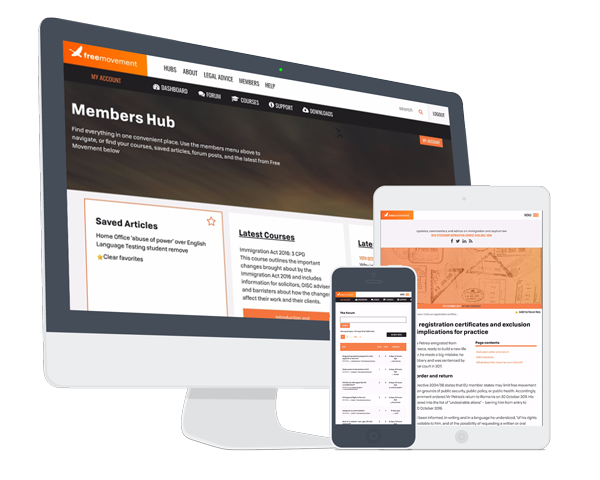 A great deal of time and effort goes into producing the information on Free Movement, become a member of Free Movement to get unlimited access to all articles, and much, much more
Join now and get access to all our training modules for free.
By becoming a member of Free Movement, you not only support the hard-work that goes into maintaining the website, but get access to premium features;
Access to all our online training materials
Downloadable CPD certificates
Single login for personal use
FREE downloads of Free Movement ebooks
Access to all Free Movement blog content
Access to our busy forums
Become a member