Costs in Immigration Cases (Advanced)
CPD Points:

3

Time to Complete:

3 hours
About this course
This course was last updated in April 2020.
In increasingly hard times, winning costs in immigration litigation is increasingly vital for commercial survival. This course covers the CPR on costs, the different types of costs, case law on costs, submissions on costs and tips on pursuing a favourable costs outcome. We cover costs in tribunal appeals as well as higher appeals and applications for judicial review.
The course is only available to paying members of Free Movement. If you are not already a member, you can join here and access not just this course but all of our courses. Membership starts from £22 plus VAT per month, or £220 plus VAT for annual membership, and you can cancel at any time. We also offer corporate and group membership options.
Alternatively, you can buy a copy of our ebook on costs here.
You can check out the course contents below.
For developments since this course was last updated, check Free Movement articles tagged "costs".
Modules within this course
Introduction to costs

Covering what costs are, the indemnity principle, the available orders for costs, the standard and indemnity bases for costs and VAT and costs.

Costs in tribunal appeals

Covers costs in the Immigration and Asylum Chamber of the First-tier and Upper Tribunals, including the procedure rules, guidance to judges and HOPOs, comparable costs cases from other jurisdictions and common scenarios in which costs might be sought or defended against.

Costs in judicial review cases

Covers CPR and practice directions on costs, costs rules, costs cases and costs guidance from the judiciary

Wasted costs

Covers the principles of wasted costs awards including general and immigration specific case law. Applies to both appeals and judicial reviews

Litigants in person

Deals with the issue of whether litigants in person can recover costs and if so what might be recovered.

Applying for, assessing and quantifying costs

Application and assessment process for costs in the First-tier and Upper Tribunals, including preparing costs schedules, summary assessment and detailed assessment.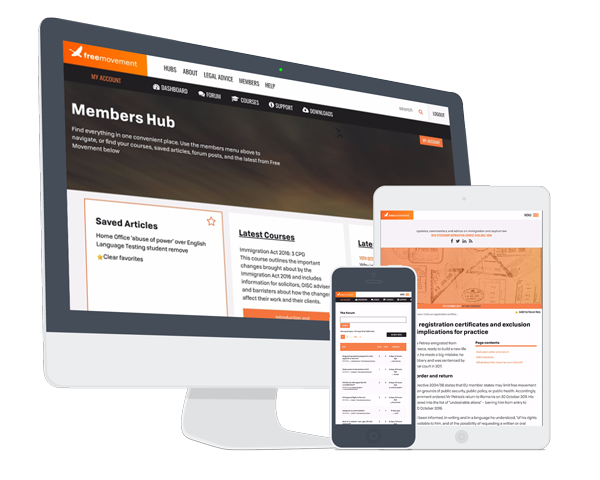 A great deal of time and effort goes into producing the information on Free Movement, become a member of Free Movement to get unlimited access to all articles, and much, much more
Join now and get access to all our training modules for free.
By becoming a member of Free Movement, you not only support the hard-work that goes into maintaining the website, but get access to premium features;
Access to all our online training materials
Downloadable CPD certificates
Single login for personal use
FREE downloads of Free Movement ebooks
Access to all Free Movement blog content
Access to our busy forums
Become a member