Appendix FM and Appendix Adult Dependent Relative (Intermediate)
CPD Points:

4

Time to Complete:

4 hours
About this course
This course was last updated in August 2023.
Welcome to our online training course on Appendix FM and Appendix Adult Dependent Relative; the parts of the Immigration Rules dealing with family members. We cover spouses and partners, children, parents, grandparents and other relatives and go over the relationship, financial, suitability and other requirements as well as the documentary evidence.
The course is only available to paying members of Free Movement. If you are not already a member, you can join here and access not just this course but all of our courses. Membership starts from £22 plus VAT per month, or £220 plus VAT for annual membership, and you can cancel at any time. We also offer corporate and group membership options.
Modules within this course
Introduction to Appendix FM

Covering the general rules and when Appendix FM applies or does not apply

Spouses and Partners

Covering the rules on spouses and partners

Parent of a Child in the UK

Covering the rules on parents living overseas, who have children living in the UK who are British, settled or have pre-settled status under the EU Settlement Scheme, to apply for a visa to come to live with them

Exceptional Circumstances and Human Rights

Covering the circumstances in which exceptions will be made to the normal rules and human rights

Adult Dependent Relatives

Covering the rules on adult dependent relatives as set out in Appendix Adult Dependent Relative

Bereavement and Domestic Abuse

Covering situations where relationships have ended because the sponsor has died or the sponsored person is a victim of domestic violence

Children

Covering the rules for a child whose parent is applying for or has limited leave to enter or remain as a partner or parent under Appendix FM

Final Quiz and Feedback Form

Final quiz and feedback form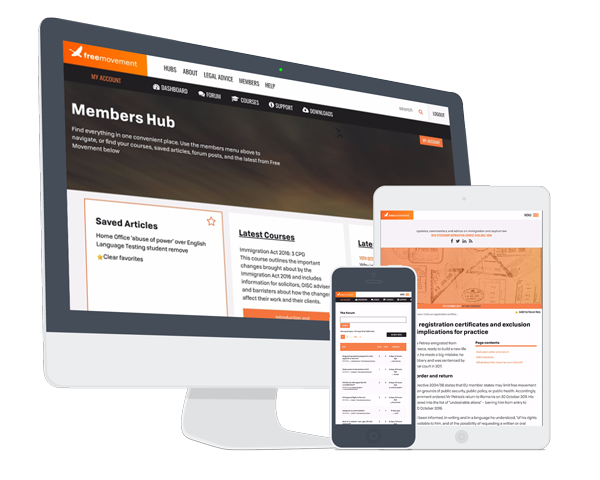 A great deal of time and effort goes into producing the information on Free Movement, become a member of Free Movement to get unlimited access to all articles, and much, much more
Join now and get access to all our training modules for free.
By becoming a member of Free Movement, you not only support the hard-work that goes into maintaining the website, but get access to premium features;
Access to all our online training materials
Downloadable CPD certificates
Single login for personal use
FREE downloads of Free Movement ebooks
Access to all Free Movement blog content
Access to our busy forums
Become a member