Intermediate: Fresh claims by asylum seekers: 2 CPD
About this course
This course was last updated in October 2019.
Every year, around one third of asylum decisions result in a grant of asylum or another form of international protection. But of those who are refused and appeal to the immigration tribunal, around 40% are successful.
As the appeal statistics suggest, no system will get it right all the time. Mistakes are made and even if a decision is correct at the time it is made, subsequent changes to the county conditions or to an asylum seeker's personal circumstances may mean that the criteria for recognition as a refugee are now made out.
We know that of those asylum seekers who are refused and lose their appeal, only a relatively small number are forcibly removed. Government policy is to cut off their accommodation and support and hope that they leave the UK of their own volition. The reality is that some remain in the UK, and some of that group will make a subsequent claim for protection.
There is a route to ask the Home Office to look at a case again by making further submissions. Clients often refer to this as making a "fresh claim" for asylum. This course covers the making of further submissions with a view to having them recognised as a fresh asylum claim.
The course is only available to paying members of Free Movement. If you are not already a member, you can join here and access not just this course but all of our courses. Membership starts from £20 per month and you can cancel at any time.
You can check out the course contents below.
Modules within this course
Law and process

The law on fresh asylum claims.

Fresh claims in practice

Practical claims on fresh asylum claims.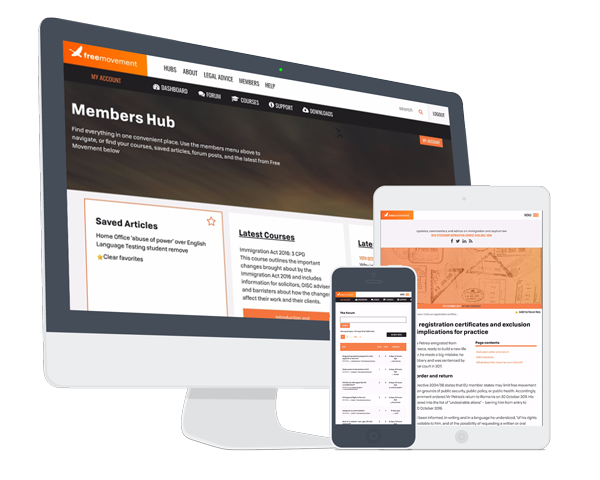 A great deal of time and effort goes into producing the information on Free Movement, become a member of Free Movement to get unlimited access to all articles, and much, much more
Join now and get access to all our training modules for free.
By becoming a member of Free Movement, you not only support the hard-work that goes into maintaining the website, but get access to premium features;
Access to all our online training materials
Downloadable CPD certificates
Single login for personal use
FREE downloads of Free Movement ebooks
Access to all Free Movement blog content
Access to our busy forums
Become a member