Over a quarter of the officials who take decisions on asylum applications quit the Home Office in a single six-month period, an inspector's report has revealed.
The number of "active" asylum decision-makers fell from 319 in January 2016 to 228 in July 2016, or 29%, according to the Independent Chief Inspector of Borders and Immigration. David Bolt's report finds that new decision-makers have since been recruited, bringing the numbers back up to 352 as of March. But:
These 'new' DMs told inspectors that their initial training had not prepared them adequately to do their job, and they had relied on the guidance and support from more experienced colleagues and "on the job" learning to develop the necessary skills and knowledge.
Mr Bolt said that
The Home Office devotes significant resources to managing asylum claims. Nonetheless, it continues to struggle to keep on top of the volumes of claims it receives. In 2016-17, despite the evident commitment and hard work of those involved, high staff turnover, prolonged staffing gaps and inexperience caused problems that were not easily or quickly fixed.
Officials described a "relentless" culture of targets. Straightforward asylum claims are supposed to be decided within six months, 98% of the time. The Home Office has always met this "customer service standard" – at least on paper. The inspection report points out that the proportion of cases categorised as "non-straightforward" – so that they don't have to be decided within the six-month target – has been steadily rising. Almost half are now put in this category.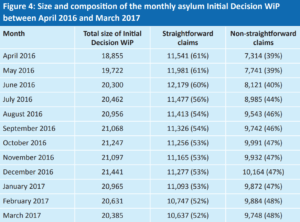 Staff at one asylum centre were threatened with disciplinary action for missing the six-month target.
Targets for initial screening interviews also caused problems:
The screening officers told inspectors they felt that they were being "pushed to the limit", with appointments routinely overbooked. They had to work beyond their shift times to meet the demand. They thought their individual targets of 5 screening interviews per day were "arbitrary" and failed to take into account the difference in the time, work and effort required to complete a screening interview with a family compared with that of a single adult.

Screening officers said they felt overworked and unsupported by managers. AIU staff told inspectors that senior managers were not sufficiently visible, and did not understand the pressure screening officers were under.
The inspection report on asylum intake and casework calls for the asylum process to be properly staffed. An analysis of training needs is also among the seven recommendations for change, six of which have been accepted in full by the Home Office. The department did not promise to follow the seventh recommendation: to have a new customer service standard for non-straightforward claims to be processed within 12 months.
Mr Bolt appears to been annoyed by one aspect of the official response to this report. His inspectors looked for evidence of gender bias in decision-making. The Home Office said that it "welcomes that no evidence was found to support stakeholder claims that asylum policy and process are gender biased". The Chief Inspector retorted that
for the sake of clarity, while the Home Office response is correct in saying that I found no evidence that asylum policy and processes are gender biased, this was because the data was insufficiently detailed to permit meaningful analysis. This is not a positive finding – data collection needs to improve if the Home Office is to persuade stakeholders that their concerns are unfounded.
Independent institutions at work.