The government is going to triple the maximum level of fine that can be imposed on employers who fall foul of the regime penalising those who employ illegal workers. Currently the maximum is set at £15,000 per worker for a first offence. It is £20,000 per worker for repeat offences. That's a lot of money, particularly where multiple illegal workers are employed. Tripling the maximum for first offences to £45,000 per worker and for repeat offences to £60,000 per worker is crippling. It may also prove to be counterproductive.
The first thing to note is that the total value of fines issued — and the number of fines as well — is well below the levels prior to the pandemic. The total value has risen recently but not back to pre-pandemic levels.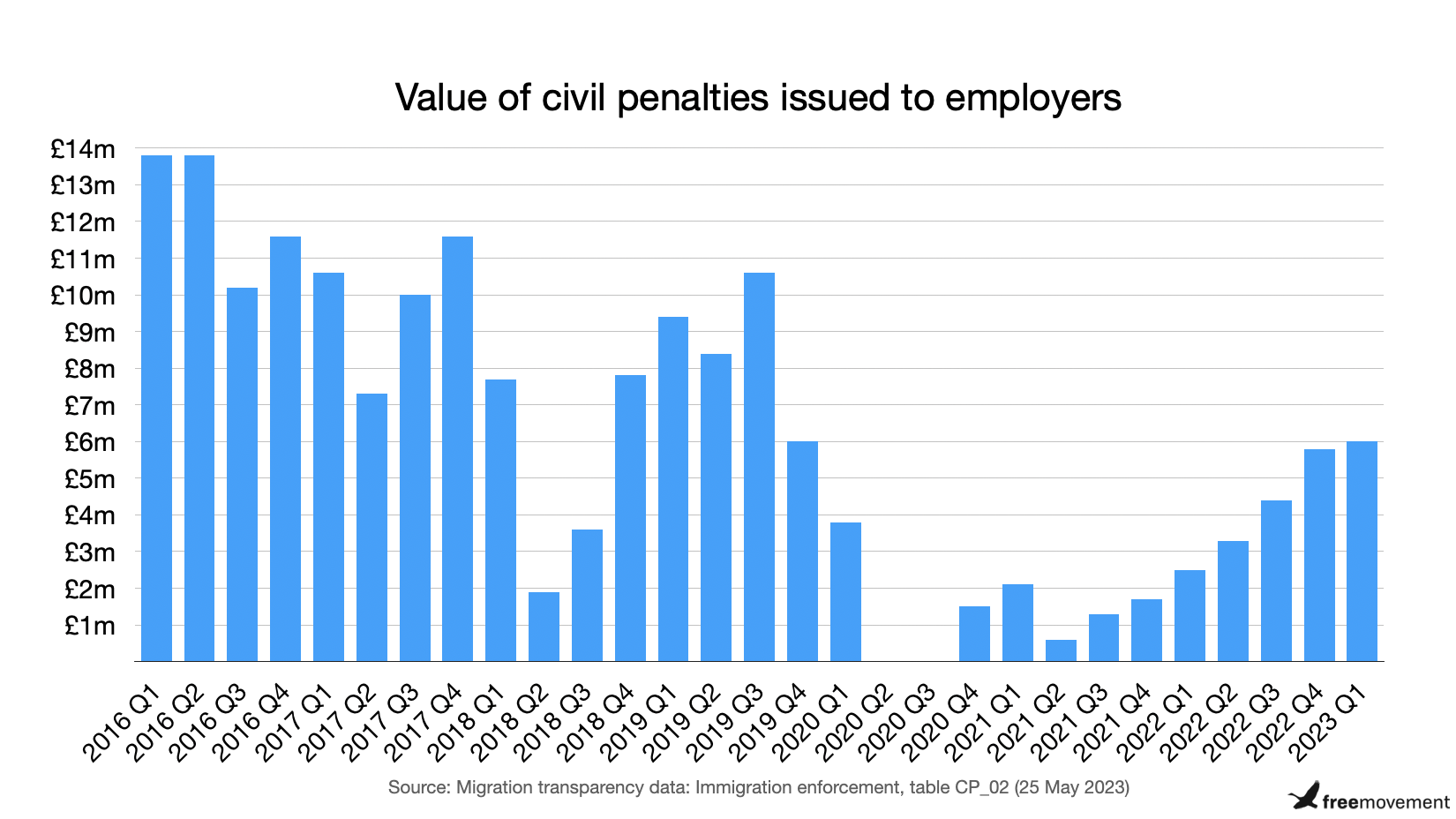 There may be good reasons for this. One is that the Windrush scandal highlighted that not everyone who is lawfully resident will always have good proof of their status. Since then, millions of EU citizens have been assimilated into the UK immigration system and will now be subject to the system of right to work checks. An unknown number will remain resident without status and if working will be working illegally. EU citizens who have arrived since Brexit on a visit visa and who subsequently work here will be working illegally, whether they know it or not.
Immigration law and requirements have been changing rapidly and it is harder than ever for employers to keep up with the latest changes.
We know there are multiple problems with the existing system and level of fines. The Home Office is well aware of these problems because the Chief Inspector of Borders and Immigration published a report about it all back in 2019: An inspection of the Home Office's approach to Illegal Working. Six recommendations were made:
Publish an updated (post-Windrush) strategy and Action Plan for tackling illegal working.
Capture, analyse and report the quantitative and qualitative data and information that enables the Home Office to demonstrate the effectiveness and appropriateness of it's strategy and specific initiatives.
Ensure all immigration enforcement teams are communicating effectively.
Break the continued reliance by Immigration Compliance and Enforcement (ICE) teams on allegations received from members of the public, and the consequential concentration on restaurants and fast food outlets and focus on a few 'removable' nationalities.
Review the effectiveness of the Civil Penalty regime, including the evidential threshold and whether the level of penalties has a perverse effect on employer behaviour.
Explore whether more effective use could be made of licence revocations and Closure Notices, addressing specifically the operational value of these measures.
In response, the Home Office accepted all six of these recommendations. Has the department followed through on this? Is there a plan? Is the Home Office measuring its effectiveness? Have they moved on from soft targets? We don't know. Although we do know that around half of "accepted" recommendations are quietly ignored. And some recommendations from the Windrush Lessons Learned Review were accepted then formally abandoned.
We also know that around half of employer sanctions issued by the Home Office go uncollected. There are multiple reasons for this. Some employers successfully appeal against the fines, showing that they should not have been imposed in the first place. Other employers go bankrupt or close, evading the fines that way, only to re-open with a different name and different directors. This has been referred to as 'phoenixing', an issue the Home Office is aware of but so far as we know is powerless to prevent.
The big question here is what is the illegal working penalty regime actually for?
If it is intended to prevent illegal working, then imposing really big fines will only have the desired effect if it either acts as a genuine disincentive or properly closes down serial offender employers.
To act as a genuine disincentive, employers would need to understand the system and their duties. They often do not, as John Vassiliou explained on Free Movement previously. Simple errors and ignorance lead to truly massive fines; these fines are a sign of a system that is failing to achieve its supposed core purpose. There is no evidence that the existing system is working or that increasing the level of fines will improve the effectiveness of the system. In fact, there is reason to think that increasing the level of fines might make the system less effective in that good faith employers will not know any better what they are supposed to do and may well end up being closed down by this change. It is unlikely to have any impact on serial offender employers.
If the increase in the level of fines is about raising more revenue, there is reason to think that it will fail at that as well, because the new fines would simply lead a lot of employers to close or go bankrupt. Trying to pay a fine of £15,000 per worker was hard enough for a small employer. Paying £45,000 per worker is simply going to be impossible.
This sort of measure has become the hallmark of this fag-end government. It sounds tough. In reality it is likely to be counter-productive. It may well have unintended and disastrous consequences for individuals and employers acting in good faith but caught out by incredibly complex and ever-changing immigration law requirements.