Social care workers can get Skilled Worker visas from 15 February 2022. The change was first announced on Christmas Eve and has now been confirmed in a statement of changes to the Immigration Rules (HC 1019), published yesterday. Employers (but not private households) will be able to sponsor care assistants, home carers, nursing home support workers and similar so long as they pay at least £20,480.
By way of background: lots of the people who do the vital, unglamorous day-to-day work of looking after elderly and disabled people are from abroad. Pre-pandemic, 16% of the adult social care workforce were foreign nationals, while almost 40% of care home nurses trained abroad.
Medical professionals and senior care workers already qualify for what is branded the Health and Care visa, which legally speaking is the Skilled Worker route with lower fees and faster processing. But regular carers were not considered sufficiently skilled to qualify for visas under post-Brexit immigration policy.
As the explanatory note accompanying HC 1019 puts it, "a key existing requirement of the Skilled Worker route is the job offer must be one which involves duties and responsibilities involving skills equivalent to RQF level 3, broadly equivalent to a level of skills obtained through A-levels or Scottish Highers". Care work takes skill and dedication, but isn't the sort of thing you learn at A-level.
The Home Office seems determined to maintain the formal distinction between skilled and unskilled work for visa purposes, even as it allows care workers into the Skilled Worker route. This leads to some legal gymnastics. Care workers are not simply being added to the list of skilled occupations. Instead, they are being put on the Shortage Occupation List, like so: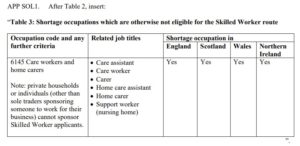 The Skilled Worker rules are then being changed to allow people to be sponsored for shortage roles that are not skilled occupations. Paragraph SW 6.1 in Appendix Skilled Worker will read:
SW 6.1. The applicant must be sponsored for a job in an eligible occupation code listed in Appendix Skilled Occupations or Appendix Shortage Occupation List.
This has the weird result that anyone consulting Appendix Skilled Occupations after 15 February will continue to see social care workers explicitly labelled as not eligible for Skilled Worker:
Table 5: Occupation codes which are not eligible for the Skilled Worker, Intra-Company Transfer and Intra-Company Graduate Trainee routes…

6145 Care workers and home carers.
Still, it is unlikely that anyone in the social care sector finds all this as interesting as immigration lawyers. The net result, digging ourselves out of the weeds, is that social care workers can now apply for visas so long as they are being paid £20,480 a year and £10.10 an hour. They must also include a criminal record certificate (see paragraph SW 16.1).
The Home Office stresses that this is only "temporary" to "alleviate current pressures on the health and social care system as a result of Covid-19". There will be a 12-month window for applications, i.e. 15 February 2022 to 14 February 2023, at which point the policy will be reviewed. There is no legal significance to that: the rules do not lapse in February 2023 and the Home Office would have to actively lay another statement of changes to take care workers out again.
It would be no surprise if social care visas carried on indefinitely. The scheme allowing in agricultural labourers is still, rather hopefully, referred to as a "pilot" despite being in place for three years and counting.