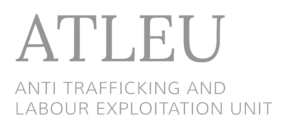 We are looking for a dynamic and committed individual to join our legal team as an Immigration and Public Lawyer (maternity cover for 12 months). This is an exciting role, offering significant opportunities for growth and development, to increase your immigration and public law experience and knowledge through working on emerging issues affecting victims of trafficking, with enormous potential for strategic litigation and effecting change for this hugely vulnerable group.
Within ATLEU, lawyers are able to balance fee-earning work alongside opportunities to research and develop strategic challenges and share their knowledge through developing and delivering training and second-tier advice. This approach offers both excellent skills development and career progression as well as providing the time and space necessary, in an increasingly pressurised legal aid sector, for developing legal challenges which seek to bring about systemic change.
The role involves providing immigration and public law advice and representation to survivors of trafficking and slavery under a legal aid contract. ATLEU has offices in London and Sheffield and we welcome applications to work in either office.
We will consider applications from both those who are relatively new to immigration casework, i.e. accredited to Level 1 of the Immigration and Asylum Accreditation Scheme, alongside those with more significant experience of immigration casework and with a higher level of accreditation and legal qualification. More details are included in the application pack. The salary for the role will reflect the qualifications and experience of the successful candidate, in line with ATLEU's pay scale.
Hours: Full Time (35 hours per week) or Part Time. Flexible and remote working arrangements available
Salary: £27,000 to £40,740 (London) full time or pro-rata
£25,000 to £37,722 (Sheffield), full time or pro-rata
Salary will be based on ATLEU's salary scale that covers caseworkers with immigration accreditation up to solicitors without supervision responsibilities and supervising solicitors (with category supervisor status). This range factors in experience, PQE, accreditation, status as a litigator and level of responsibility.
Pension: 5% employer pension contribution
Leave: 33 days a year (including bank holidays)
The deadline for applications is 10am on Monday 1 August 2022.