The Home Office has suspended its policy of forcing migrants who successfully apply for public funds to wait longer for settlement.
In response to a parliamentary question, migration minister Kevin Foster said on 10 February:
We are currently reviewing the policy whereby an applicant on the family route who submits a change of conditions application and receives recourse to public funds is then required to complete 10 years on the family route in order to qualify for settlement.

Pending this review we have currently suspended the process of automatically requiring an applicant to complete 10 years on the family route following the lifting of 'no recourse to public funds' conditions, and will instead review their situation in line with the Immigration Rules at their next application for leave to remain.
Most migrants with temporary permission to be in the UK have no recourse to public funds. Some can apply to have that condition lifted to ward off, for example, "imminent risk of destitution". Such applications soared when the pandemic struck.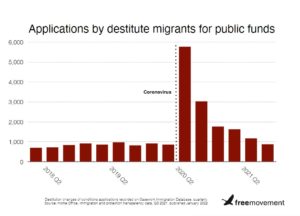 The catch, for migrants with permission as a parent or partner who would normally expect indefinite leave to remain after the standard five years, is that "if you're accepted you would be considered to have moved on to the 10 year route to settlement and as such any future applications for leave will be considered under the 10 year route". So it still says on the online change of conditions form; Foster added "we are considering if changes to the online guidance are required".