You've met with your client, taken detailed instructions and advised them on the intricacies of the Immigration Rules, the maze of policy guidance and possibly even made highfalutin' reference to case law relevant to their situation. Now you've actually got to put in their immigration application. And this is where your years of legal study can leave you feeling unenlightened: filling in the form on Access UK.
Online immigration and citizenship application forms
Don't get me wrong, I'm a fan of the new online forms. Access UK is certainly more user-friendly than its forerunner Visa4UK (which by the way still mysteriously carries the strapline "this is the new UK visa application website"). And it's streets ahead of the clunky sponsor licence application pages and the sponsorship management system, both of which are painful to use. 
We're saving trees, too: gone are the days of printing off lengthy paper forms. The paper version of Form SET(O) ran to 90+ pages, including a large section in the middle only relevant to Tier 1 (Entrepreneur) applicants. The online forms tailor themselves to the applicant depending on the responses given. 
The problem of incorrect or inflexible forms
This is where difficulties can arise. Answering a question in a certain way then directs the form down a route which can lead to relevant information being omitted, especially where users are unfamiliar with the requirements and may not know what information they should be providing.
The forms' inflexibility manifests itself in other ways. You have to put an answer in every section, and can't skip ahead when you don't have the information to hand or aren't yet clear on the correct answer. A big advantage of having the whole form in front of you was being able to see all of the questions, which helped you decide what information to put where. (The EU Settlement Scheme application form, by contrast, does allow applicants to review all questions before answering any of them.)
The biggest drawback comes where you know that what the form is asking for is simply wrong. For example, the wrong guidance being referred to on naturalisation forms. Or the documents checklist asking for unnecessary documents, such as 12 months rather than six months worth of pay slips for partner entry clearance even though the applicant is relying on income from employment in Category A.
The forms need to reflect the underlying legal requirements accurately. Otherwise applicants risk providing inaccurate information or omitting specified evidence, which could lead to a refusal. 
How to fix the problems
After one particularly hair-tearing-out day, I emailed the Immigration Law Practitioners' Association (ILPA) about some of my frustrations with the Access UK forms.
ILPA put me in touch directly with the Access UK Product Owner at UK Visas and Immigration, who had just contacted them for feedback on the new forms. I have been able to tell him directly about from my own and other practitioners' experience. He has been very receptive and problems have been fixed as a result. 
Some changes have been made very swiftly. For example, the original partner entry clearance form asked whether the applicant had a B1 English language certificate when only an A1 is required. If you answered No, the documents checklist then omitted any reference to the need for an English qualification entirely. That put applicants at risk of failing to provide an English language certificate despite it being a requirement of the visa. This was fixed within weeks of being raised. 
eBook
Costs in immigration cases
Accessible and practical guide to costs in appeals and judicial reviews including rules, guidance, case law, quantification and assessment
View Now
Other gremlins have taken longer and still aren't completely resolved, possibly because they need more tinkering behind the scenes, or even policy input, to put into effect.
A very recent amendment that has taken some time to get sorted has been to the SET(F) form. The old paper version had a box to tick where an applicant was seeking a fee exemption as a child in the care of a local authority. This was however omitted from the online version. There didn't seem to be any change of policy on fee exemptions for children in care. It seemed to have simply been missed off.
After a few emails with my contact, this has thankfully now been restored and the new live version of the form now enables a fee exemption to be requested. Although, somewhat incongruously, it still offers the option of a Super Priority service for £800!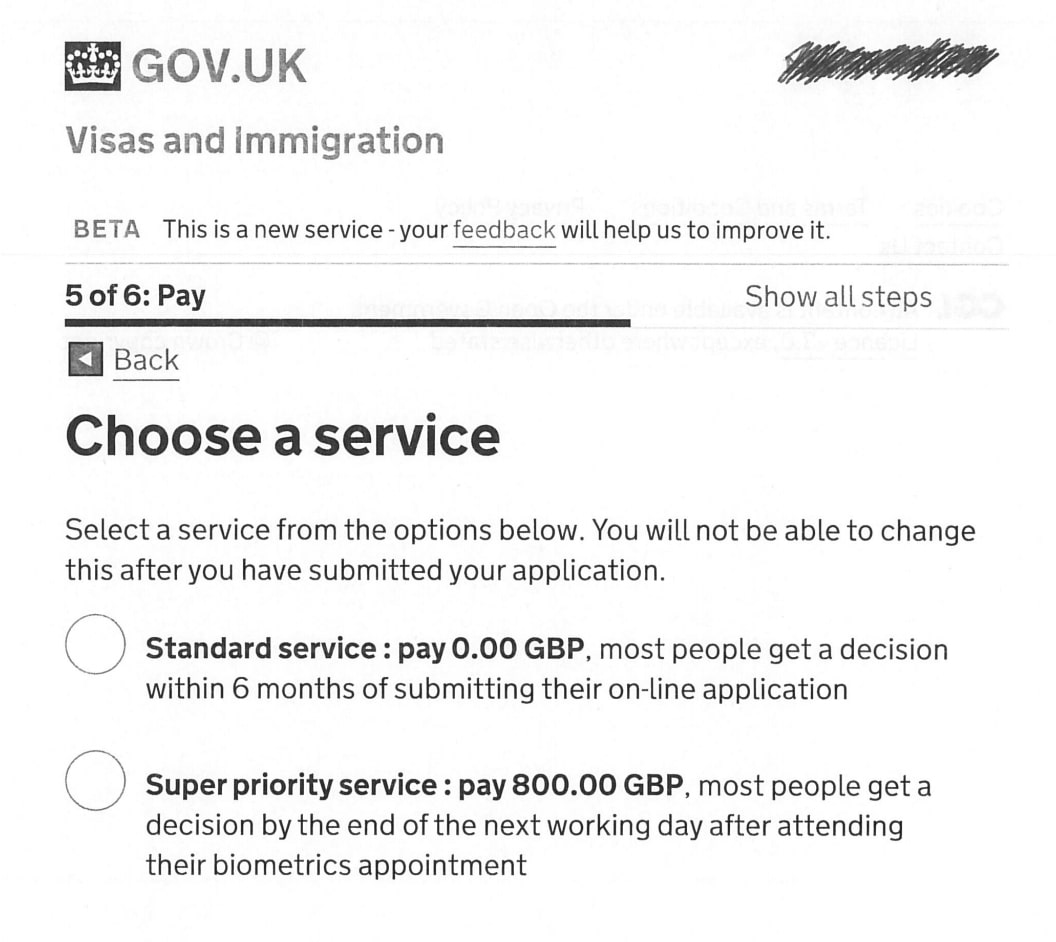 The benefits of direct communication with professionals
Being able to have a dialogue with someone at the Home Office who genuinely wants to make the process work better has been really refreshing. I've been given reports on progress and thanked for taking the time to provide feedback. 
Compare that with trying to get any information about an out-of-country visa application, when you have to pay £5.48 to email or £1.37 per minute to speak to a member of the contact centre staff who the gov.uk website makes clear "cannot give you advice about your personal circumstances". Or making an enquiry about an in-country case using the general UKVI contact centre number, with its repetitive recorded message referring you back to the website you've already scoured. 
There has been some improvement in terms of direct communication from caseworkers recently, particularly by email when they request additional information or evidence. This then provides a contact point to get an update or even have a dialogue. The Super Priority caseworkers are especially good at this, but then again for £800 extra you should expect bells and whistles. 
But it still works on a "don't contact us, we'll contact you" basis. You have to wait for a caseworker to get in touch first, rather than being informed of a case owner you can contact.
My recent experiences with the forms has made me wonder, somewhat wistfully, how much better the system would work if only the UKVI would work more collaboratively across the board to resolve cases.
Now read: "Computer says no": facing up to the full implications of a digitised immigration system.